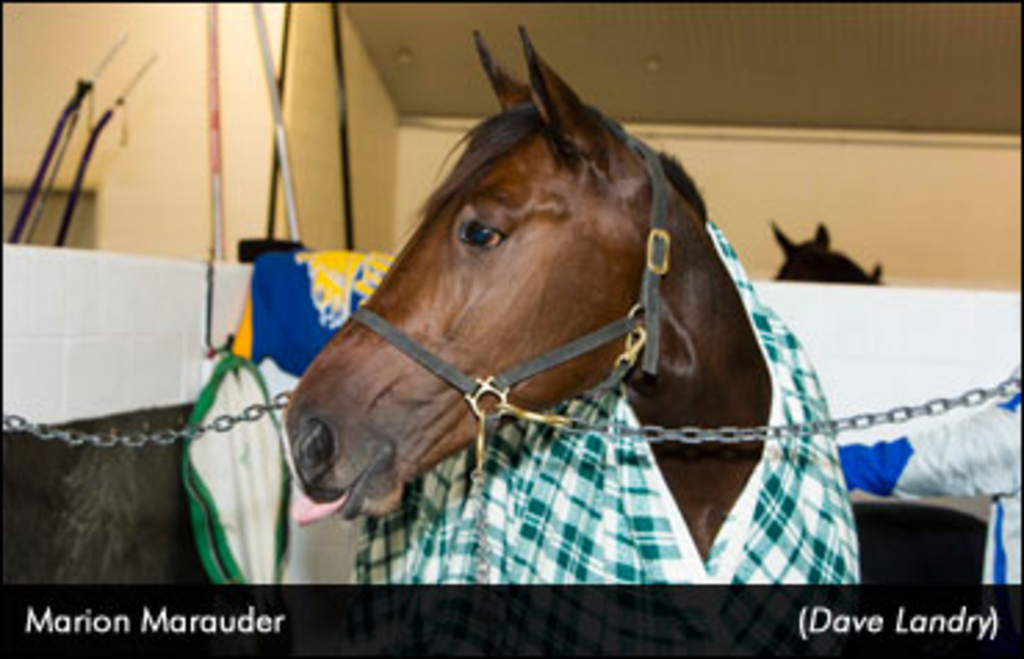 There is a lot on the line for Marion Marauder heading into this year's Breeders Crown – the chance to further stamp himself as a Horse of the Year candidate with a victory in the $500,000 Three-Year-Old Colt & Gelding Trot and enhance his value with a pending stud deal.
Paula Wellwood, who trains the horse with her husband Mike Keeling for their son Devin and mother Marion Jean Wellwood, said she is hoping an announcement will be made in the next two to three weeks concerning the horse's future as a stallion prospect when his racing career is concluded.
The $37,000 yearling purchase by Muscle Hill has won more than $1.9 million in his career, including in excess of $1.5 million this season with 10 wins and the seconds in 14 starts.
A victory could raise the value of the horse, who earlier this season became only the ninth to win harness racing's Triple Crown for trotters. Paula became the first woman to train a trotting Triple Crown champion.
"Going down this road is all new territory for us," she said. "I think a win would raise his value, but his value obviously increased winning the Triple Crown. That's very, very big. It's been a whirlwind, an extremely fantastic year. He's done everything a horse could possibly do with the Triple Crown and everything. It still seems surreal. I think maybe when the year is over it'll really start to sink in. This race is as big as all the rest of them and he's going into it treated all the same as the rest of the races."
Paula said she has tried not to pay too much attention to the Horse of the Year possibility, but added it would be wonderful if it happened.
"He does deserve it for all of his accomplishments, but we'll just have to see how that plays out," she said. "I don't really concentrate on that. I just want to concentrate on the race he has next. He is a horse that doesn't like to train hard and we just kind of worked around what he likes and it's really paid off. He's just not a great trainer. He doesn't really like to train. He likes his same routine. He's the calmest horse going, nothing bothers him, which is wonderful, too. That really plays to him as well. He'll go anywhere. He loves to travel. He's ultimately just a good horse.
"I knew we had a very nice horse in the beginning. He had a very good two-year-old year, in our estimation. He was second to Southwind Frank in all the big ones. We knew he was a very nice horse, but what he's done has exceeded expectations."
She added it has been extra special because it has been a family affair with the horse, including the connection to the matriarch Marion Jean. The second part of his name was changed to Marauder, the name of the McMaster Marauders football team Devin plays for in Hamilton, Ont.
Paula is hoping to win a Breeders Crown race for the first time, having come up short with four starters. Her legendary father, Bill, a Hall of Famer, won four Breeders Crown races. He won with Village Jiffy in the 1992 Two-Year-Old Colt Pace and 1994 Open Pace, Village Jasper in the 1997 Three-Year-Old Colt Pace and Aviano in the 2000 Three-Year-Old Filly Trot. Paula's second cousin, Harold Jr., won with Odies Fame in the 1999 Three-Year-Old Filly Pace.
"Maybe Marion Marauder will break that for me," she said. "He's going up against a lot of really good horses we've raced with all year and however it works out, it works out. But regardless of what he does, he's accomplished a lot. The Breeders Crown is a very, very prestigious race. It would mean a lot to us to win."
Paula said in all the year the Wellwoods have been racing, they have never had a horse as good as this.
"It was a different era when my father was racing – the business has changed – but I'd have to say he's the best the Wellwood family's had, that's for sure," she said. "We've never had one like this. He's just an ultra-special animal. And that's saying a lot. Our family has had a lot of great horses. A lot of our horses did go to stud. Some were syndicated. My father syndicated some horses, but I think how that played out, but the business has changed since then. It's a learning curve for us as well. He's definitely a dream come true for my husband and I, my son and my mother.
"I hope my dad is proud of us. I would think he would probably be just like us. It's an amazing feat what this horse has done. I would hope that's what he would think and he would proud, and I know he would be."
Paula, who conditions the horses with her husband, has tried not to place too much emphasis on being a woman trainer.
"Women are very good with horses, so are men, we're just like everybody else," she said. "I don't classify the gender thing. I'd rather be known as a good trainer than put the woman part in. I just don't do that. Both of us train together. We work together, just like many, many others do. You can look at Marcus and Nancy Johansson, Linda Toscano and Brad McNinch, Joann and Jim King...we're basically in the same boat. It's both of us, which is very common these days. It's my husband and me -- both of us."
(Breeders Crown)