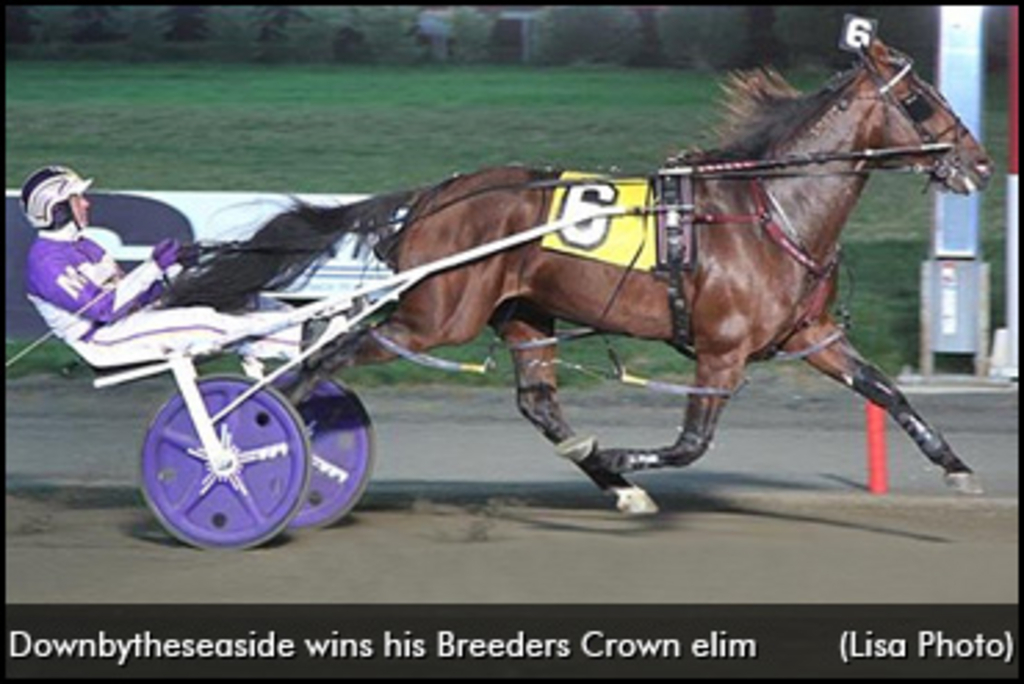 Nearly any conditioner who bears the responsibility of preparing a world champion for what could be a defining moment in his career normally discusses the merits of his colt.
In typical Brian Brown fashion, however, he reveals why Downbytheseaside may not be the horse posing for pictures in the Meadowlands winner's circle on Saturday (Oct. 29) after his performance in the $600,000 Breeders Crown final for two-year-old pacing colts and geldings.
"He's a bully," said Brown. "(Ray) Schnittker's horse (Huntsville) is the one to beat. His horse is big, strong and manageable. This one is too focused on what he needs to do in a race and that's why he wears so much equipment. David (Miller) needs to be able to drive him.
"I trained him today (Oct. 26) and he was great but we need him to be able to settle in a race. David actually thought Fear The Dragon might be the better horse. He had an eye injury in Lexington, so he probably was not at his best. He is also smaller than this horse, but David can put him where he needs to. He actually might turn out to be the better horse. Only time will tell."
Purchased for $65,000 at the 2015 Lexington Selected Sale by Country Club Acres, Joe Sbrocco and Richard Lombardo, Downbytheseaside is a son of Somebeachsomewhere-Sprig Hanover. The colt is the fourth foal out of his dam, who earned $438,458 during her career.
With $249,706 in the bank, Downbytheseaside will leave from post position two and is the 5-2 morning line second selection behind fellow world champion and favourite Huntsville (post three, 2-1) in the $600,000 Breeders Crown event for their age, gait and gender.
With Miller holding the lines, Downbytheseaside seeks to avenge his loss to that rival in the $252,000 Pennsylvania Sire Stakes championship and best eight other rivals in the evening's seventh race. A victory would only place him firmly in contention for divisional honors, but would improve his resume to 12-8-2-2.
"We were really surprised we were able to get him for $65,000," Brown said. "He was one of the ones we liked at the sale and figured he would go for much higher.
"When he was training down in Florida he was one of three Somebeachsomewheres I had and did not do much to distinguish himself from the other two until I got him down in around 2:10. That is when he showed some talent.
"I wasn't surprised he raced so well at Delaware (when he went a world record 1:50 in a $34,500 division of the Standardbred Stake), as he trains there and has no problem getting around a half, but I was shocked he went that fast. He definitely has speed, but like I said it is a matter of getting him to settle instead off blasting off the gate and going two and three wide all the time.
"I was racing him with a mini-bit although I don't like to do that because I think they hurt a horse's mouth and make them lean on the line. We've since changed that and there are more changes I would like to make with him, but now is not the time to be opening up his bridle. You definitely don't want to do something like that for a race like this. After this we will hope he just grows up some over the winter and learns to settle down a bit so he can be driven.
"He is a big, strong horse like Huntsville, but at this state of the game, Huntsville definitely has an advantage on him because he listens to what his driver tells him."
As for Huntsville, the son of Somebeachsomewhere-Wild West Show, two of his three losses came at the hooves of the aforementioned Fear The Dragon in Pennsylvania Sire Stakes company on Aug. 18 and Downbytheseaside under the same conditions on July 20.
Owned by his conditioner, Ray Schittker, along with Ted Gewertz, Charles Iannazzo and Steve Arnold, the colt is a full sibling to Cowboy Terrier ($353,025) and Stevensville ($436,989). Huntsville equaled the world record of 1:49, like Downbytheseaside as well, at Red Mile in a $65,500 division of the International Stallion Stakes on Oct. 8.
With his record standing at a sterling 9-6-3-0, Huntsville will launch his own bid for divisional honours when he begins pacing with regular reinsman Tim Tetrick at the controls.
"He's been getting stronger every week and racing from behind and he seems like he's getting stronger every time he races," Schnittker said in the winner's circle after the colt captured his Breeders Crown elim in 1:51.3 over Miso Fast.
"He's a great big horse, 16 hands. If he stays sound, I think he could have a great year next year. Huntsville is a lot smarter horse than (previous Schnittker stable star) One More Laugh but One More Laugh was really, really tough so they're tough to compare."
Despite lacking the star power of Downbytheseaside and Huntsville, who obviously will attracting most of the money at the windows and the attention of the fans, Ozone Blue Chip merits attention from post position 10. The son of Bettors Delight-Soiree is listed at 20-1 on the morning line and has amassed $34,760 in purse money from a slate of 7-2-2-1.
While not as accomplished as the other two colts, Ozone Blue Chip, who is co-owned by his trainer Ron Coyne, along with Blair Corbeil and Christopher Mazzone, is a youngster that is rounding into form at just the right time of the year and could be steered to an upset by Sylvain Filion.
The gelding was fifth in his elimination behind Huntsville, but Coyne was pleased with his performance and how his horse is developing. While a win in this race certainly would be welcomed, Ozone Blue Chip's connections are looking towards the future.
"It was a good race for him," Coyne said after that contest. "It's the first time he's had a chance to really sprint and they were all coming home like gangbusters. I think they came home in :26.4 on the board. It was just great to get up and get a piece and make the final.
"This was a big solid (class) move up. He was right on the cusp of whether he could go or not, but we figured we'd take a shot. It's the last race he has for the year, so we'll keep our fingers crossed. Every time he goes out he's getting better.
"He was a little slow started. He actually got gelded and we missed a little time once the season got going. That's why he's only had a handful of starts. But he's a nice colt and keeps improving. I think he's going to make a heck of a three-year-old."
(USTA)