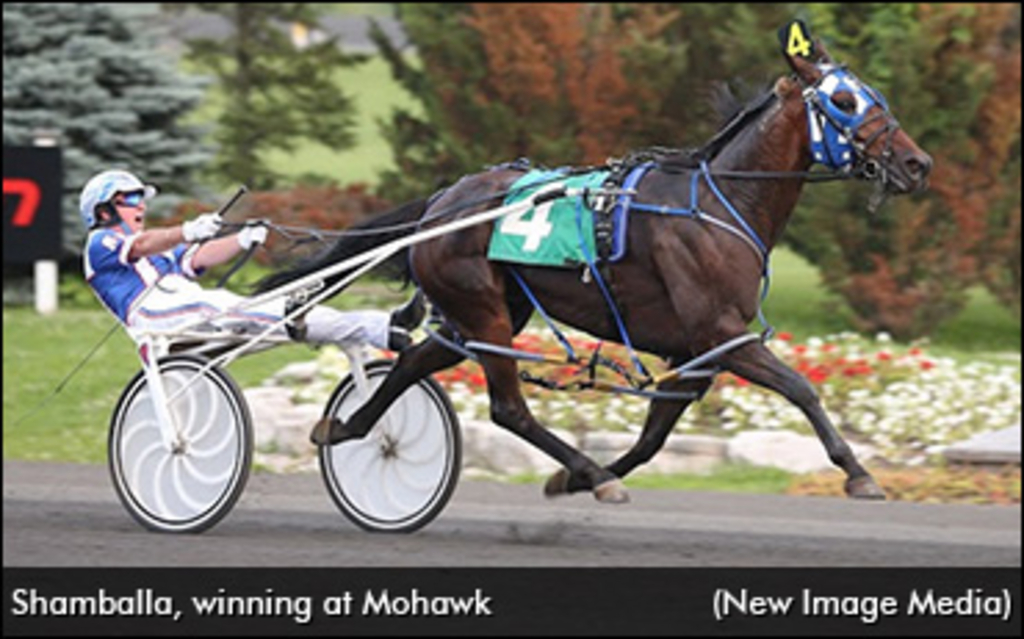 It's been a great year for Rick and Scott Zeron. What would make it even better is winning a Breeders Crown race, something the father and son have yet to do in their illustrious careers.
Rick, one of the sport's best all-around horsemen, has driven in 39 Breeders Crown races, and his best finishes have been a couple of second-place finishes with Armbro Rosebud in the 1997 Two-Year-Old Filly Pace and Soulful Hanover in the 2000 Three-Year-Old Filly Trot. Soulful Hanover also represented his best finish in 13 starts as a trainer.
Scott has driven in 44 Breeders Crown races, and his best result has been a second-place finish with Cee Bee Yes in the 2014 Three-Year-Old Filly Trot.
If the racing gods are co-operative, the Zerons will celebrate their first Breeders Crown wins with Shamballa in the Open Pace in this year's event at the Meadowlands Racetrack, a track which has been kind to both members of 'Team Zeron' in 2016.
Scott drove Shamballa to victory for his father in August in the U.S. Pacing Championship, as he upset a field that included the likes of Wiggle It Jiggleit and Always B Miki. Both are entered in the Open Pace.
On the same card that he steered Shamballa to victory, Scott won the Hambletonian with Marion Marauder, who subsequently went on to sweep the Trotting Triple Crown. Scott will be driving Marion Marauder in the Three-Year-Old Colt & Gelding Trot. He also has several other drives in the two-day championship event.
Rick said Shamballa has a shot considering he has drawn Post 2 in the field of 10, the same starting position in which he won the U.S. Pacing Championship, after having drawn the outside post in his last three races.
"'Miki' has the four hole and Wiggle It has the seven hole, so you're going to have some outside flow moving and the rail horse leaves, so I'm looking for good things," Rick said. "Scott is really happy with the draw and, cross our fingers, we'll see if we can get our picture taken with a Breeders Crown trophy on Friday. That would be an extra boost if we can get this done. It would be a great achievement for Team Zeron. I'd be ecstatic to win a Breeders Crown. I have no words to describe it. I'd have to wait until it happens and then I could give you the words. Right now we're in the Breeders Crown and we drew good and I'm looking for good things.
"I thought I was going to win it with Soulful Hanover. I came from about ninth at the head of the lane and finished second by one and a half lengths, beaten by Aviano. It was the shot that I thought I was going to win, and I think we've got a shot this week, too."
Shamballa, a six-year-old gelding by Somebeachsomewhere, has won four of 16 races this season and almost $400,000 for an ownership group that includes Rick.
"I got him late when he was a four-year-old," Rick said. "I raced him late at five. I trained him like the Europeans train their trotters to have them strong at six, seven and eight. He's done everything that I've asked of him. We came up light in the Canadian Pacing Derby (finishing seventh by five lengths). He got a little bit sick on me. I kind of let some money go out the door there, but he's made close to $400,000 this year and I'm happy with that. We've got two more races this year – the Breeders Crown and the TVG – so hopefully we can get some money in there and get him over the $1 million mark."
Rick was originally scheduled to drive Windsun Revenge in the Open Trot, but the ownership group of Van Camp Trotting Corp., Robert Van Camp and trainer Jeff Durham asked the patriarch if he would allow his son to drive. Scott had been listed to drive to Il Sogno Dream.
"My son has a great head on his shoulders," Rick said. "He's very confident in himself. He prides himself in looking good all the time. He works out more than most 27-year-olds. He keeps himself in as good a shape as a horse trainer can keep a top horse in shape. He handles himself extremely well and he holds in his nerves in big races. He analyzes things extremely well. He knows when he's got a shot to put his horse into the race and he knows when he doesn't have that good of a shot to fall off the gate and try and get the owner as much money as he can.
"He's learning every day, which I'm extremely happy about because a lot of young drivers stop learning because they think they know it all. My son learns every day."
Scott left the Ontario circuit three years ago to race full-time in the U.S., in particular at the Meadowlands, and he's become one of the top-10 earners, currently sitting in the top-five this season with more than $7.5 million.
"It all comes down to the Breeders Crown," Scott said. "I've been close a couple times. I've had very good chances to do it and have come up just short. To me it's not the same thing as the Hambletonian where you get one race once a year. We have 12 Breeders Crown races, so I have a good chance of doing it – a very difficult one, too. It's missing on the résume, but I'll get the Breeders Crown win sooner rather than later.
"It would be gigantic to win with Shamballa. A lot of the fact is it's my Dad's horse and we have such a great relationship. The other element is you're battling the Goliaths every single time we get behind the gate in that division with Wiggle It Jiggleit and Always B Miki. When I won the U.S. Pacing Championship, it was all the emotions of winning for my Dad and being a giant slayer. It's a big, big deal winning that division and the added incentive of winning it with my Dad."
Scott is also excited about the prospect of winning with Marion Marauder, who would be in contention for Horse of the Year if the son of Muscle Hill won in the Breeders Crown.
"I feel like there's a lot riding on this race in that respect," he said. "I want Horse of the Year just for the magnitude of the races he's won and what he's done. It's so hard to argue against Miki and Wiggle because they race 30 starts a year. They are in the box every week, racing non-stop in all their dances, whereas my horse will have 15 starts. It's so tough. I can't be the attraction that those horses are because they are always racing.
"We pick our spots because we're only a three-year-old, but the magnitude and prestige of the races that my horse has won it's a big deal to get this last one."
The complete field for the $421,000 Breeders Crown Pace appears below.
Race 7: post time 9:35 p.m.
(Post Position, Horse, Driver, Trainer, Morning Line)
1 – Split the House – Brian Sears – Chris Oakes- 25-1
2 – Shamballa – Scott Zeron – Rick Zeron- 8-1
3 – Mach It So – Tim Tetrick – Jeff Bamond- 20-1
4 – Always B Miki – David Miller – Jimmy Takter-6/5
5 – Dealt a Winner – Andy Miller – Mark Silva-15-1
6 – All Bets Off – Matt Kakaley – Ron Burke-15-1
7 – Wiggle It Jiggleit – Montrell Teague – Clyde Francis-8/5
8 – Luck Be Withyou – Brett Miller – Chris Oakes-12-1
9 – Melmerby Beach – Yannick Gingras – Ettore Annunziata-40-1
10 – Americanprimetime – Andrew McCarthy – Rick Dane-40-1
(Breeders Crown)