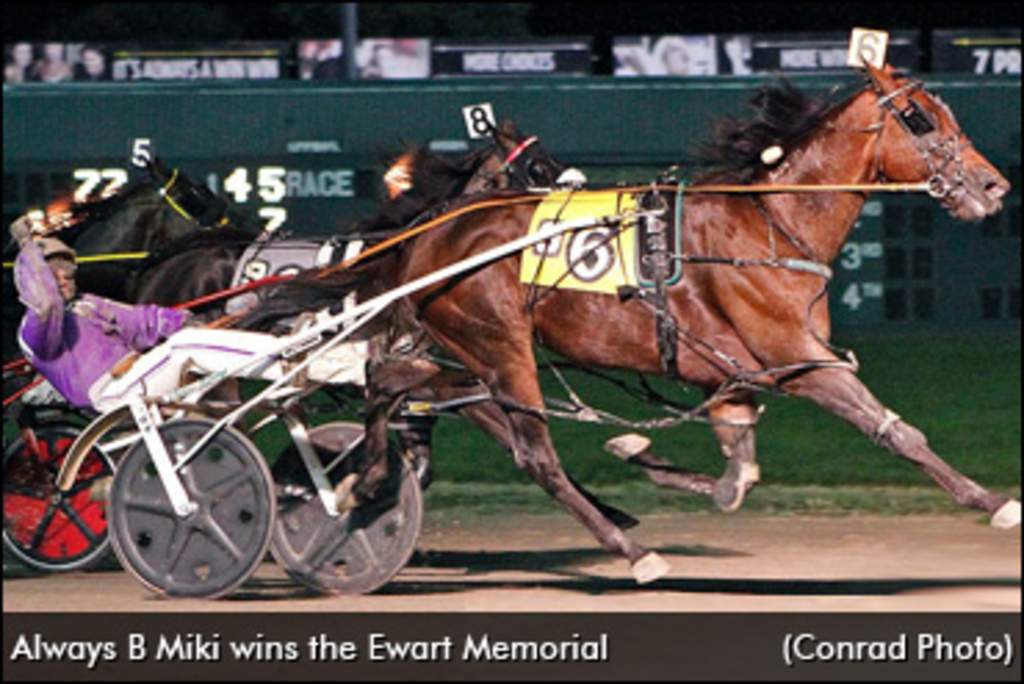 World champion Always B Miki p, 1:47f ($2,338,176), who holds the distinction of winning three races in 1:47 in a single season – no other horse has more than one 1:47 or faster mile – will be retired to stud duty at Diamond Creek Farm in Pennsylvania at the end of his 2016 racing campaign.
He is scheduled to compete in the Allerage on Sunday at the Red Mile and then complete his career at the Meadowlands Racetrack in the Breeders Crown and TVG Free-For-All.
The horse's ownership group, Bluewood Stable, Roll The Dice Stable and Christina Takter, issued the following statement in announcing the news: "Diamond Creek Farm has purchased a significant interest in Always B Miki. The entire partnership is elated. This is a natural progression for a great horse, to stand at a great facility where he will receive excellent support."
Diamond Creek Farm's Adam Bowden said he had been working on a deal to stand the stallion at stud for quite some time.
"I'm really excited. I've been working on this all summer and hoping and praying it would happen," said Bowden. "It's just great to add him to our stallion roster."
A stud fee will be announced at a later date.
Hall of Famer Jimmy Takter has trained Always B Miki during the horse's four-year-old and five-year-old campaigns, which included victories in the Breeders Crown last year at age four and this season the Mohawk Gold Cup, W.R. Haughton Memorial, Ben Franklin, Jim Ewart Memorial and Hoosier Park Pacing Derby. His 1:47 victories in the Franklin elimination and final and Ewart equalled the world record for a five-eighths mile track.
"He is a very special horse, a great horse. I'm sure he's going to be a successful sire," said Takter. "I also think he's going to be an interesting horse for the breed."
Bred by Joe Hurley's Roll The Dice Stable, Always B Miki is a son of Always A Virgin and the Artsplace mare Artstopper. Trained at ages two and three by Joe Holloway and Roger Welch, Always B Miki won back-to-back races at the Red Mile Grand Circuit week, including the Tattersalls, and in the Meadowlands Pace he famously finished a hard-fought second in world record time after starting from Post 9 and being parked two-wide the entire race.
Always B Miki's start in the Allerage at the Red Mile Sunday afternoon will be his 50th career start. Going into the Allerage, he has 26 career wins and 42 on-the-board finishes.
(Bluewood Stable, Roll The Dice Stable and Christina Takter)