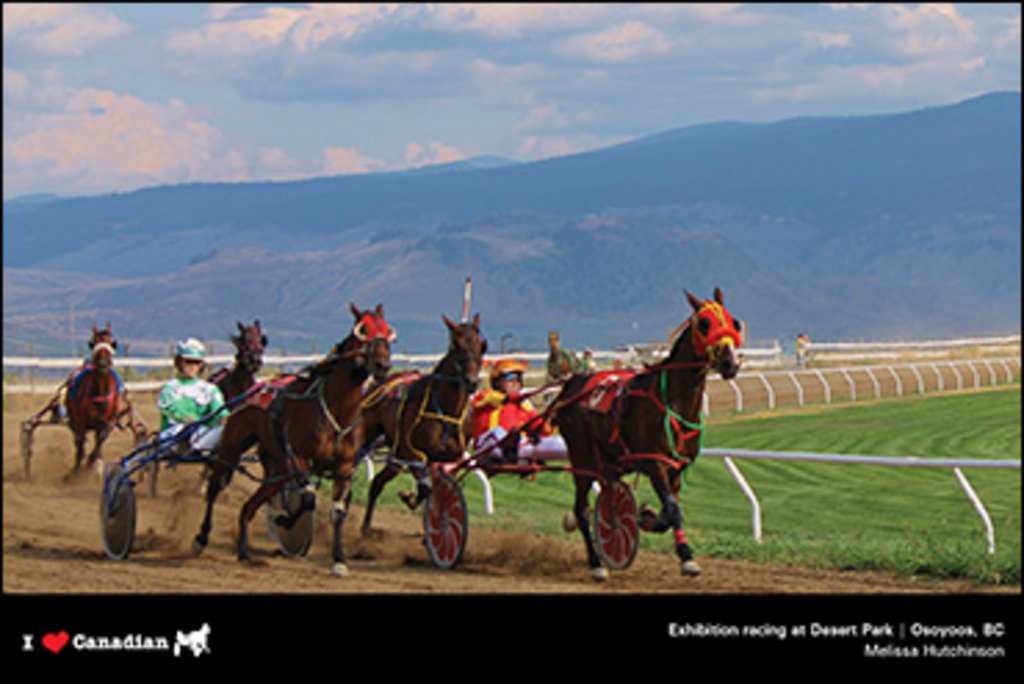 Melissa Hutchinson of Abbotsford, British Columbia is our photographer for the beautiful October image in the 2016 Heart of Harness Racing Calendar.
Melissa works for a helicopter company in Langley, B.C. where she started out as a mechanic and now has transitioned into quality assurance. Although not as active in racing as she was a few years ago, she still makes it out to the track to do volunteer work for Greener Pastures, the BC Standardbred Adoption Society.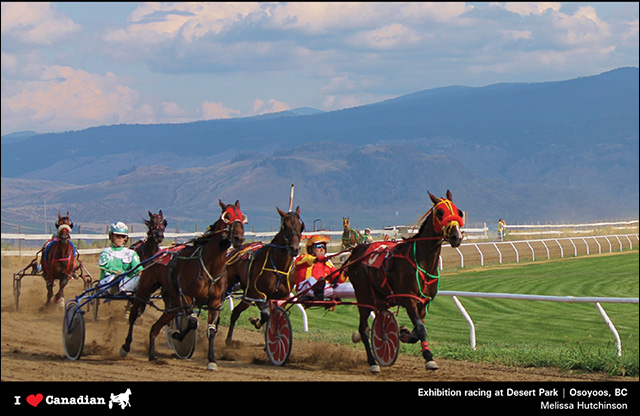 Melissa captured this action shot at Desert Park in Oosoyoos, B.C. as she made the trip with Cenalta Wizard (aka Wizzy) a $3,000 claimer she bought, and some others from Fraser Downs.
"The view from the track was phenomenal and the weather was warm. Unfortunately the day did not continue as picture perfect and many people were plagued with equipment issues; most of the drivers went out with at least one flat tire as they kept running over cacti trying to get to the track. I was just happy that Wizzy, with trainer and co-owner Alina MacLeod driving, had made it onto the track and went to snap a few pictures through the fence on the backside. You can see him a little behind the pack in the pink and blue."
Melissa was given her first horse, an older standardbred named Rouge Valley (aka Roads), from a friend as she was no longer able to ride.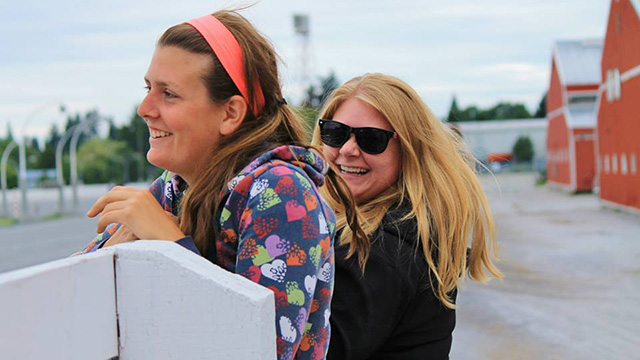 Alina MacLeod and Melissa Hutchinson
"I boarded him at a barn that had Greener Pastures boarding there as well. I ended up becoming friends with the program co-ordinator, Alina MacLeod, and volunteering with the program, eventually becoming a board member.
"Alina had thrown around the idea of getting a racehorse project for the summer of 2014 and we ended up buying a $3000 claimer, Cenalta Wizard, at the end of the meet. He raced with us for two years with eight wins, four seconds and four thirds and just retired at the end of the meet in 2016 to become my riding horse, as unfortunately Roads was laid to rest last year at age 25."
Photography is a hobby for Melissa and she confesses that she takes her camera everywhere "because you never know when a good photo op comes up." She also takes photos for Greener Pastures, friends and family.
"I love taking photos of horses and my computer is filled with thousands of them," admits Melissa, "Just going out into the field and playing around with the different camera settings is a great way to spend an afternoon. Unlike people, they don't have bad sides and usually if you snap a few action shots at least one will look good!"