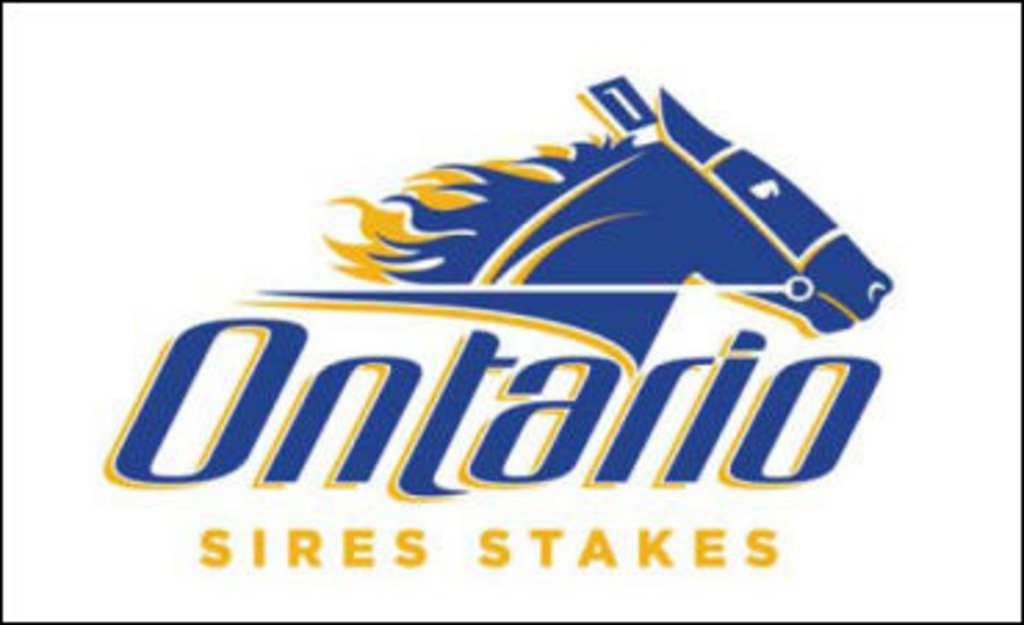 The 2016 Ontario Sires Stakes Grassroots season came to a close on Saturday night (September 24) at Mohawk Racetrack with eight new divisional title holders emerging from the $400,000 championships. Top pacing mare Lady Shadow was also in the spotlight, winning the $311,000 Milton Stakes.
Trot Insider has provided coverage of the eight, $50,000 Grassroots championships for two and three-year-olds, and the Milton Stakes for older pacing mares below.
Ontario Racing hosted a reception for the Ontario Sires Stakes. Here's Ontario Racing Executive Director Rob Cook with SC's President & CEO Dan Gall enjoying the night at Mohawk.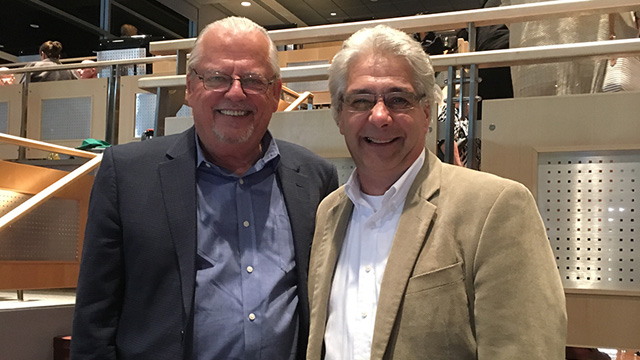 Two-Year-Old Filly Trot
Riding a three-race win streak and having drawn the inside post position, Anikadabra seemed liked a safe bet in the evening's first Grassroots Championship. While two-year-old trotting fillies can be unpredictable, the divisional win leader stayed true to form and delivered on her 1-5 pari-mutuel promise with a three-length victory in 1:57.4 for driver Rick Zeron and trainer Rob Fellows.
Zeron made his move with Anikadabra after a 28-second first quarter and sent her from and early four-hole to the lead by the :58 mid-way mark. The favourite trotted out to a two-length advantage on the way to three-quarters in 1:28.2 and cruised home uncontested for the dominant victory. Stritch (Jonathan Drury) closed late for the runner-up honours while first-quarter leader Late Shift (Jody Jamieson) held on for third.
After the race, Zeron agreed the victory was as easy as it looked for the winning filly.
"It actually was. She's just an outstanding filly," said Zeron. "I can't tip my hat off enough to Rob Fellows. He managed this filly every race that she was in this year. He took care of her. I kept telling him that she was a Gold [filly] and he said, 'I'll save her for next year, we got bigger fish to fry, we're going to race her in the Grassroots this year and put her away fresh.' So she finished up tonight and she was just as fresh as the day I sat behind her the first time."
Anikadabra now has five wins from seven career starts, all in the OSS program, for earnings totalling $71,840. The Kadabra-Anikawiesahalee filly, who is a half-sibling to Maple Leaf Trot champion Resolve, was retained by her breeders, Edward Wilson of Seagrave, Ont. and his New York-based partner Michael Pozefsky, with future plans to breed her.
Three-Year-Old Colt Trot
Prince Lee Acres' homebred P L Jerico pulled off the mild 7-1 upset in the next championship as he wore down the favoured three-year-old trotting colt Muscles For Life to win in 1:55 flat, equalling his lifetime mark for trainer Matt Dupuis.
Recent Simcoe Stakes winner Muscles For Life (Doug McNair) left from post eight and cleared to command at the :27.3 first quarter mark, but driver Mike Saftic sent P L Jerico first-over from fourth through middle splits of :57.1 and 1:26 and overtook the 4-5 favourite in deep stretch to win by half a length. Early leaver Mass Balance (Phil Hudon) finished third.
"He felt good [turning for home]," said Saftic of the Manofmanymissions-Corinas Mission gelding. "I was trying to set up for a nice second-over trip and I thought there would be a little more speed leaving, but we had to come first-up and he's been a consistent colt all year and it's nice to get this one done."
"I was kind of worried coming first-up," said Dupuis. "This horse has had bad allergies all summer and tonight was nice and cool. Thank God it was, it really helped him."
Winless in six starts as a freshman, P L Jerico has put together a 5-4-2 record in 16 sophomore starts to earn the bulk of his $94,570 bankroll. Dupuis attributes his improvement to an equipment change.
"We put the hopples on and it just gave him confidence," said the Rockwood, Ont. horseman. "He only broke once, but he got jammed up in the first turn. Other than that, he's been flawless."
P L Jerico wasn't entered in last Grassroots leg so he will be eligible to compete in the remaining Gold Series event on October 6 at Mohawk to wrap up his season.
Two-Year-Old Filly Pace
Favourite Dudesalady prevailed off a second-over trip to win the Grassroots Championship for two-year-old pacing fillies in 1:54.2.
Jody Jamieson settled Dudesalady mid-pack from post six during a contested :26.2 first quarter and then tipped her outside down the backstretch where she picked up cover in the form of Daenerys Hanover (Paul MacDonell) through middle splits of :56.1 and 1:25.1. Dudesalady rallied three-wide to overtake the leading P L Karis (Chris Christoforou) in the stretch while Anderson Seelster (Jonathan Drury) also followed wide and closed within a neck of the 3-5 favoured filly. Village Jamie (Trevor Henry) finished two lengths behind in third.
"It's a stakes race final so I wasn't too worried about catching cover," said Jamieson of his racing strategy. "It didn't look like it maybe, but I know Mac's horse [Daenerys Hanover], they changed the bridle on her. Mac's been real good with her -- he won with her in :55 two Grassroots ago -- so I thought he didn't want to sit third so I wasn't too worried about catching cover. He didn't go as far as I like, obviously, but this mare was so good last week, she really impressed me. I think it was probably her best start of the year last week. Susie [Kerwood] kept her good all week and she came back and just repeated what she did last week."
Owned by M And L Of Delaware LLC and Victoria Dickinson, the Shadow Play-Accountable filly joined Susie Kerwood's stable at the end of August and has pushed her win count to five for her freshman campaign in which she has banked $61,910 in eight starts.
"She's a very nice filly," said Kerwood. "I think she's going to turn out to be a real good three-year-old filly.
"She takes care of herself like no other. She's very laid back. She makes my job easy."
Three-Year-Old Filly Trot
Appearing to be locked in down the backstretch, driver Trevor Henry was able to maneuver 3-5 favourite Magical Steph into contention and she launched home to score in 1:55.4, defeating her three-year-old trotting filly foes for the championship title.
Trevor Henry had Magical Steph firing out from post six among a trio of early leavers and settled in the pocket behind divisional point-leader Myretirementticket (Jody Jamieson) during the :26.3 first quarter. Magical Valentine (Jack Moiseyev) was then flushed first over from fourth on the way to the half in :56.1 and she blew by Myretirementticket with Anneli Hanover (James MacDonald) in pursuit to three-quarters in 1:25.4. Around the final turn, Henry was able to tip the locked-in Magical Steph second-over and she rallied off cover down the stretch, with Roadmapper (Mike Saftic) closing to her outside for second. Magical Valentine finished third.
"I thought she wasn't going get out," admitted the Kadabra-I Like Stephanie filly's trainer and owner Gary Lance. "After she got locked in around the last turn, I didn't think she was getting out. But she's got quite a bit of trot when she gets clear sailing."
A back-to-back winner after taking her 1:55.3 career mark in the Semi-Final last week, Lance noted that Magical Steph is in top form.
"We took her to Ohio State University last year and got some work done on her in January and she didn't come out of the surgery very well," explained Lance. "So she had some infection in her hock and had to go back in for more surgery. So she's been a long time coming. She's the best she has been all summer right now."
Magical Steph now has four wins from nine starts this year and nine victories overall. The lion's share of the purse lifted her bankroll to $134,400.
She will try her luck against the Gold fillies next week (October 2) at Flamboro Downs.
Two-Year-Old Colt Trot
Many A Man displayed a quick turn of foot down the backstretch to take the lead on the way to securing his Grassroots Championship title for two-year-old trotting colts and geldings.
Driver Randy Waples had Many A Man on the move at the :28.1 first quarter mark and the divisional point leader powered to command down the backstretch. He reached the half in :58.3 and three-quarters in 1:28.2 while Radical Road (Rick Zeron) fanned three-wide off fading cover. Many A Man continued to lead into the stretch with Radical Road closing in and Santini splitting those two from the pocket. However, Many A Man held on to win by half a length in 1:57.3. Santino finished second and Radical Road was third over the quick-closing Zorgwijk Rocket (Joe Hudon Jr.).
"He's just a really nice horse," said Waples after the race. "He's knows what he's supposed to be doing out there and he likes to do it. We stayed out of the first quarter, which is kind of nice and then I was able to remove off of a cheap quarter, but he still had to come a fair ways to do it. Then he had to gut it out again down the lane. He knew how to do that too; he put his ears forward and off he went."
Many A Man has earned all five of his career wins in the Grassroots Series, with his latest a lifetime-best clocking. He now has $64,940 earned in nine career starts.
The homebred Manofmanymissions-Armbro Sylvie colt is owned by the Robert McIntosh Stables Inc. of Windsor, Ont., C S X Stables of Liberty Center, Ohio, and Dave Boyle of Bowmanville, Ont.
Waples had nothing but praise for the colt's Hall of Fame trainer Bob McIntosh, referencing the horseman's wealth of knowledge and talent for developing young horses.
"He [Many A Man] was really nice from the first time I sat behind him, but he was just a little bit 'greener.' And now, he just seems like he's progressing to the point now where he's kind of old hat out there now," said Waples. "He's really, really learned a lot, but that's nothing new for Bob. They always seem like at the end of the year, that's when they're at their very best. He might give up a little bit of early money, but he always seems like he's the guy that gets all the late money. This year, once again, he did it with this guy."
Lady Shadow Wins Milton Stakes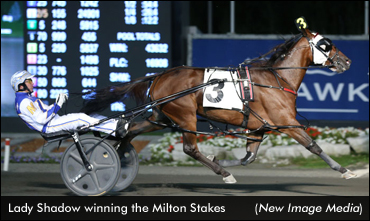 Lady Shadow continued her career-year amidst the Grassroots Championships, adding the $311,000 Milton Stakes to her impressive list of accomplishments for trainer Ron Adams.
James MacDonald picked up the catch-drive on the millionaire Shadow Play-Lady Camella mare and earned his second straight victory in the event. He drove Venus Delight to victory in the 2015 edition over Lady Shadow.
"When you're lucky, you're lucky," said MacDonald of his back-to-back wins in the Milton. "Last year, I was lucky enough to pick up Venus Delight and she was razor sharp at the time, and tonight, Ronnie asked me to drive 'Lady' and she's tough as whale bone so I've been lucky."
Leaving from the inside post, Wrangler Magic (Sylvain Filion) secured the early lead through a :26.4 first quarter with Frost Damage Blues (Jack Moiseyev) tucking into the two-hole ahead of 3-5 favourite Lady Shadow. MacDonald then sent Lady Shadow after Wrangler Magic down the backstretch and battled head-to-head with the front-striding mare past the half-mile mark in :54.4 before pulling clear. Lady Shadow proceeded to three-quarters in 1:21.4 with Frost Damage Blues advancing up to second, but Lady Shadow began to open up on top turning for home and earned her ninth win of the season in 1:50 flat. Yagonnakissmeornot (Louis-Philippe Roy) came on for second and Waasmula (Trevor Henry) finished third.
"When you're 2-5, you kind of hope to get some respect. I know Sylvain wanted to stretch me out a little bit, but it doesn't matter to her," said MacDonald. "I've seen her go some of the craziest trips you could ask a horse to go this year. She got stung pretty hard tonight and she's just such a good mare, she overcame it."
"Everyone is here to play hardball," noted Adams. "I was a little worried going to the half -- she was parked pretty good and pressing -- but she's gone big trips like that and I was confident in the lane she as going to hang tough."
Lady Shadow also boasts stakes wins in the Roses Are Red, Golden Girls and Lady Liberty this year.
"She's definitely having a career-year," said Adams, who trains Lady Shadow for owners David Kryway, Carl Atley, Edwin Gold and the Bfj Stable. "She's just been tough and stayed tough the whole year and she's just getting better, I think, with every start."
Lady Shadow is being pointed to the second weekend of stakes at The Red Mile's Grand Circuit meet next.
Three-Year-Old Filly Pace
As the Grassroots Championships resumed, driver James MacDonald made his way back to the winner's circle with the Mark Steacy-trained three-year-old pacing filly champion Forever Liza.
MacDonald secured a second-over trip with the Bettors Delight-Forever Cam filly after a series of early lead changes and prevailed in a photo finish.
Divisional point leader Noone To Depend On (Jody Jamieson) put up a 27-second opening panel before being looped by Windsun Glory (Doug McNair) at three-eighths, with Free Show (Trevor Henry) coming on and clearing past the half in :55.1. As Free Show raced on to three-quarters in 1:23.4, Forever Liza tracked the cover of Top Royal (Phil Hudon) and then kicked home in :27.4 to collar Free Show in 1:52.2. Selling The Dream (Rick Zeron) closed from the backfield to match Free Show's strides in a dead-heat finish for the runner-up honours. Windsun Glory finished three-quarters of a length behind.
"She got a good trip. I was in behind Phil and he was grinding first-up and when I moved her, she went on," said MacDonald in a post-race interview. "Last week [in the Semi-Finals] she blew by and today she was struggling to get there, but she got there and I was happy with her."
After making just three starts as a freshman, Forever Liza has blossomed into a seven-time winner in 16 starts this year, lifting her bankroll over the $100,000 mark for owner Hudson Standardbred Stable Inc. of Hudson, Que.
Three-Year-Old Colt Pace
Arsenic continued the favourite trend in the Grassroots Championships with a wire-to-wire victory in the Glamour Boy division for trainer Scott McEneny.
Driver Doug McNair left for the lead with the 8-5 pari-mutuelly popular Bettors Delight-Shes Poison gelding from post six into a :27 first quarter and was prompted to the half in :54.2 by the first-up divisional point-leader, St Lads Moonwalk (Jody Jamieson). However, Arsenic shook off that rival on the way to three-quarters in 1:23 and cruised home for the one and a half length victory in 1:51.1, equalling his lifetime mark that was taken in last week's Semi-Finals. Continual Hanover (Randy Waples) and Inspiration View (Trevor Henry) came on for second and third, respectively.
"I was just going to see how he felt," said McNair of Arsenic facing the mid-mile challenge from St Lads Moonwalk. "If I had to let him go, I would have, but I just kind of chased him and he swelled back up when he got beside me, so I decided to leave him out and it worked out for us."
Arsenic has earned his four sophomore wins over the last two months and now has eight career wins from 22 starts and earnings of $184,600 for his owners, including McEneny's wife Michelle and their partners Brad Grant and Teresa Davidson of Milton, Ont.
"Last year, he raced in the Golds and they started him off this year in the Golds," noted McNair. "He's come a long way in the last four or five starts. He's a real fast colt, you know, when he qualified this year, he came a quarter in :25.1 or something crazy. He's got the speed, but it took him a bit of the year to get rolling and it's the right time of the year for him."
Two-Year-Old Colt Pace
The Stephane Larocque-trained pacing colt Tymal Peacemaker closed out his eight-race two-year-old campaign and the Grassroots Championships with a 1:52.4 score.
Driven by Sylvain Filion, 2-5 favourite Tymal Peacemaker swept to command from third after a :26.4 first quarter. The Mach Three-Flying Color colt then cruised through middle splits of :56 and 1:24.2 en route to the two and a half length victory. Bet On Brett (Rick Zeron) followed in second off a pocket trip while The Dark Shadow (Jody Jamieson) advanced first over to finish third.
Tymal Peacemaker won his last four starts of his freshman season and boosted his bankroll to $67,000 for owner Bayama Farms Inc. of Saint-Andre-D'Argenteuil, Que.
"He's unbelievable. He raced really good his last four starts and we're really happy with him for next year," said Larocque. "He's still learning, but it's very encouraging for next year."
Larocque said that the Grassroots champion will now head back to Yves Filion's Bayama Farms for a break and to prepare for his three-year-old season.
To view Saturday's harness racing results, click on the following link: Saturday Results - Mohawk Racetrack.