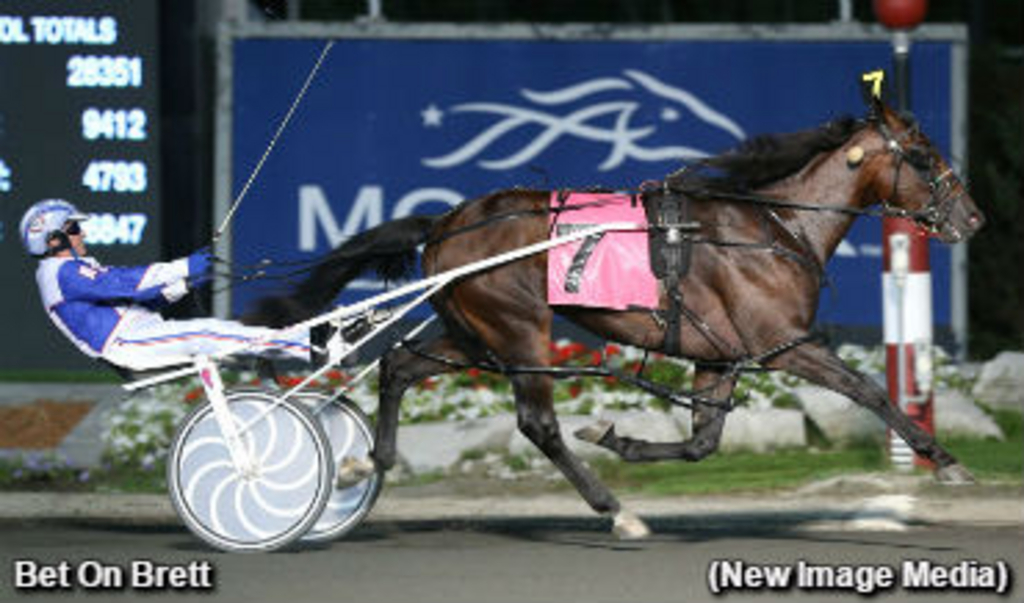 Mohawk Racetrack hosted a trio of Grassroots divisions for the two-year-old pacing colts on Monday and fans were treated to three personal best efforts by winners Mc Mach, Bet On Brett and Tymal Peacemaker.
Mc Mach kicked things off in the first $18,000 Grassroots division, leaving the gate smartly from Post 3 and taking control before the halfway marker. On top by two lengths at the :55 half, Mc Mach and driver Paul MacDonell of Guelph, ON stretched that margin to three and one-half lengths by the 1:23.2 three-quarters and hit the wire almost seven lengths ahead of the field in 1:52. Tremendous Play and Bills Fella finished second and third.
"He has Gold talent and an immature mind," said trainer Bob McIntosh of Mc Mach. "Hopefully he will grow into his talent."
The Windsor resident shares ownership of the homebred son of Mach Three and Northern Empress with Al McIntosh Holdings Inc of Leamington, ON and Randy Liepa of Livonia, MI. In four Grassroots starts the colt now has three wins and sits in second spot in the division standings with 153 points. Monday's victory knocked two seconds off Mc Mach's personal best, a 1:54 clocking he had posted winning his division of the Grassroots season opener at Mohawk on July 7.
Bet On Brett was also victorious in the July 7 season opener, touring the Campbellville oval in 1:54.4, and on Monday he also shaved two seconds off his speed record. Starting from Post 7 with Rick Zeron in the race bike, Bet On Brett eased off the gate into fifth, but was soon taking aim on the leaders.
Reaching the front heading by the :56.1 half, Bet On Brett rolled on to a 1:23.3 three-quarters and then sailed home to a 1:52.4 clocking. Dreamfair B J was two lengths back in second and Master The View was another one and three-quarter lengths back in third.
"He's a really, really good horse," said Oakville, ON resident Zeron. 'He can pace as fast as any horse can pace — as a two-year-old — for a piece. For a quarter of a mile, boy I'll tell you, he can pace with the best of them. He's got a wicked, wicked move on him."
Zeron engineered the win for trainer Marcel Barrieau of Cambridge, ON and his partners Gestion Mastel Inc of Longueuil, QC and Conrad Leber of Montreal, QC. His second Grassroots win bumped the son of Sportswriter and Tug River Della into fifth spot in the standings, assuring him of a spot in the Grassroots post season.
Monday's outing was the second tour of Mohawk Zeron has taken behind Bet On Brett and the reinsman expects big things from the youngster in the future.
"He just did everything, and more, than I had asked him. He's a real good colt and I know Marcel will take care of him because he's a hell of a horseman," noted Zeron. "He'll come back; this will be a major, major horse next year as a three-year-old."
Driver Sylvain Filion also has high expectations for the third division winner, Tymal Peacemaker. The Mach Three-Flying Color son started the season competing at the Gold Series level, but after three off-the-board finishes trainer Stephane Larocque and owner Yves Filion of Bayama Farms opted to drop him down to the Grassroots. Tymal Peacemaker responded with an impressive effort that saw him sit third for much of the race and then sprint by the leaders to a two and one-quarter length victory in 1:52. The Dark Shadow and Lindy The Kid completed the top three.
"He had a bit of a tough racing luck so far this year and so my dad decided to put him in the Grassroots, try and brave him up a bit," explained Milton, ON resident Sylvain Filion. "He's a really nice big horse, strong, but just a little immature. Tonight he raced real good. When we shook loose, he just flew home.
"I was trying to give him the best trip possible and luckily enough it worked out, it doesn't always work out," the reinsman added. "I see a nice future in this colt."
The win was Tymal Peacemaker's first in five outings and leaves Carlisle, ON resident Larocque and Saint-Andre-D'Argenteuil, QC resident Yves Filion with a tough decision about the pacer's next start. Monday's victory puts Tymal Peacemaker among the top 20 colts vying for a berth in the Grassroots Semi-final, while he currently sits just shy of the cut off for the Gold Series post season.
The last Grassroots event goes postward Sept. 8 at Flamboro Downs, while the last regular season Gold Series event is slated for Oct. 1 at Mohawk.
Once the two-year-old pacing colts wrap up their regular season at Flamboro Downs, the top 20 point earners will return to Mohawk for a pair of Semi-finals on Sept. 15. The top five finishers from each Semi-final will battle in the $50,000 Grassroots Championship on Sept. 24 at the Campbellville oval.
The three-year-old trotting colts will compete in their second last Grassroots event at Mohawk Racetrack on Tuesday evening, going postward in Races 1, 3, 5, and 8. The first race gets under way at 7:30 pm.
(OSS)
To view results for Monday's card of harness racing, click the following link: Monday Results – Mohawk Racetrack.