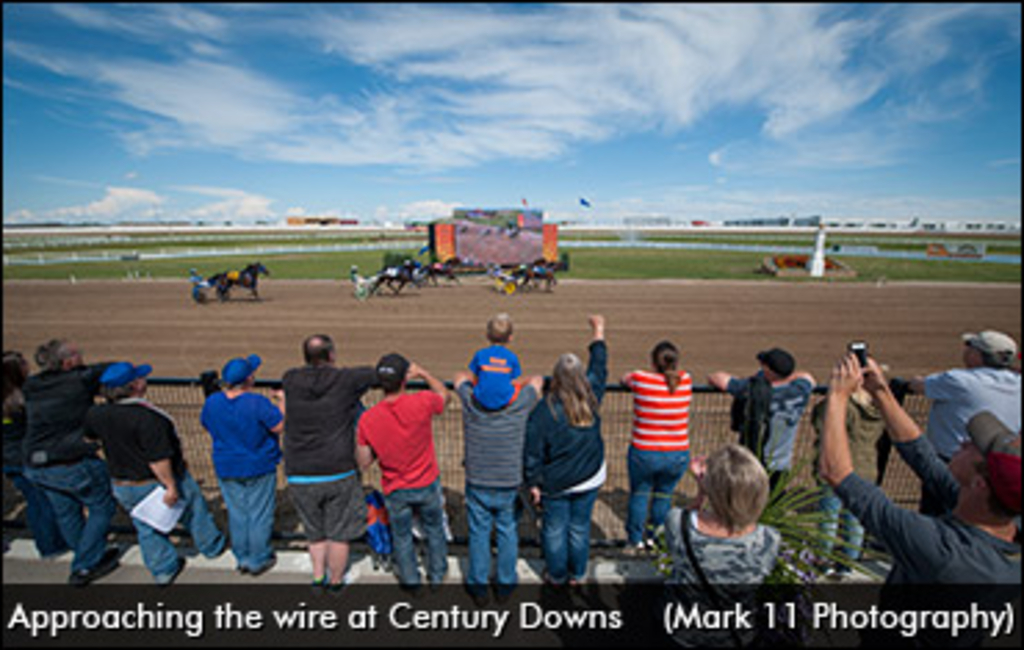 Canada's birthday is just around the corner which can only mean one thing. It's time to show off the best of the best in the heart of wild rose country. Century Downs Racetrack and Casino will showcase the best sires in Alberta with the opening leg of the Alberta Sires Stakes as part of its Canada Day card on Friday, July 1 when the eliminations in both series of the Alberta Princess and Alberta Plainsman series are conducted.
The three-year-old fillies get set to clash in the Alberta Princess while the boys will be contesting the Alberta Plainsman. With 50 fillies and 42 colts and geldings being eligible for the 2016 Alberta Princess and Alberta Plainsman series respectively, three eliminations were required for both series. Eliminations for both series will go for a purse of $5,000, with $50,000 (added) finals scheduled for the following weekend: the Alberta Princess is set for Saturday, July 9, while the Alberta Plainsman title will be decided on Sunday, July 10.
Alberta Plainsman Elimination C&G (First Division)
Blue Star Jet (Blue Burner-Movin Uptown) come into this race fresh off a coast to coast win in the Gordon Rumpel Stakes. Trained by Rod Hennessy, Blue Star Jet had a superb campaign last year and was named the 2015 Alberta Two-Year-Old (Colts & Geldings) Alberta champion earlier this year. The son of Blue Burner set the record at Century for two-year-olds at Century in 1:56 flat and has lifetime earnings of just over $70,000. He was a $12,000 yearling purchase for the Hennessy barn and can boast a couple of fast siblings, being a half-brother to Blue Star Admiral and Blue Star Texas.
"Jet is in very good shape and is lightly raced this year. He is a one-dimensional type. He can be quite stubborn and wants to go to the front. Blue Star Jet appears he wants to show he is the top dog on and off the track...he still has not taken to us be the bosses," laughed Hennessy.
Alberta Plainsman Elimination C&G (Second Division)
Another Rod Hennessy trainee Blue Star Maverick lost all hope in his most recent effort when he broke stride right from the start against older condition types. The race previous, he crushed the field in the Gordon Rumpel Stake by a widening six lengths. Owned by Edmonton's Lorne Duffield, the As Promised-Ranch Dressing colt took the lead from post four and carved out splits of :29.1, :59 and 1:27.2 en route to the easy victory in 1:56.3, establishing a new personal lifetime best.
Unraced as a two-year-old, he now has four wins, three second-place finishes and one third in 13 career starts with earnings of $25,753. Regular driver Mike Hennessy will again be calling the shots on a colt who the connections still believe has some growing up to do.
"Maverick is still learning the game, added Hennessy. "He broke recently but he is still green and is a nervous type, but we changed a couple of things and we should be ready for this. Outlaw Turn N Burn will be dangerous in this race."
Outlaw Turn N Burn (Blue Burner-Penny Lace) has turned in some eye popping races and does in fact appear to be a major threat. The Donna Sarin pupil equaled the track record at Century Downs last year as two-year-old in a time of 1:56.3.
Alberta Plainsman Elimination C&G (Third Division)
Rod Hennessy could have a huge day. His entrant in the third division is Red Tornado (JK Royal Flush-KG Mist), who drew the outside Post 7 but has certainly impressed so far in 2016. The ultra-consistent colt has a superb 12-3-3-3 record this year and paced a spectacular 1:55.4 on route to beating up NW2 types back on June 5.
"I think Red Tornado, to me, has been the most surprising," commented Rod Hennessy. "He may turn out to be better than 'Jet' and 'Maverick'. Mike has done a heck of a job on him. He has turned out to be a solid horse who will work right down to the wire. He was immature as a two-year-old but has come a long way."
The dam of Red Tornado, according to Hennessy, was a superb mare.
"I bought KG Mist and she won about $200,000 for me so the bloodlines are there."
Prairie Mystic (Mystery Chase-Twin B Magical) drew post 2 and will have to be dealt with. Claimed by Brad Watt back on May 1 for $6,000, she has never been worse than second in five starts since. However, Prairie Mystic has seen lots of action and may have to dig real deep.
"My horse is training good. He is sound and we drew a decent post, but this is his third start in twelve days. But the goal is to get to the final. That is where the real money is," said Watt.
Shifting to the girls, three eliminations of the Alberta Princess are also set to go.
Alberta Princess Fillies Elimination (First Division)
Leading up to her Wild Rose Stake victory, Jet Blue Burner (Blue Burner-Blinkanyoumissit) has not had a great time recently. She suffered a brutal trip on an off track against older foes back on May 29, then never fired in her next race on June 5. However, her talent blossomed in the Wild Rose Stakes as she used a first-over trip to grind down Divas Dragonfly down the lane.
Leading trainer/driver Travis Cullen, his mother Jodie and partners Keith Hannah and Dwayne Taylor share ownership of Jet Blue Burner, who set the Century Downs track record for two-year-old fillies in the Neal Adler Memorial Stakes last year in 1:57.4.
Punters looking for some value may want to look at Glamoral (Mystery Chase-Glamorous Gal) who blew up the tote board in her latest win over condition types at odds of 72-1, winning in 1:58.3.
Alberta Princess Fillies Elimination (Second Division)
Fans should see a heavyweight bout in this division. Outlawsurshotshark (Smart Shark-Fox Valley Cherish) made her stakes debut a winning one on June 11 in her $14,000 Wild Rose division for Cullen, his father Ron and the Don Byrne Stables Inc. The streaking daughter of Smart Shark just missed in her latest contest against older condition types by a small head despite a very wide trip.
A private purchase for the Cullen barn from Connie Kolthammer's Outlaw Stables earlier this year, the unraced-at-two sophomore sports a sparkling 13-8-3-2 record in 2016, bankrolling just over $37,000. She will command the bulk of the action with the other heavyweight in Monstrous, a three-year-old daughter of Allamerican Navajo who is owned by Sherwood Park chiropractor, Warren Fuller and trained by Darryl Cutting. The connections of Monstrous feel they have their work cut out for them.
"I think they are all tough. Getting the eight hole is obviously not good so it will take a real good horse to get the job done. But everything is in good firing order and we hope things unfold our way," commented Cutting. "She loves to come off the pace so we are hoping not to leave but with this outside post we may have to...we will see how it will unfold. We would be delighted to make the top three and get to the big dance a week later," .
Alberta Princess Fillies Elimination (Third Division)
Divas Dragonfly, the top two-year-old Alberta filly last season, looks awfully tough in this division. Her start to this year was in the operation room to remove bone chips, then she had to face older condition types but did not look out of place. The daughter of Mystery Chase has bankrolled $6,366 in four starts this season with two seconds and a third on her resume.
"She had won five races so we had no choice but to face older non-winners of six types but we were more than happy with her performance. I think she is back stronger despite losing two months of training time," said owner-trainer Carl Archibald. "Strange things can happen anytime but we hope for the best and our objective is to make the final. Just Becoz, Outlawtriggerhappy, and Cenalta Artistry look like tough opposition. She races best off cover but she is coming into this race very good."
Century Downs Racetrack & Casino is set to feature eleven races this Friday Canada day, July 1 with a post time of 1:10 p.m. Saturday will see eight dashes set for 5:45 p.m. First race post time of 1:10 p.m. is scheduled for Sunday with nine races on tap.
(A Trot Insider Exclusive by Frank Fontana)