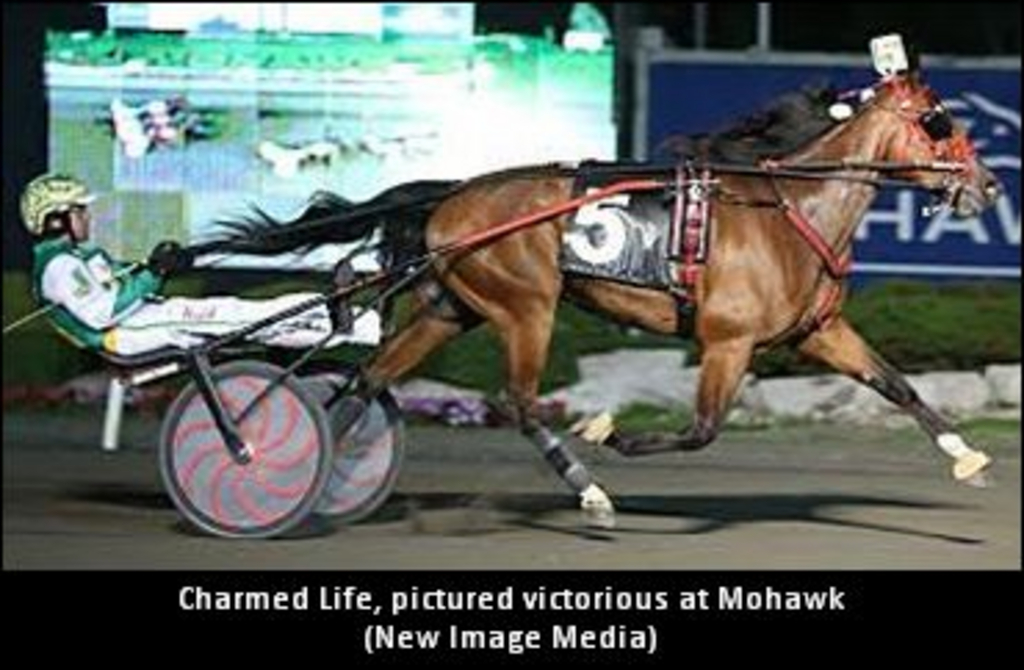 Like many residents north of the border, David Menary is a huge hockey fan and also was a participant in the game. Therefore, it is certainly not surprising he employs jargon stemming from the sport when he describes Charmed Life.
"She is a franchise player," he said. "She is not Bee A Magician, but she is one of the top three horses in my barn and I am grateful every day for my lovely wife, my two beautiful daughters and Charmed Life."
The six-year-old daughter of Majestic Son and the Muscles Yankee mare Christina M seeks her first victory of the season and continues her quest to reach millionaire status when she lines up behind the gate on Monday (May 23) in the second of two $30,000 divisions of the Miss Versatility Series at Mohawk Racetrack. Owned by Menary Racing Inc., Brad Gray and Michael Guerriero, the mare will be in rein to Jody Jamieson in the evening's ninth race against seven rivals, including Harley Momma, Rockin With Dewey, Stormont Kate and Second Sister, who will be vying against her to claim their own spot in the winner's circle.
Charmed Life enters this contest fresh off three consecutive second place finishes. She was directly behind the very talented mares Muscle Baby Doll (on April 25 in a conditioned race at Mohawk) and Hannelore Hanover (on May 8 in the $100,000 Miami Valley Distaff) and then came home the bridesmaid to the classy stallion Flanagan Memory on May 16 in the Preferred Trot at Mohawk.
"Every time she goes out there you can expect her best effort," Menary said. "Any time she loses it is not her fault and she always has a valid excuse. Like last year when we raced her in the Fresh Yankee on Hambletonian Day and she threw in the worst race of her life (10th place finish). She had the thumps that day and then it happened again when we shipped her up to Vernon Downs for the Muscle Hill right after that (eighth place finish). That was the only bad month she has ever had and all she needed was just some extra fluids because it was so hot out. She is low maintenance and requires no vet work. She is so easy to handle, she could probably live out of the back of a truck."
Charmed Life has competed in 83 trotting miles with 18 wins, 20 second place finishes and 15 thirds. She has collected $923,532 during her career and kept company with the likes of elite mares such as Bee A Magician, Maven, Classic Martine and D One. She was third in last year's Breeders Crown final, nearly set a track record in her very first start at age two and has banked more than $175,000 in each of the four full years she has raced.
This year's edition of the Miss Versatility will be her third attempt to take home the series title. She was fourth in the $100,000 final last year at the Delaware County Fairgrounds and second the previous year. For both her appearances in Central Ohio, Charmed Life was saddled with the outermost post, which can be notoriously difficult to overcome at that venue.
"They say the third time is a charm, so we are going to try and get that win for her again this year," Menary said. "When she finished second she came from way back at the top of the stretch and passed Bee A Magician and Maven. I really thought she was going to win but she came up just a neck short (of Classic Martine). Even when she finished fourth (last year) she still raced well and never had a pylon in her line of vision the entire way around the track. You couldn't ask anything more from her and we are hoping this year we draw a little bit better. We would really like to see her in the winner's circle for this series."
Prior to Menary and his partners purchasing her in March 2014, Charmed Life was under the watchful eye of John Bax and was owned by John Houston, Parkhill Stud Farm, Goin To The Show Stable and Dale Debnam. Menary worked with an agent to broker the deal and remains thrilled he has the opportunity to own Charmed Life.
"John (Bax) was the one who made her," he said. "He was the one that taught her to trot and I just had to learn about her. It took a couple of races for us to figure her out. We raced her the same way John did with leaving with her, then moving her twice during the race. She didn't seem to be finishing as strongly as I thought she should be so I kept scoping her and found she was full of mucus and was bleeding a little.
"To be honest with you, Hes Watching had an impact on the longevity and success of her racing career. I took her down with us to the Meadowlands when he raced in the Meadowlands Pace and she was in the Miss Versatility. That is when I decided to put her on the lightest dose possible of Lasix because I do that in New Jersey without having to sit out of racing her. She was terrific that day and finished a neck behind Bee A Magician, but she came home her final quarter in :25.4.
"I don't really believe in giving my horses anything and am very straightforward, but with his mare it really helped her. In fact just about six weeks after that she had what I think is the best race while I have had her in a Miss Versatility leg at Tioga Downs. She beat Classic Martine and Maven and set her lifetime mark of 1:52.2. Jody (Jamieson) was driving her and he said she literally was coming out of the bridle down the stretch. He was impressed."
Charmed Life will follow a similar schedule to her two previous campaigns with Menary.
"I lightened up her stakes schedule some this year but not much," he said. "We'll do the Miss Versatility series and I can put her in some races here at home while maybe giving her a week off here and there. We also decided not to go to the Muscle Hill this year and we'll be skipping the Allerage down in Lexington with her. I want her to be a fresh horse for the end of the year.
"Also her groom should be credited for how she has turned out as well. His name is Mark Cecile and he has spent a lot of time with this mare making sure she is in the best of health. I can't say enough about the work he has put in with her and he's been with her right from the beginning.
"We are just so lucky to have her. She may not be the fastest or the strongest, but she is a grinder and she will wear you down. Horses like her don't come along often and that is why she is the backbone of this barn."
(USTA)