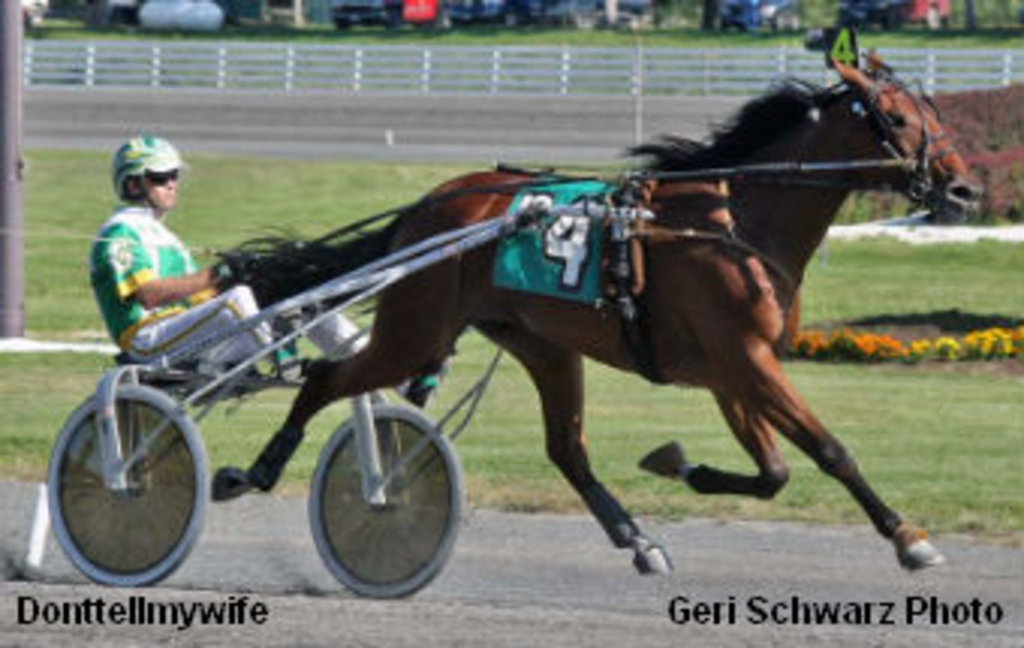 The best sophomore trotting colts bred in the state of New York will lock horns at Monticello Raceway when the Catskill Mountians oval kicks off the New York Sire Stakes program on Tuesday afternoon, June 2
. The colts will be vying for valuable points here and throughout the season in NYSS action at the other New York tracks in which only the top point-earners get a chance to compete in the rich NYSS Final at Vernon Downs in late September.
On Tuesday afternoon over $178,000 is up for grabs in a race that has been split into five divisions due to the fact that 39 colts and geldings will be battling for the dough.
Headlining the field will be last year's New York Sire Stakes freshman trotting champion, Donttellmywife, who's owned by Nicky Oliva, Shannon DiAntonio and the colt's trainer, George Ducharme. Donttellmywife has drawn the pole position in the second NYSS split, Race 5 and will be handled once again by Jeff Gregory.
Undefeated at two, the stellar son of Malabar Man tasted defeat for the first time on May 25 when the trotter got locked-in and his late charge fell short by 3/4-lengths to Russell Hill, who tripped the timer in 1:57:2 at Vernon Downs in the $206,275 Empire Breeders Classic Final.
As luck would have it, both colts will be in against one another, which will set-up an interesting confrontation on Tuesday. But unfortunately Russell Hill, who'll be driven by Jimmy Morrill, Jr., will have to start from post position eight.
After his triumph at Vernon in the EBC Classic, Russell Hill has banked $112,887 for Canadian owners Al Libfeld, Marvin Katz and Sam Goldband. Now with a win and a second in two seasonal starts, Donttellmywife, who defeated Russell Hill in the EBC Classic eliminations, has $57,819 on his card.
However, the aforementioned aren't the only nice colts to be in action that day. Judge Joe, another outstanding freshman trotter who's already scored a 1:57:2 victory at Hazel Park in his seasonal debut on May 22. This son of Credit Winner, from Hall of Fame horsemen Doug Ackerman's barn, will race away from Post 5 in the first division, Race 1, as the odds-on favourite in the race.
Owned by the Doug Ackerman Stables, Doug's son, DR Ackerman will handle the driving chores.
The last time Tim Tetrick raced here he drove Southwind Tempo to a stunning 1:54:1 victory in the pouring race in the $235,000 Silk Stockings Final two years ago. The outstanding race driver will be here on Tuesday and will handle a colt in each of the five NYSS divisions
He'll drive Domenico Costagliola's son of CR Excaliber, Big Sky Domino from post position six in the first NYSS split, Race 1, then and drive Duke Did It Stables Conway Hall gelding, Xelerating, from Post 7 in the fourth race
Next for Tetrick will be a drive behind Blackfoot Farms, Malabar Man gelding, Mikey, from Post 6 in against Donttellmywife and Russell Hill in the fifth race.
In Race 8, Tetrick will handle Sugar Mike LLC's son of Giant Hit, Hitontheflipside, whose tabbed as the favourite from the five-hole, and finish the Sire Stakes program with a mount behind Alan McCarty and Robert Kowalewski's, Credit Winner colt, Lombomba Blue Chip from the pole position in the ninth race.
The solid 12-race card will get underway at 1:10 p.m. on Tuesday.
(Monticello Raceway)