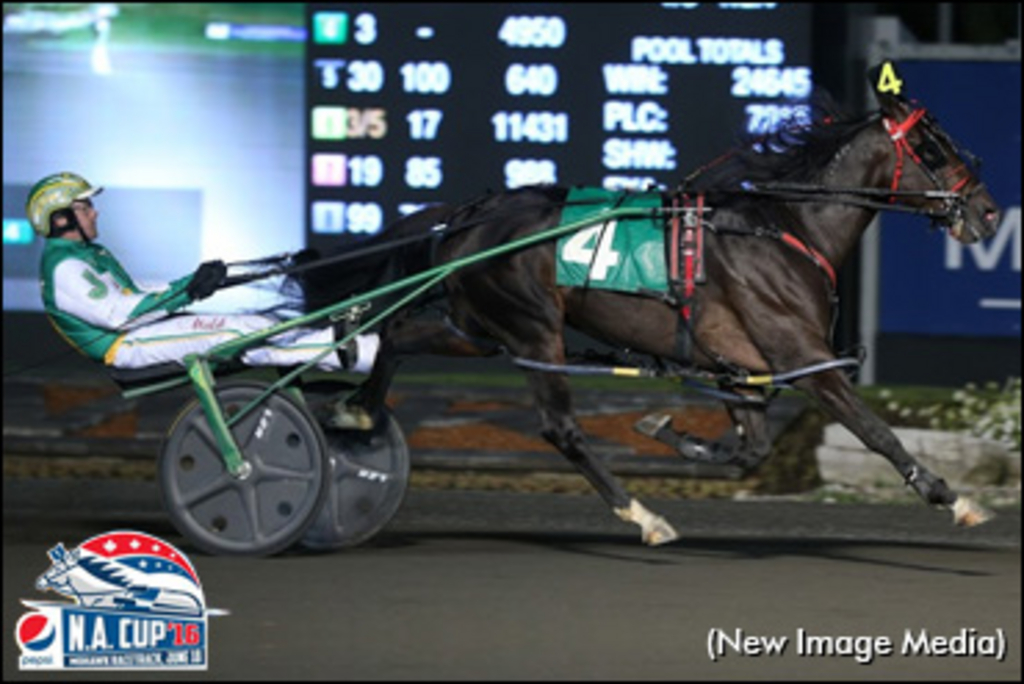 "Last year was a pretty wide open group of two-year-olds. For him to put away $370,000, he was one of the richer colts last year in North America....He had 11 starts last year and he was right there in the Breeders Crown."
The countdown to the 2016 Pepsi North America Cup continues, with Trot Magazine profiling the horses predicted to be the top contenders for Canadian harness racing's richest prize.
At 14-1, Nvestment Bluechip is the first of two Ontario Sires Stakes competitors cracking the top 10 of Trot's 2016 Pepsi North America Cup Spring Book, coming at #5.
The son of Shadow Play consistently accrued earnings for his ownership group, missing only one payday in 11 starts as a freshman to amass $367,153 while taking a mark of 1:51.1. A $40,000 yearling purchase, Nvestment Bluechip is owned by Ontario's Michael Guerriero, Denis Breton, Tom Kyron and trainer Dave Menary. Trot Insider caught up with Menary for an update.
Where did he winter?
"I turned him out in North Carolina at Olive Branch Farm."
When did you bring him back in to start training?
"He came back January 15th."
Where are you at with him right now?
"He's going two trips. He's right on schedule."
Have you noticed any changes from last year to this year?
"Every horse Chris [Coyle] sends back, they're always in great shape. He was a good looking colt last year but he really looks like a horse now."
Did you feel the horse needed to add much size from two to three?
"No, he's just always been a good doer and really takes care of himself. He's a super-smart horse and he lasted right through the year last year, kept his weight good. This year, he's really blossomed."
When will he qualify?
"I'll kind of let him tell me that but I'm thinking the middle of May."
What's his early schedule looking like leading up to the Pepsi North America Cup?
"His first stake will be a [Ontario Sires Stakes] Gold in London if we choose to go to the half-mile track. He's also got the Somebeachsomewhere."
What is he staked to past the North America Cup?
"In August I paid him into the Battle of the Brandywine just because he had a big gap in his schedule there. I paid him into the Simcoe, the Little Brown Jug and the Breeders Crown...he has opportunity to tackle the Grand Circuit boys but we're lucky to have the Sires Stakes too."
At what point last year did this horse show you North America Cup-level talent?
"Early on he was one of my best babies. I pegged him in November [2014] as the best one I've got this year. He was a super trainer and all of a sudden he got a bit too smart, and once he got qualified he wasn't that good of a trainer. When he showed up and the lights were on, he knew it was game time."
What makes this horse such a great competitor?
"His attitude. He always tries, he never stops coming."
Any other North America Cup-eligible colts in your stable?
"I have another colt that I'm pretty high on, and the direction he's heading...a colt by the name of Major Hill. He was lightly raced last year and I really like the way he's coming back. With him I have the luxury of him being a maiden so I'll be able to get some starts into him at home. Depending on when he's ready he's also eligible to The Diplomat Series. I'll see how quickly he comes along."