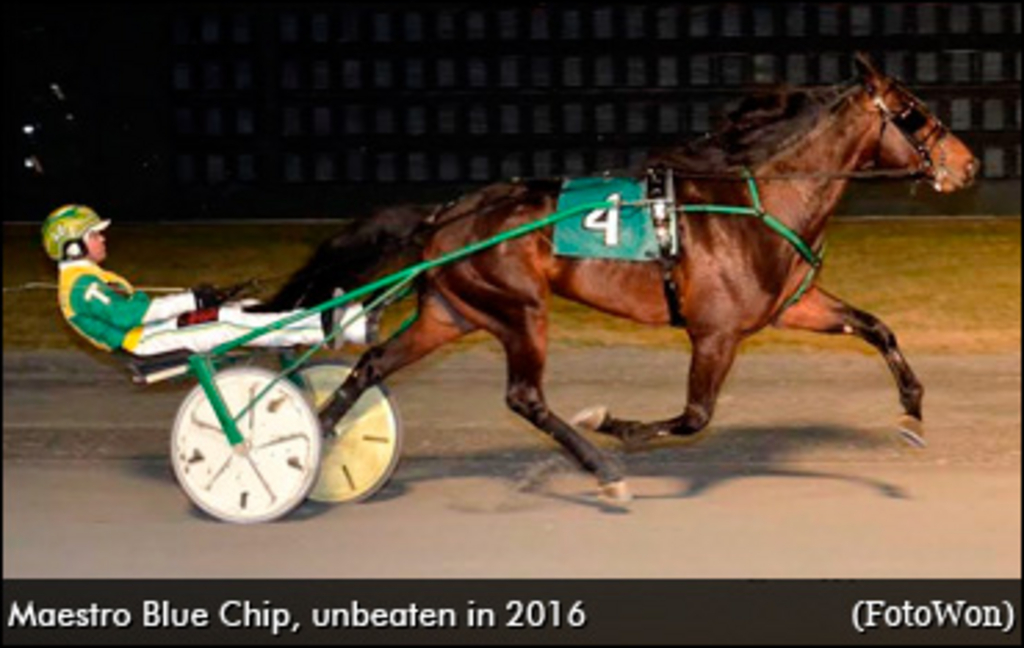 "Everything points toward him being a pretty nice horse. I don't know if he's Modern Family yet, but it's kind of ironic because this is the way that Modern Family started out."
It is too soon to proclaim Maestro Blue Chip the next Modern Family, but the four-year-old male trotter is following a similar ascent to success.
Richard Poillucci bought Maestro Blue Chip at this year's Tattersalls January Select Mixed Sale for $90,000. Since then, Maestro Blue Chip has gone 4-for-4 at Dover Downs and worked his way up the conditions ladder as he prepares for April's Yonkers Raceway/SOA of New York Bonus Trotting Series.
Three years ago, Poillucci was among the owners of Modern Family, who was purchased as a four-year-old for $110,000 at the January Select Mixed Sale. Modern Family, who also was owned by trainer Daryl Bier and Charles Dombeck, won his first four starts following the sale and eventually became a stakes-level performer.
Modern Family won the 2013 Hambletonian Maturity and the 2014 Charlie Hill Memorial in addition to finishing second in the 2014 Cutler Memorial. Sadly, Modern Family passed away following a fourth-place finish in the 2014 Maple Leaf Trot.
"Maestro Blue Chip has really shown some promise," Poillucci said. "The trainer (Jim King Jr.) and driver (Tim Tetrick) are very impressed with him to date."
A son of stallion Credit Winner out of the stakes-winning mare Up Front Hotsey, Maestro Blue Chip won two of 13 races and $78,673 at ages two and three while in the care of trainer Trond Smedshammer. He won his 2016 debut, also with Smedshammer, in a career-best 1:53.4 at the Meadowlands less than two weeks prior to the mixed sale.
"He's a young, fresh trotter," Poillucci said at the sale. "Fresh horses are hard to come by. We'll see how he matures and how he progresses. That was the horse I was looking at. I thought he was the best for what I was looking for."
Maestro Blue Chip romped to wins in his first three starts at Dover Downs, winning by as many as 12 lengths, and captured his most recent victory by a head in a winners-over class.
"It's been wonderful," Poillucci said. "He wasn't himself last week, he had some stuff going on with allergies, and he still won. I'm pretty excited. We staked him pretty heavily, and that was based on Jim's and Tim's opinions of the horse. He's got a pretty decent schedule ahead of himself."
In addition to the upcoming series at Yonkers, Maestro Blue Chip is staked to the Graduate Series, Cleveland Trotting Classic, Chip Noble Memorial, Centaur Trotting Classic, and Dayton Trotting Derby.
Poillucci lives in Massachusetts, where he runs several businesses, including a luxury auto body center and real estate development company. He first became interested in harness racing while playing hockey in Canada.
"I've been doing this for about 30 years," Poillucci said. "I played semi-professional hockey in Canada, and harness racing is big up there. On some of my off days I used to go to the races. I really enjoyed it. I came down to Foxboro and I decided one day to talk to (trainer) Steve Mancini and see if I could buy a horse. The next thing you know, I had 17."
Poillucci and Mancini, who passed away in 1999, won the 1987 Lewiston Pace with Natchez Gambler and Poillucci has enjoyed his share of additional success in the ensuing years. Among his horses today he also owns pacer Dapper Dude, who is competing in the Opens at Dover Downs.
"The one I'm most excited about is Maestro Blue Chip," Poillucci said. "It looks like he can go pretty fast. Where that speed bottoms out, I don't know. He's going to have to face some pretty nice trotters that are coming out shortly. We will see. But so far so good."
---
This story courtesy of Harness Racing Communications, a division of the U.S. Trotting Association. For more information, visit www.ustrotting.com.