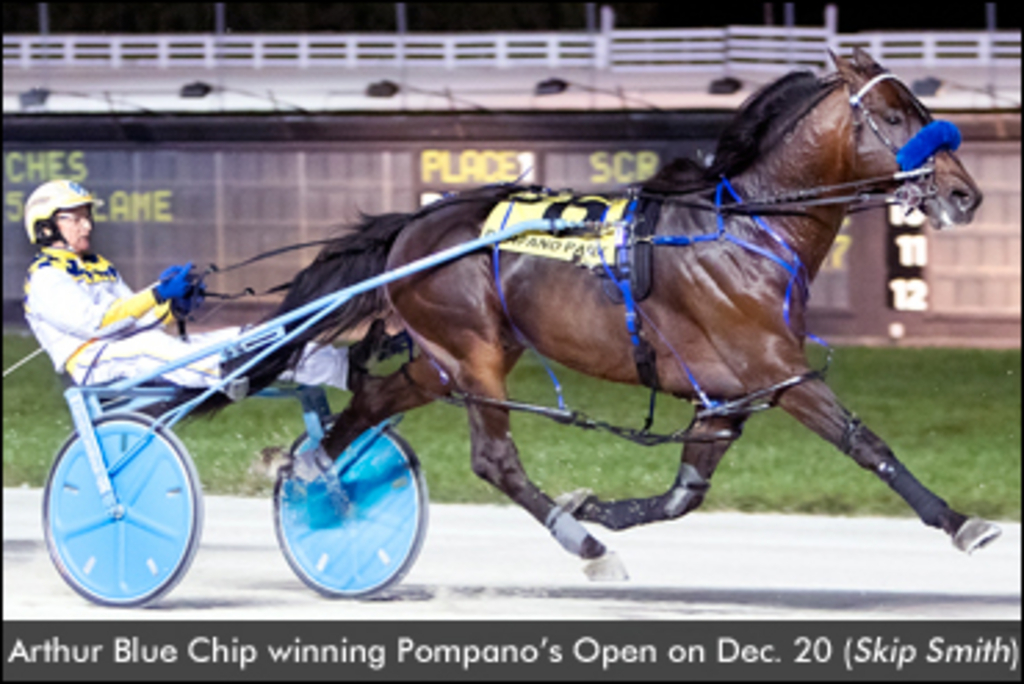 Pompano Park hosted a trio of features on Sunday night with Arthur Blue Chip taking top honours in the $11,500 Open Handicap Pace.
Arthur Blue Chip went a very game first-over journey to post a new lifetime mark of 1:50.1 with Wally Hennessey handling the lines for trainer Dr. Ian Moore, who co-owns with Serge Savard and the R G McGroup Ltd.
The four-year-old son of Shadow Play made amends for his rare miscue in his Pompano Park debut a week ago to post the one and a half length decision over the late-charging Bluehourpower, driven by Ricky Macomber Jr., with Alexas Jackpot, teaming up with John MacDonald for show honours. Cadillac Phil finished fourth while KRs Power Surge picked up the minor award in a field scratched down to six.
At the outset, the trio of Alexas Jackpot, Cadillac Phil and Arthur Blue Chip were all vying for the lead with Next Thing Smoken also in the mix with Hennessey deciding to stay out of the early war and find a spot in fourth ahead of Bluehourpower.
With Alexas Jackpot and Cadillac Phil trading punches early, it was the former leading at the :26.3 quarter for a few strides before Cadillac Phil took over, only to relinquish the lead again to Alexas Jackpot past the half in :54.2.
Once the dust settled there, Arthur Blue Chip left his cozy spot in fourth and trudged up first over, reaching the saddle pad of the leader past three-quarters in 1:22.2.
From there, Arthur Blue Chip forged to the front and easily held off Bluehourpower, in turn, a neck better than Alexas Jackpot and a neck and a nose better than Cadillac Phil.
After the event, driver Hennessey said, "You know, he's a very good one. He had been tackling some of the tigers in recent races up north like Always B Miki and Foiled Again. He made that break leaving last week, but was smooth as silk tonight.
"I left a bit with him tonight, but it was pretty hectic up front so I decided to stay out of that fray and take that seat in fourth. You know, when we are out there on the track, we have to make decisions. Some are right and some are not so right. I was fortunate to make the right one here. He's quite a horse and he proved it this night."
The win was the fourth of the year for Arthur Blue Chip in 14 starts, sending his earnings to $106,264 this season and $506,384 lifetime.
As the 6-5 second choice on the board, Arthur Blue Chip paid $4.60 to win.
The $10,000 pace featuring a $30,000 claiming tag for all entrants went to Dont Tell Rusty, handled by Ed Hensley, in 1:51.4. The six-year-old son of Tell All, trained by Paul Holzman for owner Melvin Fink, won by a half-length over the late-charging Johnny Grippa (Kevin Wallis), with Thebestofjoel (Tim Maier) third. King Royalty finished fourth while Dabestleaderever finished fifth to claim the minors in the field of nine.
Dont Tell Rusty was on the engine from the get-go from post eight, grabbing the lead after a hard fought opening quarter in :27. Once on top, though, there was no breather during the next quarter with "Rusty" taking the field through a demanding half in :54.3. On the backside, only mild threats developed as King Royalty made a first over bid, but never getting by Thebestofjoel turning for home. In the lane, Dont Tell Rusty, though drifting out a lane or two, held off the late surge on the inside by Johnny Grippa to prevail.
Dont Tell Rusty, having his best season ever career-wise, posted his 12th success of the year to push his seasonal bounty to $91,690. He's banked $183,051 lifetime.
As the 3-5 favourite on the toteboard, Dont Tell Rusty rewarded his backers with a $3.20 mutuel.
The second leg of the Powerline Pace for claiming horses and geldings went to Trevor Win For Us, handled by Rick Plano, in a photo over Oh My Joepa (Aaron Byron), with Aloneinspades (Kevin Wallis) third. Maddyssonofagun was fourth while Dirty Devil finished fifth in the sextet.
When the Hummer wings folded, Oh My Joepa was urged to the front with Aloneinspades to his inside and Trevor Win For Us using his inside post to close the gap to get the garden journey. After a pair of :28 quarters, Lyons Josephjnr, the favourite, launched his bid, but came up empty this night as Oh My Joepa reached station number three in 1:25. Right then, Trevor Win For Us left the pocket and engaged Oh My Joepa in a stretch long battle, prevailing by a neck at the wire in 1:53.1.
After the event, driver Plano kidded, "The drive made all the difference in the world tonight!
"Actually, the luck of the draw was on our side because, once we closed the hole, we got just a perfect trip back of Byron [and Oh My Joepa]. Once we left the pocket, it was tooth and nail all the way down the lane. Neither of us really gave an inch and it could have gone either way. OK, the driver and the draw won it for us — along with the talent of the horse, of course!"
Trained by Jake Huff for his wife and owner Rosie Huff, Trevor Win For Us, a recent addition to the stable, won for the third time in 2015, sending his seasonal bounty to $40,700. The eight-year-old of Cheyenne Rei now has amassed $222,244 in lifetime bounty to go along with his 1:50.1 mark.
As third choice in the win pool, Trevor Win For Us paid $12.60 to his faithful.
Racing continues Monday, Tuesday and Wednesday on this holiday week with post time at 7:30 p.m. on Monday and Tuesday and 7 p.m. on Wednesday when the track offers 14 pre-holiday races.
(With files from Pompano Park)