It has been announced that a lucky racino patron turned $20 into a massive $1.47-million windfall just a few weeks ago.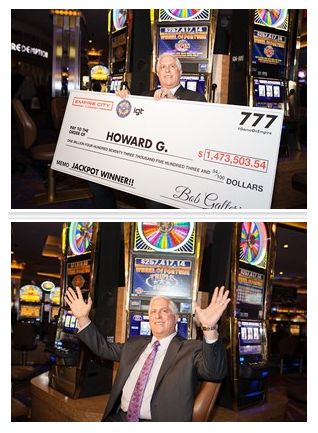 Officials with Empire City Casino at Yonkers Raceway have announced that the lucky winner – a resident of Long Island, New York that has opted to only be known as 'Howard G.' – hit a $1,473,503 million jackpot during the morning of Sunday, October 25.
A release from the racino states that Howard G. won the jackpot on an IGT Wheel of Fortune® Triple Stars® slot machine that was located just a few hundred feet from the valet entrance.
"Someone asked me if I woke up that morning thinking I was going to win," Howard G. was quoted as saying in the release. "I told him 'I wake up every morning thinking I am going to win!'"
"We are thrilled that the largest racetrack casino jackpot in the history of New York was won right here at Empire City Casino," said Ryan Murphy, vice president of marketing at Empire City.
Howard G. said he doesn't have specific plans for the winnings, but said the jackpot will provide a more comfortable retirement. "My wife wants a new roof on the house," he said, "so I guess we can get that now."
(With files from Empire City Casino at Yonkers Raceway)