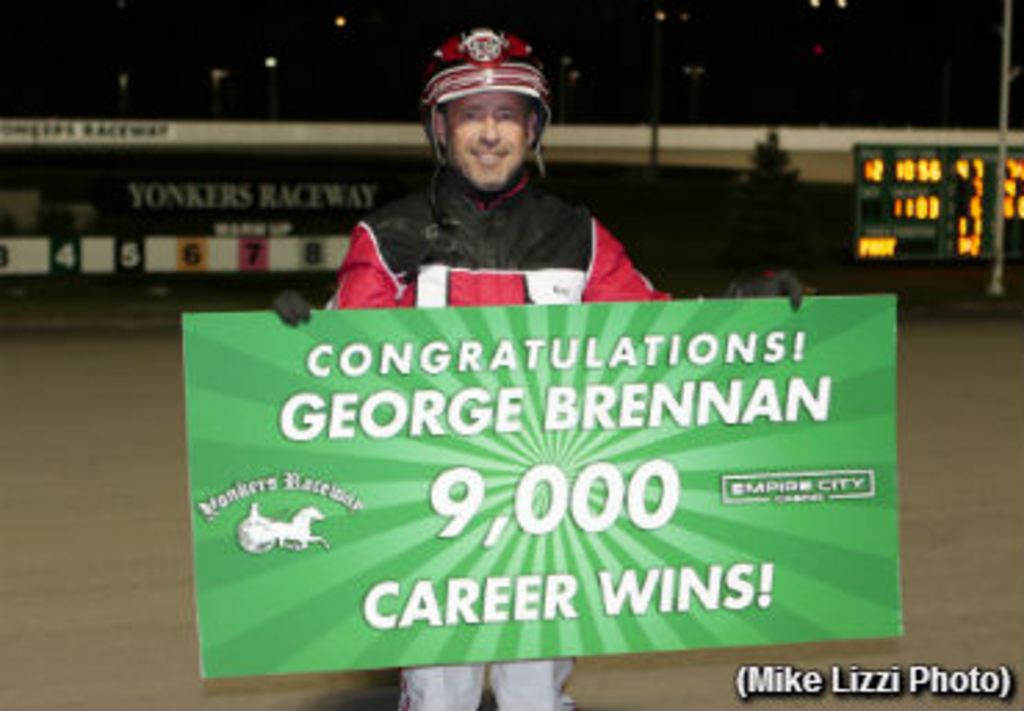 George Brennan kept the crowd in abeyance Monday night before finally reaching that next plateau.
Brennan swept both halves of Yonkers Raceway's late daily double, the latter also serving as his 9,000th career driving victory.
After earning a few cheques (but no wins) with his first eight drives, Brennan—fittingly—reached his milestone with a twosome trained by Ron Burke.
Favourites Twin B Scandal ($4.90) and a down-the-road Givenupdreaming ($3.10) prevailed in 1:53.4 and 1:53.1, respectively, making the chalk players ($8.20 double) and Brennan quite pleased.
"All milestones are special," Brennan said. "I'd been thinking about (the number) a bit, and I knew I was if was going to get it tonight, I was running out of chances.
"Needing to win the last two races and having those two trained by Ronnie (Burke) made it pretty cool. We remain very loyal to one another and in the end it pays off."
Among those greeting Brennan in the winner's circle was stepfather Joe Ricco, Jr., himself a winner of nearly 1,000 races as a driver.
The 48-year-old Brennan, a native of Monticello, NY, won his first race--behind Rob Ron Romper--at his hometown track as a high school junior back in 1982. His career purse earnings exceed $152 million. The two-time local driving champ ranks 17th all-time in wins and eighth in purses earned.
(Yonkers Raceway)