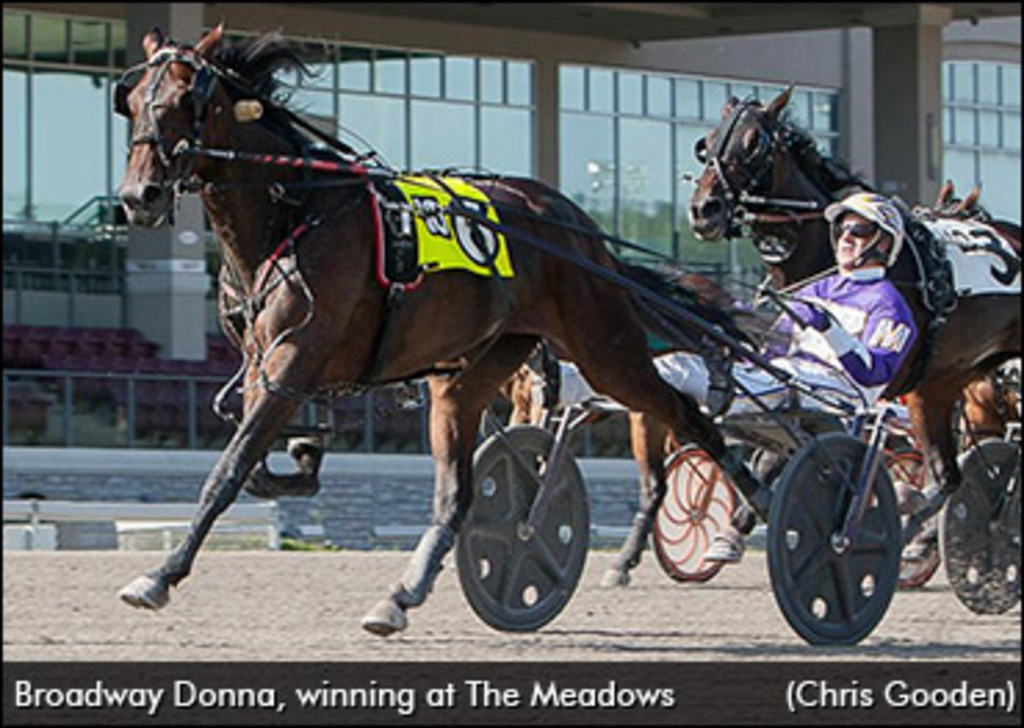 Undefeated in eight starts this season, Jim Doherty Memorial winner Broadway Donna tops the 16 freshmen filly trotters divided into two divisions of the $259,000 Bluegrass Stakes, scheduled for the eight-race card on Wednesday, Sept. 30 at The Red Mile.
Entering off a two-length win in the $351,000 Pennsylvania Sires Stakes final, the Jim Campbell-trained Broadway Donna will start from the rail in the opening division of the Bluegrass. She will line up with seven other fillies, including Kindergarten Series-contender Southwind Pearl, trained by Jonas Czernyson, who will be trying for her maiden victory. Broadway Donna has earned $466,536 in her eight outings, which is more than the rest of the field's earnings combined. The filly by Donato Hanover out of Hambletonian Oaks champion Broadway Schooner is owned and bred by Fashion Farms and will be guided by regular driver David Miller.
Jimmy Takter sends a pair of fillies in the first Bluegrass division -- Twice Is Right and Im Outstanding, both of whom are shipping from Mohawk off of breaks in the Peaceful Way eliminations. The daughters of Donato Hanover were also runner up to Peaceful Way champion Caprice Hill in a $66,850 division of the Champlain Stakes. The duo will start from posts 5 and 8, respectively. Twice Is Right races for the interests of Brittany Farms, while 'm Outstanding is owned by Christina Takter, John and Jim Fielding, and Herb Liverman.
Celebrity Eventsy, from the first crop of Manofmanymissions, leads the second division. The Staffan Lind trainee has banked $102,462 this season and comes into this event off a second-place finish to Caprice Hill in the $311,600 Peaceful Way. She has won two races in seven attempts, including an elimination for the Peaceful Way. Brett Miller will steer the Celebrity Farms filly.
Takter has another pair of fillies on the Grand Circuit card, with the second-division entrants All The Time and Miss Tezsla. All The Time, a homebred owned by Marvin Katz and Al Libfeld, approaches this race off a break in the Peaceful Way Final. A winner of four in seven starts, the daughter of Muscle Hill has earned $99,865 this season. Her stable mate Miss Tezsla ships in from Delaware, Ohio, where she finished third in a $37,200 division of the Standardbred Stakes. Before that, she won the $40,000 Stallion Series championship at Pocono Downs, a race restricted to Pennsylvania-sired horses. The $45,000 Lexington Select yearling has won four out of eight starts for owners Christina Takter, John and Jim Fielding, Brixton Medical Ab, and Herb Liverman. She has earned $63,374 this season.
The opening card of the Grand Circuit meeting kicks off at 7:00 p.m. A sextet of late-closing events will be contested on the undercard of the two Bluegrass Stakes.
(The Red Mile)