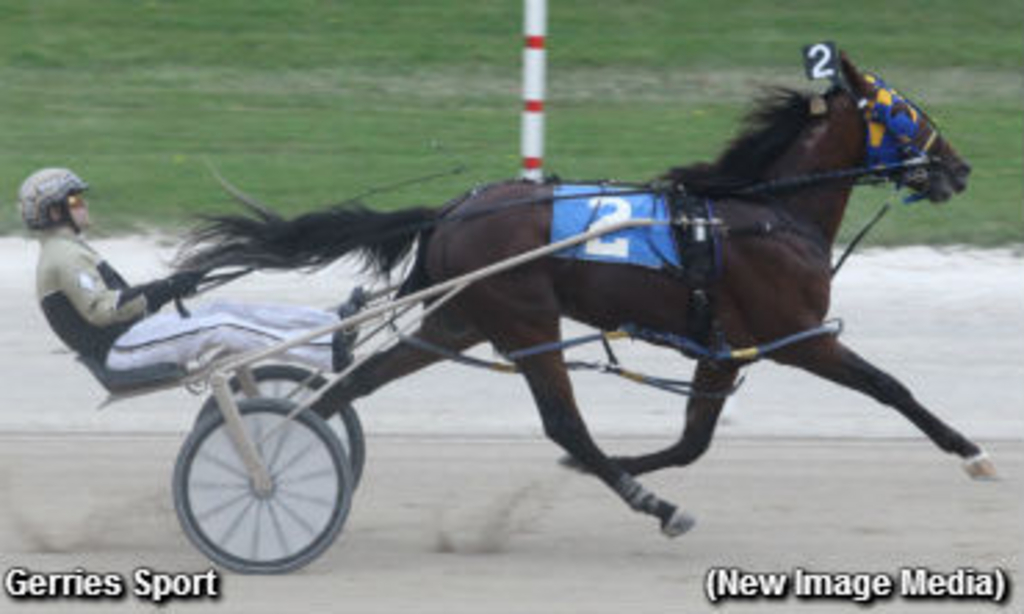 On Monday evening driver Scott Coulter stepped into the race bike behind a horse that needed a win to extend his Grassroots season and, for the third time in the last five days, the Grand River Raceway regular delivered the needed result.
Starting from Post 2 in the first two-year-old pacing colt Grassroots division, Coulter opted to roll Gerries Sport off the gate for the first time in the Mach Three colt's career and the pacer responded with a :28.2 quarter, :57.4 half and 1:26.3 three-quarters before powering down the stretch to a 1:55.1 victory. Favourite St Lads Moonwalk settled for second, two lengths behind Gerries Sport, and St Lads Charger was three more lengths back in third.
"I intended to race him from off the pace as they had been doing, but after looking at the inside horse I decided to let him roll off the car and he got front relatively easy," said Coulter, who currently sits second in the Grand River Raceway driver's standings. "He was just a complete professional; he made front in two steps, and he relaxed and just waited for the customers to come on the outside, and then fought them off. It was just as easy as that."
The Brantford, ON resident engineered the win for trainer Robbie Robinson of Metcalfe, ON and owner-breeder Gerrie Tucker of Montreal, QC. In his four previous Grassroots starts Gerries Sport had tallied one second and two thirds and went into Monday's event sitting twenty-sixth in the division standings. The victory boosted him up to tenth, with a total of 99 points, and assures him of a berth in the Sept. 17 Semi-finals at Mohawk Racetrack.
"I've had a few like that this week," said Coulter, of the colt's must-win situation. "I drove two for Shane Arsenault at Flamboro that needed to win."
The reinsman piloted Shane Arsenault trainees Irish Scotch and Seeking Steven to wins in the three-year-old trotting colt regular season finale at Flamboro Downs last Thursday, advancing both colts to the Grassroots post season.
Coulter also finished third in the second Grassroots division at Grand River Raceway on Monday, guiding favourite Secrecy home behind a pair of Jack Darling trainees, King Of Sports and Vegas Dream.
King Of Sports earned his first Grassroots win with the 1:56 mile, which saw him control the tempo from start to finish, reaching the wire one and one-quarter lengths ahead of his stablemate.
Jody Jamieson of Moffat, ON piloted King Of Sports to the win for owner-trainer Jack Darling of Cambridge, ON. The Sportswriter son did not appear in the Grassroots program until the Aug. 23 event at Georgian Downs, and tallied one win and two seconds in his three appearances for a total of 100 points, putting him just ahead of Gerries Sport in the standings.
"I liked him a lot early in his two-year-old training and then he just got, he was just horrible, he couldn't go any, or wouldn't go any. I think I tried to qualify him a couple times and he'd pace in 2:00, so I had to geld him, and he's made a complete turn-around," said trainer Jack Darling after King Of Sports' Aug. 23 debut. "By gelding him we got five seconds out of him, it's amazing really."
The final Grassroots trophy of the evening went home with the ultra-consistent Derecho, who did not finish worse than second in five Grassroots starts this season. On Monday the Big Jim son and trainer-driver Dustin Jones cut all the fractions and then battled to the wire for a one-quarter length victory in 1:55.2. Fan favourite Perseverant finished second and Tommys Trooper was a hard-closing third.
Waterdown, ON resident Jones shares ownership of Derecho with Ecuries Daniel Plouffe Inc. of Bromont, QC and Jean Dessureault of Candiac, QC. The colt wrapped up his regular season with two wins and three thirds for a total of 175 points and sole ownership of second-place in the division standings.
"He raced real good, cut the mile, he held on for the win," said Jones. "That's his second win, and what's he got, three seconds in the Grassroots, so we're hoping he'll do good in the Semi-finals next week.
"He's a real smart horse, we're real happy with him," added the trainer. "I think he should be a nicer three-year-old, because his family seem to get better at three. It's the family of Stonebridge On Ice ($530,665) and that, so I think he should improve every year, it seems that the family does that."
Grassroots action continues at Grand River Raceway on Wednesday, with four $18,000 divisions for two-year-old pacing fillies. The fillies will battle for a post season berth in Races 3, 5, 7, and 9 on the 6:30 p.m. program.
(OSS)
To view results for Monday's card of harness racing, click the following link: Monday Results – Grand River Raceway.