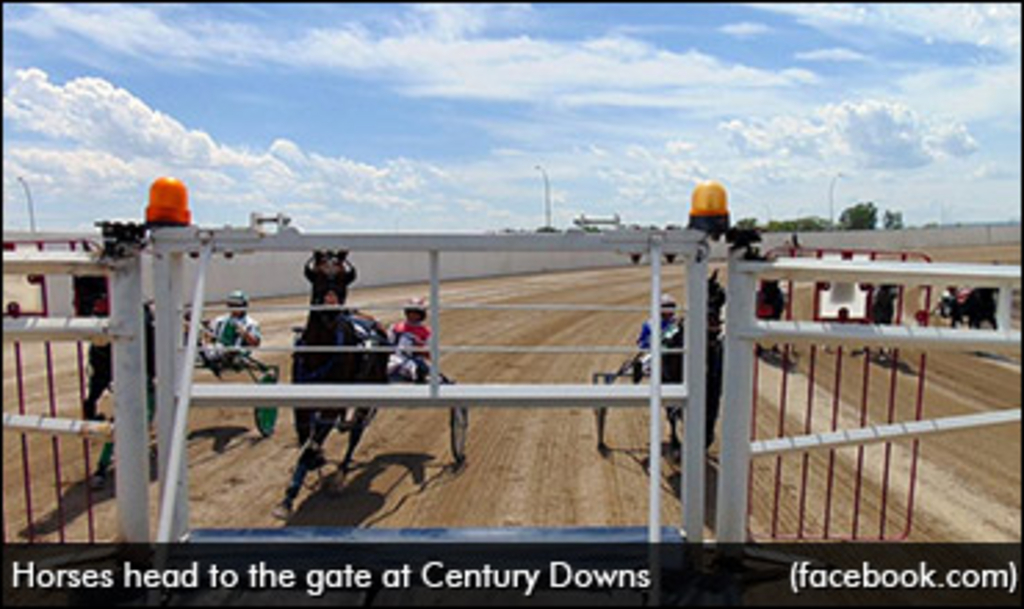 Century Downs Racetrack and Casino is set to showcase the top babies on the grounds this weekend. The two-year-old fillies get set to do battle in three divisions on Saturday with a purse of $6,667 per division in the ASHA Filly Stakes while the boys will be contesting the ASHA Colt Stakes on Sunday in two $10,000 divisions each with a purse of $10,000.
One of the probable post time favorites in the first division of the ASHA Filly Stakes will be Divas Dragonfly (Mystery Chase – Midnight Diva) fresh off her convincing win in the Alberta Starburst.
"She is a very nice filly who loves to race and also loves attention," said trainer Carl Archibald. "Jamie Gray really gets along with this filly and he also drove her mother when she was racing,"
'Fly' as she is known in the barn is all business, especially in her training sessions.
"She is tough in the morning jogs. She hates it when anyone even tries to pass her," said Archibald. "She has her good points and her bad points but she has a good mental outlook."
The future may look even brighter as another potential star may be in Archibald's barn.
"I also plan to race her full brother Mystery Dragon and I have high hopes for him," commented Archibald.
Monstrous (Allamerican Navajo-Hoosier Pam) drew the rail in the second division for driver Jim Marino. The Darryl Cutting trainee looked good capturing the Alberta Starburst back on August 3, then tried tackling older fillies and was tied to the rail the entire way while being blocked and locked down the backstretch but still came home in :28.3 to grab fourth place. The connections have high hopes for this filly.
"She is very smart and mature for a two-year-old. It's exciting to have a home bred in a stake race here in Alberta," commented owner Dr. Warren Fuller.
The third division could also be labeled as the Mystery Chase contest. Of the six starters, all but two were sired by the heavyweight champ Mystery Chase 1:49.2 ($774,677). His career highlight was finishing second to Somebeachsomewhere in the division of the Bluegrass Stakes where 'The Beach' recorded his world record 1:46.4 mile.
In addition, this division also looks to be wide open. Jet Blue Burner (Blue Jet-Blinkanyoumissit) cruised to an easy four-length win in her only qualifier in 2:01, and the connections liked what they saw.
"Travis was very impressed with him in the qualifier," said owner/driver/trainer Greg Manning. "She has been training phenomenally and the Blue Burner babies are so sensible and easy to break and train down."
Manning, who also doubles as one of the Standardbred ferriers in Alberta, will see his first stint as a driver in an official race this year.
"Her mother sold for $17,000 but got hurt and did not race. I would not be surprised if she does well but we will see what happens."
Cuttingtothechase (Mystery Chase-Ideal Date) has hit the board in all three career starts in 2015 and could be the one to watch in this race.
Shifting to the boys on Sunday, the first division of the ASHA Colt Stakes will feature an up-and-coming star in Blue Star Jet (Blue Burner-Movin Uptown), a $12,000 yearling purchase. He romped in the Rising Star Stakes back on August 3 winning by six lengths and stopping the timer in a snappy 1:56.4, however the connections do not feel the time off since that start will hurt any.
"He came back from that race in good shape. I did not bother to race him and he is training well. Trustee and Outlaw Turn N Burn will be tough horses to beat, but I believe my horse is as good as any two-year-old here on the grounds," said trainer/driver Rod Hennessy.
Blue Star Jet can boast a couple of fast siblings, being a half brother to Blue Star Admiral and Blue Star Texas. Hennessy shares ownership of Blue Star Jet with Lorne Duffield of Edmonton.
The second division elimination will see trainer Rod Starkewski send out Classy Artist, another son of multiple stakes winner Trust The Artist, who won his division of the Rising Star Stakes also before tackling non-winners and ending up fifth. He will get the services of the very capable driver Phil Giesbrecht.
"He is a nice horse and very professional for sure. I only drove him once a week ago versus non-winners and he was good considering we did not get loose until later in the lane," said Giesbrecht.
Classy Artist's trainer Rod Starkewski owns Classy Artist with Tony Chan of Sherwood Park, Alta.
Century Downs Racetrack and Casino will feature nine races set for Friday (starting at 5:30 p.m.), followed by Saturday and Sunday's cards with a first race post time of 2:00 p.m. each day.
Sunday (August 23) is also 'Family Day at the Races' at Century Downs. The family day festivities will kick off at 1:30 p.m. The first 100 kids will receive a free gift.
Organizers are inviting kids to bring their riding/bicycle helmet for a chance to jog a horse. Family day is full of events; there will be face painting, horseshoe decorating, pony rides, balloon animals, a bean bag toss, and a sugar cube candy truck.
To view the harness racing entries this weekend in Alberta, click one of the following links:
Saturday Entries – Century Downs
Sunday Entries – Century Downs.
(A Trot Insider Exclusive by Frank Fontana)