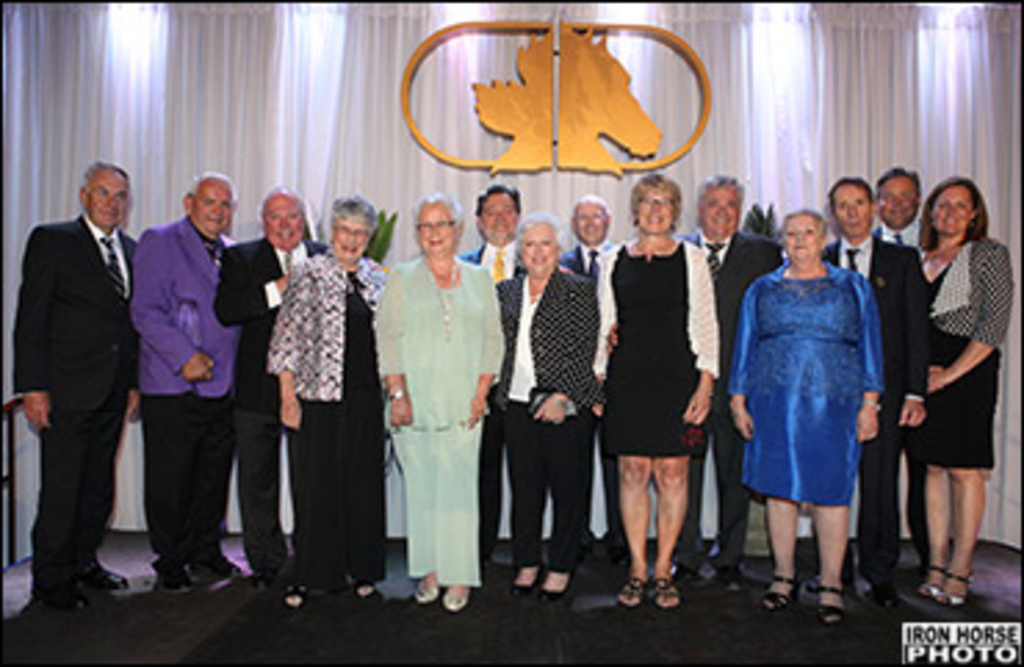 The Canadian Horse Racing Hall of Fame welcomed its 10 newest inductees at the 2015 Induction Gala on Wednesday (August 5) at the Mississauga Convention Centre.
Standardbred inductees include horses Artsplace, J Cs Nathalie and people H. Charles (Charlie) Armstrong, William (Bill) Gale and Harry Eisen. The Thoroughbred inductees are Mine That Bird, Robert (Bob) M. Anderson, James (Jim) Bannon, Stewart Elliott and Roger Laurin.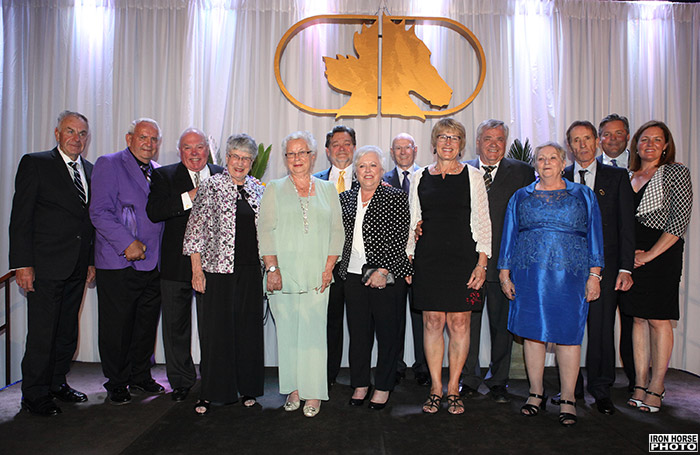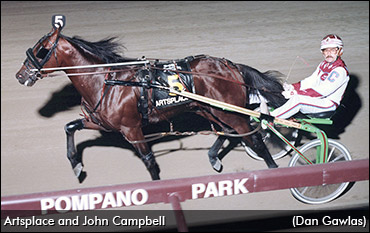 Artsplace, representing the Standardbred Male Horse Category, was the 1992 O'Brien Award and Dan Patch Award winner as Horse of the Year following a sixteen race, undefeated four-year-old season. He was a World Record holder in his two-year-old season, winning the Breeders Crown in a time of 1:51.1 at Pompano Park in Florida. Under the care of trainer Bob McIntosh and driven throughout his racing career by Hall of Famers John Campbell, Bill O'Donnell, Cat Manzi and Bill Gale, Artsplace won 37 races and bankrolled over $3 million. As a stallion, Artsplace produced top horses from the time his first crop raced in 1996. To date, his progeny, including 18 millionaires, have accumulated over $173 million in earnings with an average of $126,372 per starter. Many of Artsplace's sons and daughters have gone on to sire champions, including Art Major, sire of 2008 Meadowlands Pace champion Art Official, who won in 1:47, at the time a world record for three-year-old pacers, and the second fastest race mile in harness racing history.
"This is the penultimate honour for a horseman, and a horse that was so meaningful to us," said Art Zubrod of Brittany Farm. "Thank you to Gene Riegle, Bob McIntosh and my wife Leah."
Standardbred Veteran Horse Category inductee, J Cs Nathalie has produced two millionaires for owner John Lamers of Ingersoll, Ontario -- pacing colt Dreamfair Vogel, and pacing mare Dreamfair Eternal. Dreamfair Vogel was a winner of 19 races and over $1.1 million with a race record of 1:49.3. Dreamfair Eternal, a winner of 56 races and over $2.5 million in purse earnings was Canada's Horse of the Year in 2010 and was inducted into the Canadian Horse Racing Hall of Fame in 2014. In total J Cs Nathalie has produced 13 horses of which 11 have started and banked more than $4.5 million in purse earnings.
"First off, I'd like to congratulate all of the inductees to the Hall of Fame in 2015," said Lamers. "This is emotional for me having claimed J Cs Nathalie when she was five years old and all the accomplishments she put on the track - Dreamfair Vogel, Dreamfair Eternal and Dreamfair Kogel, who passed away at the Little Brown Jug unfortunately.
"I'd like to thank all the people involved with J Cs Natalie and my operation, my wife Mary and my family.
"Every morning I look out and see J Cs Nathalie eating grass as healthy as can be. Hopefully she'll be there for a long time yet. I'm grateful I got involved in the horse business many years ago and hopefully I'll be involved for many years to come. Thank you."
In the Driver/Trainer Category, William (Bill) Gale, 66 of Woodstock, Ontario, has been elected to the Hall of Fame. Gale was one of Canada's leading drivers for a period that spanned the 70s, 80s and 90s. Between 1982 and 1997, Gale recorded 16 consecutive $1 million+ seasons. During a driving career that spanned over 30 years, he won 6,375 races, started 32,134 times and earned $42.1 million. In the fall of '91 at Pompano Park he won a pair of Breeders Crown Championships, as he guided King Conch to a World Record 1:56.2 win in the $300,000 Two-Year-Old Colt Trot and reined Three Wizards to an upset victory over Die Laughing and Artsplace in the $357,000 Breeders Crown for Three-Year-Old Pacing Colts.
In 1991, William Gale was honoured with an O'Brien Award as Canada's Driver of The Year following a season where he exceeded $3.2 million in purse earnings.
"I would like to thank my wife Janice of 46 years for her support through good and bad times," said Gale. "To the people that nominated me, I'm grateful for your determination and perseverance. I would also like to thank my fellow horsemen, they also played a part in my career. They placed me in a position to succeed.
"This honour is very humbling, and I accept it with great pride."
H. Charles (Charlie) Armstrong, 93, of Brampton, Ontario, has been a true Icon in the Ontario and North American Horse Industry for over 60 years. Following the death of his father Elgin, Charlie and his wife Lenore took over the operation of Armstrong Bros. Farm, and as Chairman of Armstrong Holdings Brampton Limited, he oversaw the growth of the farm into the second largest Standardbred breeding operation in North America. The Armbro name was ever-present in the winner's circles of prestigious races for both trotters and pacers, producing such champions as Armbro Flight, Armbro Feather, Armbro Omaha and hundreds of others. Of note, Charlie Armstrong and fellow Hall of Famer, Gustav Schickedanz were the breeders of champion trotter Goodtimes, who at the end of his 11-year race career was retired as the richest Canadian-Bred Trotting Horse of all time. Other notables include two-time Breeders Crown winner Village Jiffy, as well as such horses as Village Jove and Village Jolt. Stallions standing at the Armstrong breeding operation included King Conch, Camotion, Dream of Glory, Armbro Emerson and Adios Pick to name a few. The family company was dispersed in 2005; however Charlie, along with his daughters, continues to raise and race Standardbreds under the name Village Acres Limited. Charlie's involvement in racing extended far beyond that of a breeder and owner and resulted in a long list of achievements for his commitment to the racing industry. In 1999 he was named Little Brown Jug Wall of Fame Honouree in 1999 and the Standardbred Breeders and Owners Association presented him with the Van Bussell Award in 2003.
"I think that is marvelous," said Charles Armstrong when he was presented with his Hall of Fame ring at his home prior to the induction ceremony.
"On behalf of Charlie, I want to say thank you to the Canadian Horse Racing Hall of Fame for this honour," said Charles Armstrong's wife Lenore at the ceremony.
The 2015 Standardbred Communicator Inductee is the late Harry Eisen who spent a lifetime loving and covering horse racing in Ontario. Eisen, who once said he saw his first harness race when he was "three or four years old," sold tip sheets at Dufferin Park Racetrack as a boy. As a lifelong journalist, he spent many years exposing the sport to the public, including the majority of his 40 years at the London Free Press and described his work as a "labour of love." Eisen's regular column, "Mostly About Horses" kept horse lovers in the loop. As a highly regarded handicapper, he also made the Western Fair selections for the Free Press. In 1980, he became the first non-horseman to be inducted to the Western Fair Raceway Wall of Fame.
"I owe a great deal of thanks to the people that made this honour possible tonight," said Eisen's wife Maxine. "It's great to know he was honoured and appreciated. It's a wonderful industry, just keep it going."

Standardbred inductees H. Charles Armstrong, Harry Eisen, Bill Gale and J Cs Nathalie (with John Lamers)
Representing the Thoroughbreds in the CHRHF class of 2015:
Thoroughbred Male Horse, Mine That Bird was bred in Kentucky by Canadian Breeder Peter Lamantia and partners. The colt was purchased as a yearling by Canadian trainer Dave Cotey for $9,500 on behalf of owners Dominion Bloodstock, Derek Ball and Hugh Galbraith. His Juvenile year began at Woodbine with an impressive four wins in five starts, earning the 2008 Sovereign Award for Champion two-year old. Later in 2008 Mine That Bird was sold to Mark Allen (Double Eagle Ranch) and Leonard Bloch (Buena Suerte Equine) of New Mexico. The gelding gained international attention with his 2009 Kentucky Derby longshot performance paired with jockey Calvin Borel when they made a sweeping 21 length 'last to first' victory. Mine That Bird's Triple Crown pursuit was dashed with a 2nd place finish in the Preakness to Kentucky Oaks winner Rachel Alexandra, and a 3rd in the Belmont. Mine That Bird's total career purse earnings were $2,248,496 in 18 starts (5-2-2).
"What a great honour this is that the Canadian Horse Racing Hall of Fame is giving Mine That Bird," said Dr. Leonard Bloch. "We are very proud of that.
"We were really fortunate we could get our hands on this kind of horse. It's been a great ride. I can't put it into words exactly how exciting that was and still is."
Toronto-born, second generation jockey Stewart Elliott will be inducted in the Jockey Category. In 2004, Stewart made headlines around the world when he became the first jockey in 25 years to win the Kentucky Derby in his first appearance when he rode Smarty Jones. The pair followed up with a dominating win in the Preakness, only to be beaten a length by Birdstone in the Belmont. During a career consisting of over 29,000 starts, horses ridden by Elliott horses amassed earnings in excess of $93 million with wins in 4,650 races. In 2010 he was named the winner of the Avelino Gomez Memorial Award. Steward Elliot currently stands 36th on the all-time list for career wins, and 5th on the all-time win list amongst Canadian-born rider.
"It's always a pleasure to return to Canada where I was born and learned to ride," said Elliott. "My Canadian success has special meaning to me.
"This is an industry where many strive for success and I know I am very fortunate to have had success in both Canada and the U.S. My sincere thanks."
Robert (Bob) M. Anderson was a long-time horseman based in St. Thomas, ON. As President of Anderson Farms, he was involved with breeding, racing and selling both thoroughbred and Standardbred horses for 41 years in Canada, U.S., and Europe. A former Director of Woodbine Entertainment Group (formerly OJC) and past national President of the Canadian Thoroughbred Horse Society from 1981-82, he was also a Board member of Thoroughbred Owners and Breeders Association in the U.S.A, a Steward of the Jockey Club of Canada as well as a member of the Ontario Racing Commission Advisory Board, the First Chairman of the Guelph Research Centre for Equine Research and member of the E.P. Taylor Equine Research Fund.
He bred and matured over 1,400 thoroughbreds including champions Pinafore Park, Larkwhistle, and Prince Avatar. He was the breeder of successful sires Ascot Knight, National Assembly and Alydeed.
His Standardbred success stories include Pampered Princess, a champion at two and three and winner of $1.74 million; as well as champions and world record holders Southwind Allaire and Cabrini Hanover.
"First of all, I'd like to congratulate all the inductees tonight," said Anderson's son David. "On behalf of my sister and our family, I'd like to extend a sincere heartfelt thank you to the nominating committee and selection committee for recognizing my father in the thoroughbred builder category. As you know, sadly my dad left us prematurely. For those of you who knew him, I'm sure you would have been waiting anxiously for his acceptance speech.
"He spent million of miles up and down that corridor on the 401 [highway]. He loved it. He was a true horseman.
"Not to be overlooked was his love of standardbreds...It is also very fitting that Charles Armstrong was inducted tonight. Our very first standardbred was from Armbro Farm.
"For me personally, he was always a Hall of Famer as a father, but now he will always be enshrined as a Hall of Famer."
Toronto's James (Jim) Bannon was part of the first Simulcast Racing TV Show in North America in 1981. His natural comfort in front of the camera and extensive Thoroughbred racing knowledge propelled Bannon into a career that includes television analyst, commentator and handicapping expert with followers at racetracks and living rooms across North America. From that humble start, Bannon became the face of Thoroughbred racing in Canada. Jim became a television analyst, commentator and handicapping expert for the CBC's Queen's Plate and Breeders' Cup shows and in 2010 he was rewarded with a Gemini Award as Canada's Best Sports Analyst. For the past 40 years he has published Woodbine Journal, a staple for bettors. In addition to his journalistic endeavours he gives generously of his time as an educator in handicapping seminars. He is head of the Chaplaincy Program at Woodbine. Jim is a Director of the Canadian Horse Racing Hall of Fame and in 2010 was voted into the Etobicoke Hall of Fame for his contributions to the community.
"Your accepting applause makes me feel deserving of this honour. I want to thank Lou Cauz for making the presentation and guiding me," said Bannon. "I would also like to thank the Hall of Fame. Thank you very much for putting on this wonderful evening. I'm just honoured to be counted among the great people inducted into the Hall of Fame."
The 2015 Inductee in the Thoroughbred Veteran Person Category will be trainer Roger Laurin. The Montreal-born son of Hall of Famer Lucien Laurin came into prominence in 1964 when he took charge of the conditioning of a filly named Miss Cavandish for Harry S. Nichols. Miss Cavandish became one of the top two fillies racing in the United States that year. From there, the list of graded stakes horses he conditioned reads like a who's who of 1960's and '70's racing. He trained Drumtop who won numerous top stakes and who broke three track records in 1971 for John Moseley, while at the same time conditioning the 1971 two-year-old Eclipse champion filly Numbered Account for Ogden Phipps. In 1984 Chief's Crown won the inaugural Breeders' Cup Juvenile and was named the two-year-old male Eclipse Champion. Roger continues to keep his hand in the game with a small stable based at Woodbine.
"Anybody that was instrumental in me going into the Hall of Fame -- I want to thank my father for being born before me," quipped Laurin "It's greatly appreciated, thank you very much."
Standardbred Inductees
Male Horse Category: Artsplace – bred and owned by George I. Segal, Chicago, Illinois & Brian P. Monieson, Northbrook, Illinois; later owned by Artsplace Syndicate, Versailles, Kentucky.
Veteran Horse Category: J Cs Nathalie– bred by Gaetan Dessureault, St. Ours, Quebec; owned by John P. Lamers, Ingersoll, ON
Builder Category: H. Charles Armstrong, Brampton, Ontario
Communicator Category: Harry Eisen, London, Ontario
Driver/Trainer: William (Bill) Gale, Ingersoll, Ontario
Thoroughbred Inductees
Male Horse Category: Mine That Bird, bred by Lamantia, Blackburn & Needham/Betz Thoroughbreds; owned by Double Eagle Ranch Inc. and Buena Suerte Equine, New Mexico
Builder Category: Robert (Bob) Anderson, St. Thomas, Ontario
Communicator Category: James (Jim) E. Bannon, Toronto, Ontario
Jockey Category: Stewart Elliott, Auburn, Kentucky
Trainer Category: Roger Laurin, Ocala, Florida