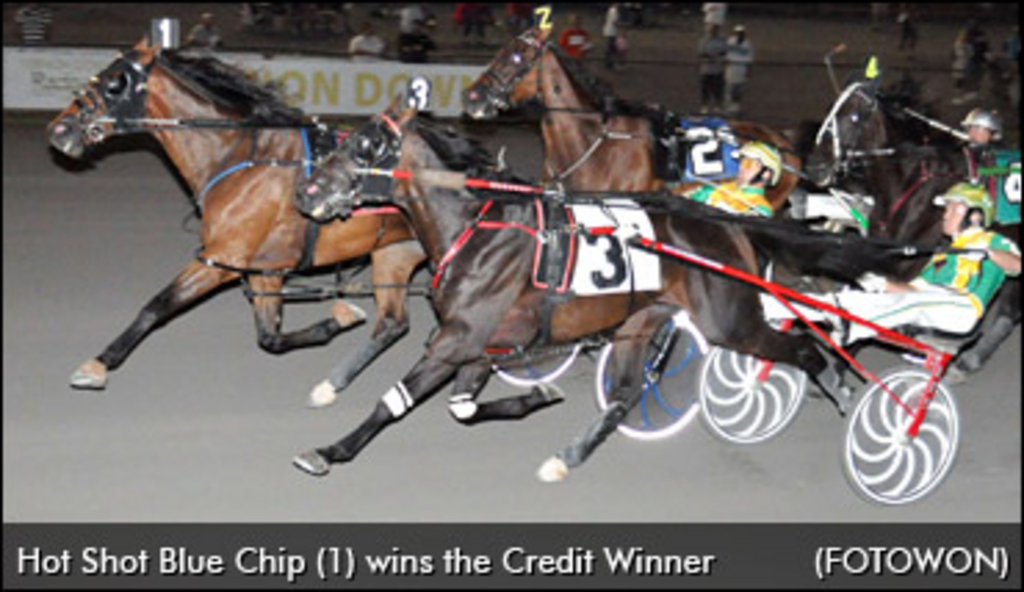 Hot Shot Blue Chip has returned. Where he goes from here remains to be seen, but trainer Jonas Czernyson is happy to have the mercurial trotter back in his barn.
It is a much better place for the nine-year-old gelding than out in his fields.
Hot Shot Blue Chip, a multiple-stakes-winner with $1.20 million in career purse earnings, last raced in August 2013 and was retired in early 2014 because of a knee injury. But Hot Shot Blue Chip failed to enjoy his newfound leisure time, so Czernyson decided to bring him back for some work on the training track.
"He was getting mean to the other horses he was turned out with, he was kicking at people," Czernyson said. "I said let's bring him in and put him back in training and see what happens. We did that in the beginning of February and slowly I got him trained down. He kept on going and kept on going.
"It started out just as something to do because he was so bored being at the farm. That's why I brought him in.
Hot Shot Blue Chip, owned by Tom Dillon, progressed so well that Czernyson put him in a qualifier Thursday at The Downs at Mohegan Sun Pocono. With Scott Zeron handling the driving, Hot Shot Blue Chip sat in sixth place for most of the mile before coming home with a :28.2 final quarter-mile to post a 1:56 win.
"He qualified pretty good and he came out of it OK," Czernyson said. "Now we're going to see what the next step is. We haven't gotten that far yet because we didn't know what he was going to do.
"He likes to be a race horse, so whatever class we have to race him, that's where he's going to go," Czernyson added. "He's not staked to anything, so he's not going to make it back to be a stakes horse. He's going to tell us where he should race. But I'm never going to put him in a claimer and he's never going to leave my barn. Me and Tom have an agreement on that. He's going to stay here and be our pet."
Hot Shot Blue Chip did not require surgery for his injury, but needed time to heal.
"It was a bone in the knee, it wasn't in the joint or anything, and everyone just said he needed more time," Czernyson said. "But when you have an eight-year-old, it's tough to give him time. So we gave him a year off and it looks like it's healed."
Hot Shot Blue Chip, a son of Revenue S-Hustle N Muscle, has been known for his inconsistent performances on the racetrack. He went offstride in nine of the 20 most lucrative starts of his career –- including the Hambletonian, Kentucky Futurity and two editions of the Breeders Crown –- but was talented enough to win the 2012 Credit Winner Stakes and 2012 Pride In Progress. He defeated Chapter Seven, Arch Madness and Mister Herbie in the Credit Winner while establishing his career mark of 1:51.2.
In addition, he finished second in the 2010 Breeders Crown Open, 2011 Pride In Progress and two editions of the Allerage Farms Open Trot. He also finished third in several stakes, including two editions of the Maple Leaf Trot.
"He always gives all he has –- or runs," Czernyson said with a laugh. "But that's Hot Shot. I took the hobbles off of him (for Thursday's qualifier) because he runs with them too. There was no need to have him running in hobbles. And he looks nicer that way."
For his career, Hot Shot Blue Chip has won 21 of 82 races. Time will tell whether he can add to that total.
"He filled out nicely; he looks as good as he did before," Czernyson said. "He's a nice horse to have around. I'm excited about it. I'm happy to have him back."
---
This story courtesy of Harness Racing Communications, a division of the U.S. Trotting Association. For more information, visit www.ustrotting.com.