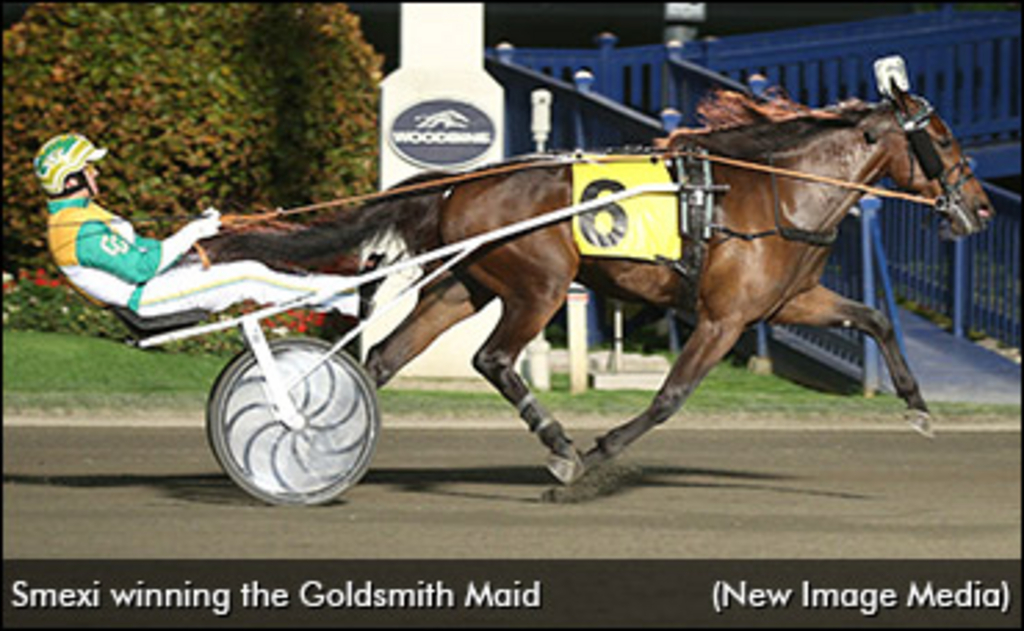 While there aren't any Maritimers listed on the ownership of Goldsmith Maid upsetter Smexi, her win was certainly cheered loudly on Canada's East coast.
At the Harrisburg Mixed Sale in 2012, Sanna Hanover was sold for $8,000 in foal to Explosive Matter. The buyer was Bill Andrew of Meridian Farms.
"We purchased the mare in Harrisburg in 2012," Andrew told Trot Insider. "We were just looking for a young, in-foal trotting mare...liked her on paper, checked out as an individual, so we purchased."
Not having any trotters in Alberta, the mare was sent to the Milton, P.E.I. nursery where she foaled an Explosive Matter colt. Later that year, the first foal of Sanna Hanover sold at the Lexington Selected Yearling Sale. The Brittany Farms-raised and consigned yearling sold as Fiery Spirit and was purchased by Jimmy Takter for $35,000. Her name was later changed to Smexi.
Andrew noted that he has been following the trotting filly all year, and was undoubtedly thrilled when she crossed the wire first on Saturday night in a lifetime best 1:54.4 in the $464,000 Goldsmith Maid Final.
Smexi's brother, Sanctified was entered in the 2014 Atlantic Classic Yearling Sale in P.E.I. on October 10. Andrew had a reserve on him that wasn't met. That yearling's value certainly increased on Saturday night.
"I have him fully staked as a two-year-old, and he's staked to the big three-year-old stakes as well," said Andrew, who noted that the mare is currently in foal to PEI-based stallion Armbro Barrister. Sanna Hanover also has a weanling on the ground, Sam Moon, by sire Northern Bailey.