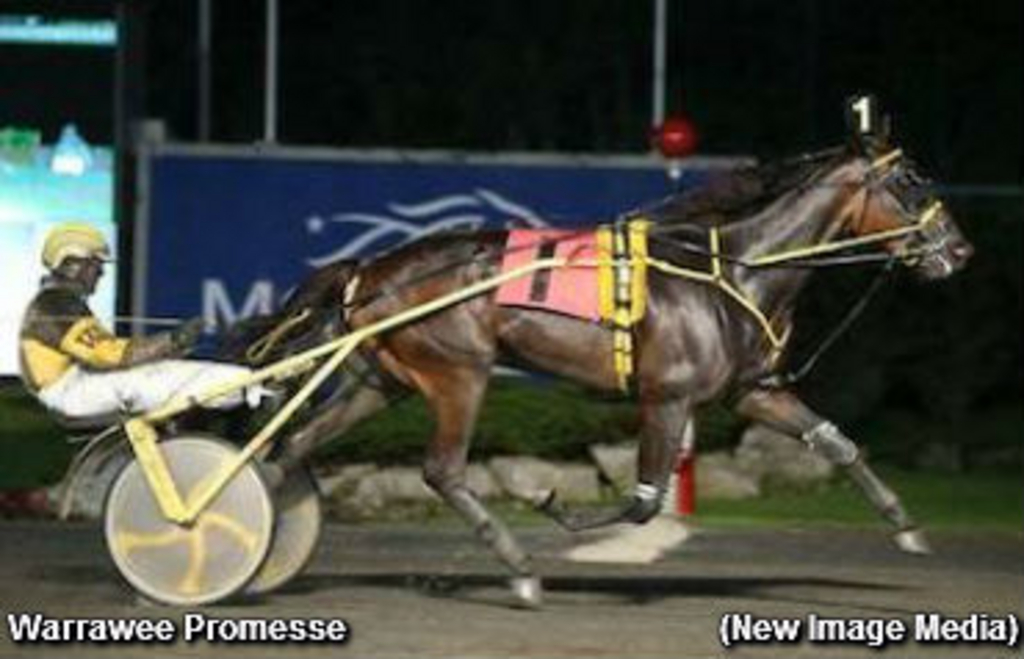 A driving rain did little to deter Warrawee Promesse from scoring his sixth consecutive victory in the third $18,000 Ontario Sires Stakes Grassroots event for three-year-old trotting colts tonight at Mohawk.
That division saw Passed Dat Point on point early and by the opening marker in :27.4. Warrawee Promesse popped out from second for trainer Wayne Henry and grabbed the lead well before the :57.2 half and was at the three-quarters in 1:27. The Windsong Espoir gelding cut through the rain in the stretch and won handily in 1:58. Crowningcrest was second followed by Whichamacallit.
Henry Stable of Arthur, Ontario shares ownership of the winner with Fred Brayford of Alliston, Ontario. Windsong Promesse is now six for 10 this season. His victories include three OSS events, two Grassroots and a Gold, and a sweep of the Dream Of Glory series at Hanover Raceway.
The rain hadn't started when the first division went postward. Aventure grabbed the lead by the :27.4 opener but wasn't there long as he was quickly covered up by Totally Ripped who trotted by the half in :57.2 and the three-quarters in 1:26.4 and opened up through the stretch to win comfortably in 1:54.4. Favourite Aventure was second while Kremlin finished third.
It was third win (second OSS score) in 12 tries this year for the son of Muscle Mass trained by Jeff Byron for owner Donald Leschied of South Woodslee, Ontario. The colt is the third foal from a half-sister to former OSS star Mccall Magic ($483,000).
Headsaregonna Turn used his quick gate speed to get to the front first from post eight in the second split and was by the opening quarter in :26.4 and the half in :56.1. At the 1:25.2 three-quarters he had company in the form of Stonebridge Rich and that colt took over in mid stretch and held of Justcallmeronald to win in 1:55. Utopia closed hard for third.
Anthony MacDonald trains and drives the winner, a son of Angus Hall owned by Allard Racing of Quebec. It was Stonebridge Rich's fourth win this year, and shaved more than four seconds off his previous life best.
The fourth and final Grassroots division was not contested tonight as racing was cancelled after the ninth race due to safety concerns. The wet track impeded the starting gate in the ninth race leading to that decision. The remaining OSS division (Race 10) will be contested as a non-wagering race Tuesday evening at 7 p.m. at Mohawk Racetrack.
This was the final Grassroots event for this group this season. The top point earners will next meet in the Semi-Final at Mohawk on September 20.
(OSS)
To view results for Monday's card of harness racing, click the following link: Monday Results – Mohawk Racetrack.