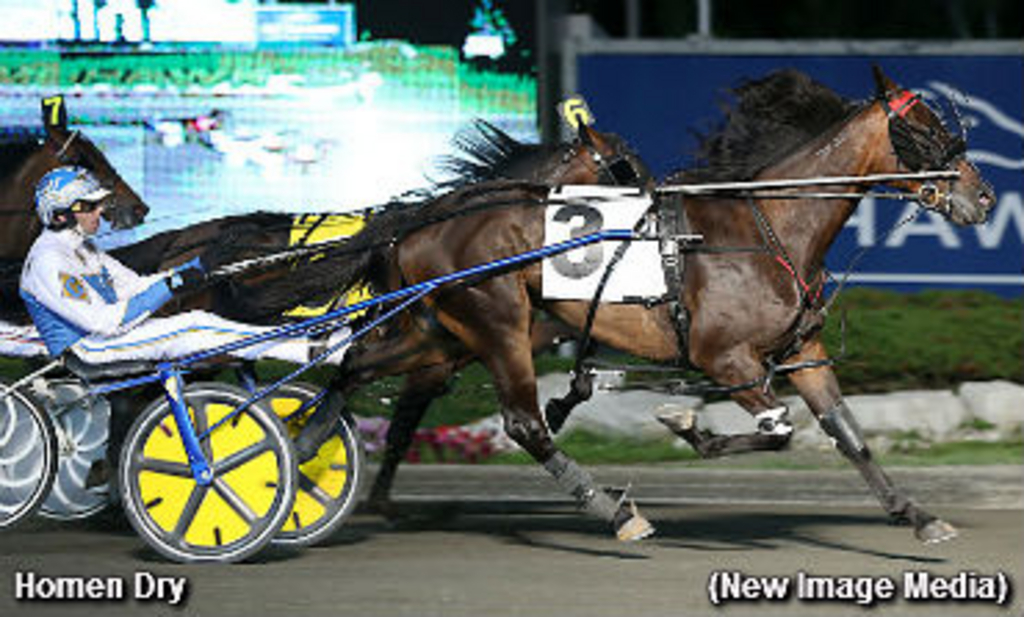 Trainer Brad Maxwell had power in numbers going into Thursday's second leg of the Define The World Series at Mohawk Racetrack, and Homen Dry came through for the barn thanks his final stride score.
Chris Christoforou was in no hurry with Homen Dry, who was sent off at odds of 8-1 in the $12,000 affair. The colt got away fifth while Hemi Seelster shot to the front and supplied the field with a :28.1 opening quarter. Race favourite Jetpedia rolled to the lead in the backstretch and took the field through middle splits of :58 and 1:28.
Homen Dry rode second-over cover behind Boli in the middle stages of the mile, and when Christoforou pulled the trigger in the lane the colt responded with a :28.2 closing quarter. It earned him the half-length triumph over Boli in 1:57. Jetpedia faded late and settled for third in the 11-horse affair.
One of three carrying the colours of trainer Brad Maxwell in the field, Homen Dry won for the first time in his career for partners Paul Van Camp, Ben Mudry and Tim Murray. The son of Credit Winner-Beyond Blue, who was a $19,000 purchase from last year's Harrisburg Yearling Sale, has banked $12,200 to date.
To view results for Thursday's card of harness racing, click the following link: Thursday Results – Mohawk Racetrack.