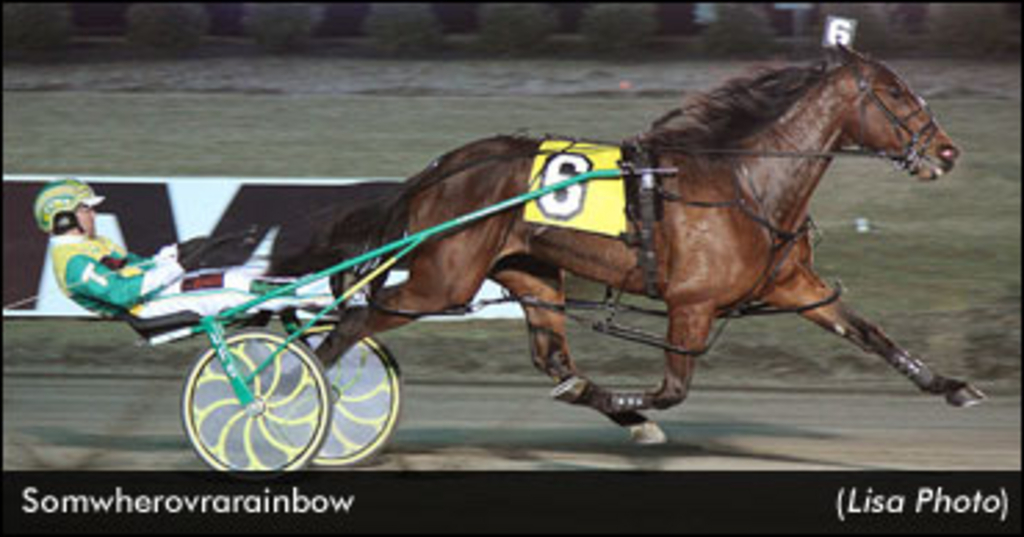 The 2013 season for filly pacers was all about I Luv The Nitelife and Shebestingin. At year's end, Somwherovrarainbow hadn't lived up the her two-year-old championship season.
Now four, Somwherovrarainbow decided she was going to make a statement in her 2014 debut, a $22,500 B-1/A-2 Handicap for filly and mare pacers on Friday night at The Meadowlands.
In a race that included a wild sprint in the first turn where the Somebeachsomewhere mare was stuck between horses three-wide, Somwherovrarainbow moved to the lead on the backstretch, opened up with powerful acceleration and tripped the timer in a sparkling 1:49.1 for Tim Tetrick, who appeared to have his mare comfortably wrapped up in the stretch.
The time of the mile was a new North American season's record for aged pacing mares and Somwherovrarainbow's first win in sub-1:50 fashion.
The final margin was six and three-quarter lengths over Pan Luis Obispo with Continual Velocity third. Monkey On My Wheel, who was parked four-wide around the first turn, predictably faded in the final three-eighths of a mile.
Somwherovrarainbow, the 2012 Breeders Crown champion, is onto the Blue Chip Matchmaker at Yonkers next Friday night for trainer Joe Holloway and owners Ted Gewertz and Diamond Creek Racing. If tonight's effort is any indication, she is sure to be a force in that series.
Friday night at The Meadowlands saw the opening leg of the Horse & Groom trotting series with the first of two $20,000 divisions going to Amigo Ranger in 1:55.1. Corey Callahan drove the Amigo Hall five-year-old to a first over score, wearing down the favoured Hldontghttourdrms in the stretch for his first win of the campaign. Ashes Cash closed to be second and longshot Home Turf was third. Ron Burke trains the winner for the Burke Racing Stable, Weaver Bruscemi and RTC Stable.
The second division featured an exciting stretch drive where Bambino Glide, who cut the mile, called on all he had to hold off a relentless Time To Quit, who missed by a diminishing neck, in 1:53.1 with longshot March Awareness third. Bambino Glide was sent out by team 'Orange Crush' -- Andy and Julie Miller for owners Kapildeo Singh and Shakoor's Racing Stable.
The second leg of the Winter Survivor series also split into a pair of divisions with the first of those going to Cane Ridge and Callahan in 1:51.1. The winner of last season's Rags To Riches late closer was sent right to the top from the outside post nine and rated an honest pace to score handily over Mc Rusty and Astreos Flash. Trainer Doug Dilloian shares ownership with Darius Oshidar and East Wind Stable.
The second division of the Winter Survivor went to Mattador D with a well-timed late move for Joe Bongiorno in 1:53.4. A winner in a division of leg one last week, Mattador D settled well back as Hacienda led through a casual :58 flat half-mile. Closing from the third over position, Mattador D was put to a rousing drive by Bongiorno and was actually a fairly comfortable winner over Malosi N.
Brad Irvine is the trainer and Carly Roman the owner of Mattador D, a likely favourite in next week's $47,650 final.
The feature race Friday night was the $30,000 Free-For-All Trot, carded as race six. That event went to Modern Family, who scored decisively in 1:52.1 for Tetrick. Parked past the :27.1 opening quarter, Modern Family crossed over, got a breather in the middle and tacked a :27 flat final panel on the end of the mile. DWS NY Yank was second and Daylon Magician saved third from a first over trip. Daryl Bier is the trainer and part owner of the winner, who passed the $300,000 career earnings mark, with Charles Dombeck and Richard Poillucci.
Total handle for the Friday card was $3,053,484, a slight increase of four percent over 2013.
Racing returns on Saturday, featuring the first round of the Clyde Hirt Series and a $30,000 Free-For-All headlined by a rematch of Golden Receiver and Dovuto Hanover, with post time at 7:15 p.m.
(With files from Meadowlands Racetrack)