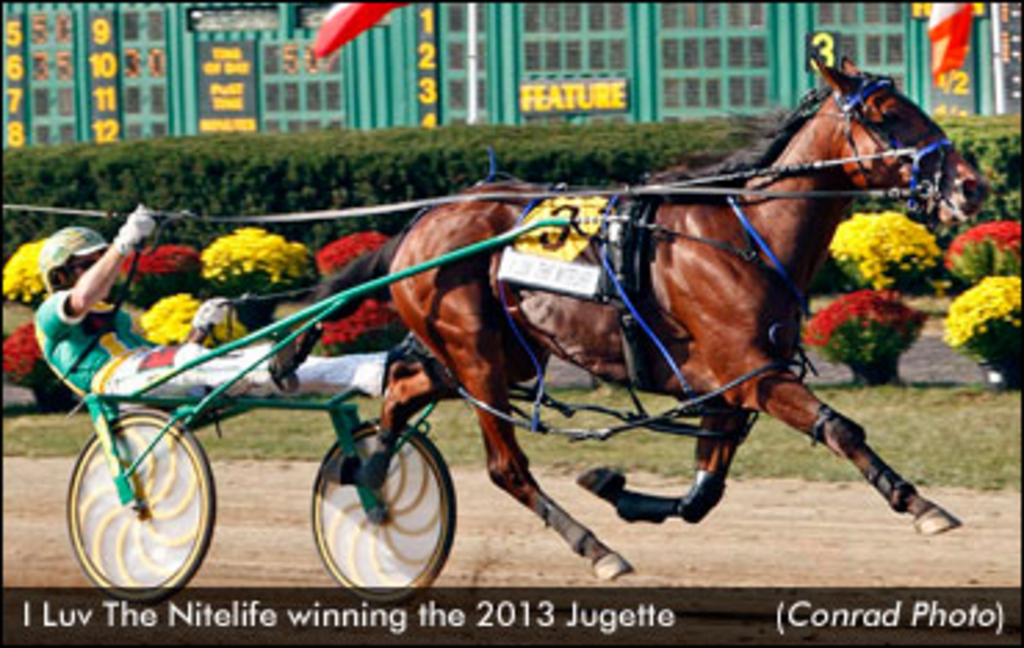 I Luv The Nitelife, one of the top pacers of the year, has been named 2013 Secretary of Agriculture's Trophy winner as New Jersey Standardbred of the Year, as selected by the New Jersey Department of Agriculture.
I Luv The Nitelife will be among the honourees at the 57th annual New Jersey Breeders Awards luncheon at 1 p.m. on January 26, 2014 at Charley's Other Brother in Eastampton Township, New Jersey.
The daughter of the late New Jersey super stallion Rocknroll Hanover out of Lisjune had a nearly flawless campaign in 2013 on the back of a stellar two-year-old season in 2012.
I Luv The Nitelife, trained by Chris Ryder and driven in most of her starts by Tim Tetrick, has already won national divisional honours as Three-Year-Old Pacing Filly of the Year for 2013. And she is a contender for U.S. Pacer of the Year and U.S. Horse of the Year, both of which will be announced in late February.
In 2013, I Luv The Nitelife compiled a record of 13 wins, one second and one third from 15 starts, banking $1,253,757 (U.S.). Added to her two-year-old season, she possesses a lifetime record of 17 wins, five seconds and two thirds from 25 starts. Her career earnings sit at $1,943,287 (U.S.).
The bay mare, foaled on April 23, 2010, was bred by Mike Gulotta's MJG Racing Stables of Annadale, New Jersey and Louis A. Willinger of Louisville, Kentucky. She carried the name Hard Rock Deo when Floridians Richard and Joanne Young paid $60,000 for Hip No. 39 at the Lexington Selected Sale.
"I recently have been naming my horses from songs from the 1960s and 1970s," explained Richard Young of Boca Raton, Florida. "Nitelife's brother was named Im The Pied Piper. I guess I just like the song."
Young was drawn to the filly because he had owned her Western Ideal half-brother, a foal of 2009.
"He had shown talent and was injured before he made it to the races," Young noted. "I Luv The Nitelife was a bigger, stronger individual than her brother and so it made sense to try the family again."
The Youngs have a small stable, not more than five most years. They will be going into 2014 with three yearlings, one three-year-old and I Luv The Nitelife, who fractured her right knee and had surgery.
"The operation was a success, and, with luck, she should be back in training May 1," Young said. "She will recuperate at Deo Volente Farms, where she was foaled. As long as she recovers as expected, we will attempt to race her in 2014. If things don't work out, we will breed her."
Young and Ryder have been an owner/trainer team for several years. Among their success stories was Put On A Show, another daughter of Rocknroll Hanover, who won multiple stakes and banked more than $2.4 million.
"One could say I'm quite involved or more involved than most," Young noted. "I don't believe in getting into any business with knowing what you are getting into, and so I've made a point of learning as much about it as I can. [After] conferring with Chris, I generally map out their schedules and decide which races I'd like to race in, always, of course, asking Chris if they are up to the task.
"Nitelife trained down nicely [and] Chris had evaluated her as stakes caliber," he recalled. "He did not say she was another Put On A Show, but then again how could he say that? Put On A Show trained down like the best filly on the planet.
"I was a little disappointed in her first race [at two] as I guess I was expecting something more," he noted. "In retrospect, she did all she was supposed to do. When the half goes in a minute and then comes home in :55, and it's your first start against others who had been racing, I shouldn't have expected any more. [She finished fourth]. She never missed the board again.
"She continued to improve and it was her third start that showed us she belonged as a stakes filly," he added. "She finished third, but she showed she was tough. She started winning then and broke the world record in her fifth start [in 1:50.1 in a prelim leg of the Shes A Great Lady at Mohawk]."
On May 4, 2013, I Luv The Nitelife won her season's debut in a New Jersey Sire Stakes leg at the Meadowlands, finished third two weeks later in the New Jersey Sire Stakes Final and then reeled off 12 straight victories, including the finals of the Fan Hanover, Lynch, Mistletoe Shalee, Thomas D'Altrui Miss New Jersey, Valley Forge, Simcoe, Jugette and Breeders Crown.
Her 1:48.4 mile in the Valley Forge at Pocono was a world record clocking.
Two weeks after finishing second by a head in the American National at Balmoral Park on November 9, she turned in a sharp qualifier in preparation for the Nadia Lobell at the Meadowlands on November 23, 2013. The Tuesday before that anticipated start, the knee fracture was discovered.
Besides racing, the Youngs are involved with a charity called A Spring of Hope.
"My daughter Brittany just graduated from the University of Pennsylvania, suma cum laude and Phi Beta Kappa, and hopes to attend either Stanford or Berkeley for her PhD in cultural anthropology," he explained. "She founded A Spring of Hope when she was 14 and I'm confident it will forever be a part of her life.
"The charity is involved in providing water to schools in South Africa and follows that up with education on how to grow crops and be self-sustaining," he noted. "Joanne and Brittany spend a great deal of their time supporting the charity and I help when I can."
For tickets to the awards luncheon ($35 per person), contact the New Jersey Department of Agriculture, Division of Markets & Development, Horse Industry, PO Box 330, Trenton, NJ 08625 or call at 609-984-4389.
(SBOANJ)