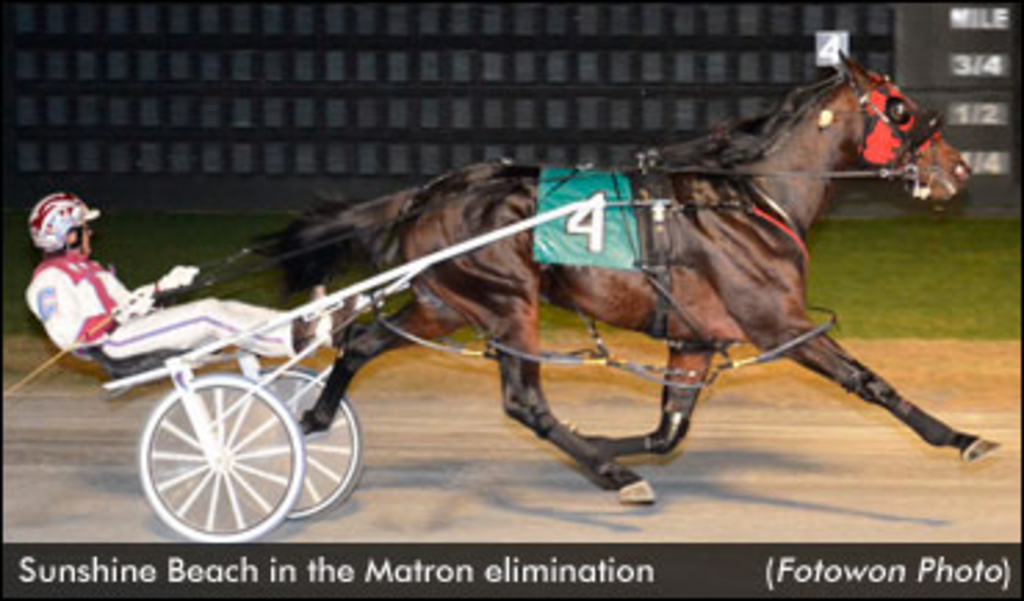 Dover Downs began the start of its 'Novemberfest' of stakes racing on Sunday with eliminations and previews for next weekend's Matron Stakes filling the card.
The top eight finishers in each division will return to Dover Downs next Sunday, Nov. 17 for the eight lucrative finals.
All Bets Off ($8) was the winner of the single $51,525 elimination for two-year-old pacing colts with Matt Kakaley driving for trainer Ron Burke. The Bettors Delight colt swept to the lead past the first quarter mark and rebuffed a challenge from eventual trailer Bakersfield before holding off a pylon-skimming McWicked in a two-horse breakaway down the stretch. All Bets Off prevailed by half a length in a new mark of 1:51.3. McWicked settled for second with Stevensville closing for third five and a half lengths behind. Thereisapaceforus, favourite Carracci Hanover, Ideal Fashion and Bakersfield completed the field, which had two scratches. The winner is owned by Burke Racing Stable LLC, Frank Baldachino, The Panhellenic Stb Corp., and Rosemary Shelswell.
Driven by Yannick Gingras, 2-1 favourite Ali Blue swept from third to first as the two-year-old pacing fillies moved in front of the grandstand for the first time in their $44,175 elimination and held off fellow Jimmy Takter trainee Instant Respect at the pylons by half a length in a career-best clocking of 1:51.2. Somethinincredible, Beach Body, Table Talk, Tyra, My Lady Day and Kate Cant Wait finished third through eighth. The winning American Ideal filly is owned by Christina Takter, John and Jim Fielding, and R A W Equine Inc.
In the first of two $27,775 eliminations for two-year-old trotting colts, Well Built ($15.20) and driver Jim Meittinis sat fourth for most of the mile before rallying wide around the final turn en route to a personal-best 1:55.2 victory as the popular pacesetter, Don Dorado, broke stride in the stretch. Pocket-sitter Skates N Plates finished over a length behind with Don Dorado settling for third and Another Transcript back in fourth. Chris Ryder trains and co-owns the son of Muscle Hill with Robert Mondillo.
Heavy 1-9 favourite Nuncio was an easy gate-to-wire winner in the second freshman trotting colt elimination, also winning in a time of 1:55.2. John Campbell drove the Andover Hall colt for trainer Scott Andrews and Stall Tz Inc. It Really Matters finished one and a half lengths behind in second with the rest of the field gapped the entire mile. Karets and Another Depostion were third and fourth.
Breeders Crown champion Shake It Cerry romped to a seven-length victory in the $46,700 eight-horse preview for two-year-old trotting fillies. The Jimmy Takter-trained Donato Hanover filly advanced first over from third in the backstretch and drew off down the lane to win in 1:54.4. The 1-9 favourite was driven by Ron Pierce for Solveigs Racing Partners. Completing the field were the tempo-setting Noon Tea Party, Struck By Lindy, Scream And Shout, Fashion Huntress, Ruby, and breakers Silent Opera K and Scully Sas.
Parked through the opening quarter, 1-2 favourite Sunshine Beach cleared to command in front of the grandstand in the $53,462 elimination for three-year-old pacing colts and never looked back en route to a 1:50.1 victory with John Campbell aboard. The Somebeachsomewhere colt is trained by Mark Steacy for owners Hudson Standardbred Stable Inc., Conrad Leber, and Diane Bertrand. Emeritus Maximus and Twilight Bonfire followed two lengths behind in second and third with trailing tier starter Vegas Vacation rallying wide around the stalled cover of Dedis Dragon for fourth. Ronny Bugatti, Doctor Butch, Dedis Dragon and Swift As A Shadow rounded out the top eight finishers.
In the first of two $21,755 eliminations for three-year-old pacing fillies, Jerseylicious ($11.80) and Corey Callahan followed the cover of Cheyenne Miriam into the final turn before tipping wide and out-sprinting that filly for the one and a half length triumph 1:52.1. The favoured pacesetter, Summertime Lea, finished third while Handsoffmycupcake came on for fourth. Wayne Givens trains the winning Western Ideal filly for owners Legacy Racing Of Delaware Inc. and Pamela Curran.
Sent postward as the overwhelming 1-5 favourite in the second elimination for sophomore fillies on the pace, world champion Shebestingin and David Miller made a quarter pole move from third to take the lead and then drew off down the stretch to win by three lengths in 1:51.2 for trainer Joe Holloway and owners Val Dor Farms, Theodore Gewertz, and L And L Devisser LLC. The Bettors Delight filly was followed by Ms Caila J Fra, Uf Dragons Queen and Certified Ideal.
Driven by Tim Tetrick, even-money favourite Smilin Eli cruised wire-to-wire to win the $51,075 elimination for three-year-old trotting colts in 1:53.1. Nicholas Cimino's homebred Muscle Yankee colt is trained by David Smith. Bluto followed one and a half lengths behind from the pocket with Possessed Fashion, All Laid Out, Six Gun Hall, Tirade Hanover, Crazy About Pat and Sailer Eddie also advancing.
Following a recall in the $54,750 elimination for three-year-old trotting fillies, 8-5 favourite Ma Chere Hall left from post seven and cruised home to win in 1:54 for driver Corey Callahan and trainer Jonas Czernyson. Southwind Cocoa advanced first over the place and pocket-sitter Time To Kill finished third.
Also advancing to the final in fourth through eighth are Crazy Grigio, Choose Happy, Thistle Dhu, Drink The Wine and Deja Vu Too. The winning Deweycheatumnhowe filly is owned by breeder Walnut Hall Limited, Aldebaran Park Inc. and Joe Sbrocco.