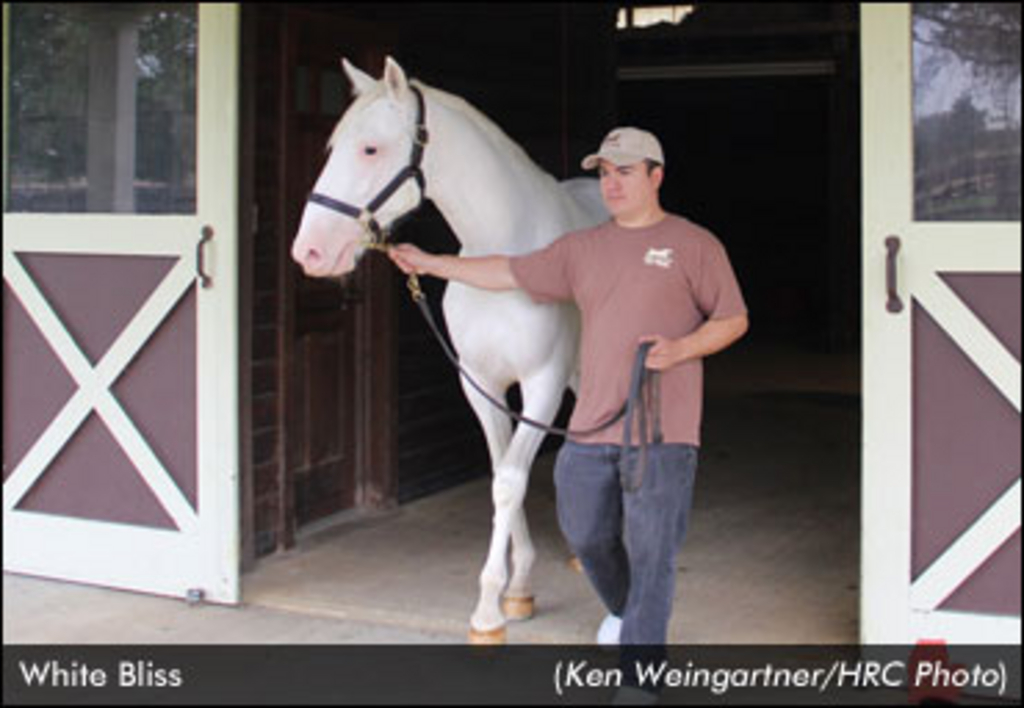 When you've already beaten odds of 200,000–1, nothing else seems all that daunting.
The white Standardbred colt born May 6, 2012, and named White Bliss, is one of about 200,000 births among Standardbreds and a big surprise to all at Fair Winds Farm in Cream Ridge, New Jersey. He's the son of a bay stallion and a bay mare, with not a single white relative in the family tree.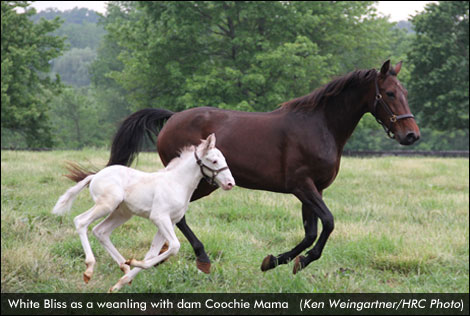 On Tuesday (Nov. 5), he will go up for sale at public auction at the Standardbred Horse Sale at the State Farm Show Arena in Harrisburg, Pennsylvania. As hip number 305, he will sell between roughly 11:30 a.m. and 12:30 p.m.
To beat the next set of odds, White Bliss, the DNA-confirmed son of Art Major and the mare Coochie Mama, bred by Pete Congilose, will have to be among a few dozen top horses of the 9,000 Standardbreds registered each year in North America.
"He actually looks really good," said Congilose. "He's not a real big colt, but his family doesn't throw really big horses, but conformation-wise he looks good. He has his own Facebook page (White Colt) and I posted his sales video and to date, it's got around 17,000 hits. A lot of people from all over the world have been looking at him."
Congilose says a sales price for the colt, who he is selling reluctantly, has a large element of uncertainty because of his unusual colour. Many horsemen are reluctant to buy a chestnut or heavily marked bay or brown horse, let alone one whose colour, or lack thereof, is seen by few in a lifetime.
In advance of the sale, White Bliss is going through a daily routine, which includes a lot of baths, at Fair Winds Farm in Cream Ridge.
"He's going through the same prep classes that everyone else is," said Fair Winds owner Mark Mullen. "At the end of August, he was broke to lead, and he's been in an exercise machine every other day and in the paddock every other day. He's getting groomed every day and he's looking more and more white and spectacular.
"If he was a brown or a bay, you'd say, 'That's a good looking Art Major colt.' He's got a nice head, he's the right size, he's got a good body. He's just a really good looking yearling. But he's white. It's going to be one of those things where people will love him or they'll say, 'That's just not for me.'
"There's going to be somebody out there who is smitten and that's what I'm counting on. I had a person call from the United Kingdom and asked me what he would go for. I tell people he can go for $35,000 or $135,000, we can't know.
"He wanted me to do a deal with him on the phone. I said, 'Listen, this is a nice horse. He's going to race in the New York Sire Stakes circuit for $50,000 or $100,000 so that is how he is going to get priced.'"
---
This story courtesy of Harness Racing Communications, a division of the U.S. Trotting Association. For more information, visit www.ustrotting.com.