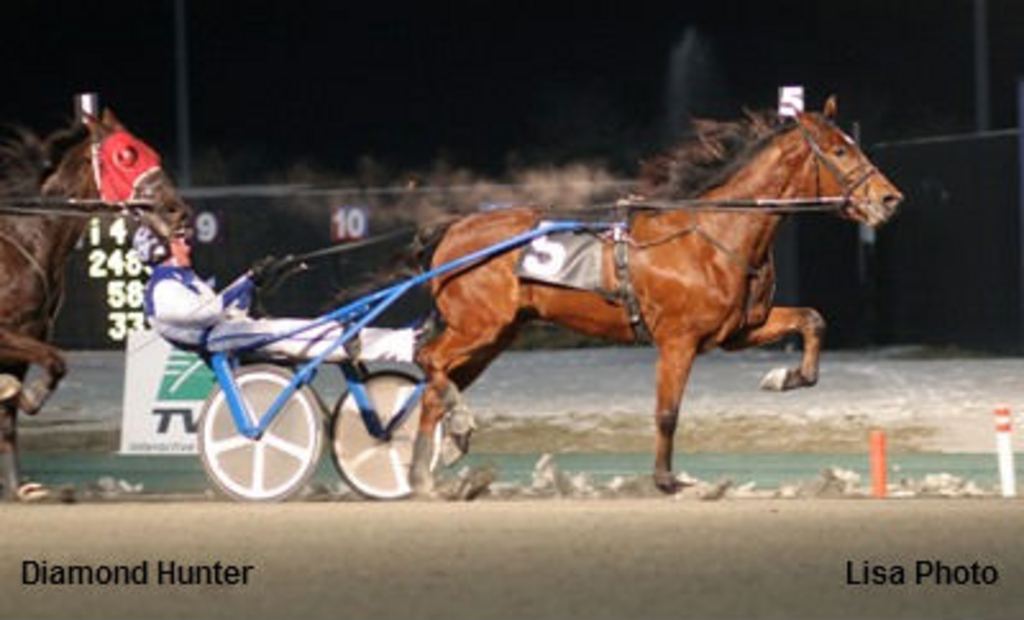 Diamond Hunter rallied off a perfect pocket trip to win the $67,500 Super Bowl Final on Thursday night at the Meadowlands
.
Diamond Hunter and driver Eric Goodell drafted behind Tropicana Ron (George Brennan) and burst through late on the rail to win the event for conditioned trotters in 1:56.2. Hypnotic Kris (David Miller) benefited from a ground-saving journey to finish a half-length behind in second, while the outside challenger Lookin Ahead (Brian Sears) was third. Diamond Hunter paid $15.
"I expected George [Brennan and Tropicana Ron] to keep coming," Goodell said. "I thought that if I could follow him, it was my best chance. The horse pretty much does everything on his own. He's real strong off the gate and that helps in picking which horse you're going to follow. You can get there quick and hopefully everyone lines up like you expect them to. He kind of waits on them when he is not in front. He wears an open bridle so when they do get to him, he goes on. He's a real nice horse to drive. I was just hoping George would make sure I got a little room up the rail. His horse looked pacey-gaited most of the mile and I was just hoping Brian [Sears and Lookin Ahead] didn't clear him sooner than that."
Sherree Cox, Jeffrey Cox and Richard McNutt's Diamond Hunter posted his 14th career win with a sweep of the Super Bowl Series. Larry Remmen trains the four-year-old son of Fortunefivehundred-Erikas First Lady.
In the co-featured $53,000 White Ruffles Final, Orphan Annie and driver Yannick Gingras led the field at every call and held on for a half-length victory in 1:53.2. The Erv Miller-trained entry of Tammibest (George Brennan) and Thong Song (Andy Miller) were second and third, respectively.
Orphan Annie, trained by Ron Burke, also scored a series sweep as she improved her record to eight wins in 20 career starts.
"Looking at the program, I had to make my pick between LC Tiffany and Orphan Annie," Gingras said. "Orphan Annie raced so good on the front the first week. The second week she wasn't quite as sharp, but she got it done anyway. Looking at the race, there wasn't much speed and that is why I picked her and thought I could steal some fractions. I didn't know where [Thong Song] was, but I knew she would be far back so that's why I tried to take it easy to the half and played 'catch me if you can' from there. I was worried - I'm not going to lie - at the top of the stretch. Thong Song has some pretty strong kick finishing. I could hear Andy [Miller and Thong Song] coming from behind me. I could hear him screaming. My filly dug in gamely. She was as good as she was the first week. Ronnie [Burke] said she would be better from last week and he was right."
The Meadowlands winter series action continues Saturday night with a trio of stakes finals headlined by the $125,000 Presidential for free for all pacers. Post time is 7 p.m.
To view Thursday's results, click here.
(With files from NJSEA)