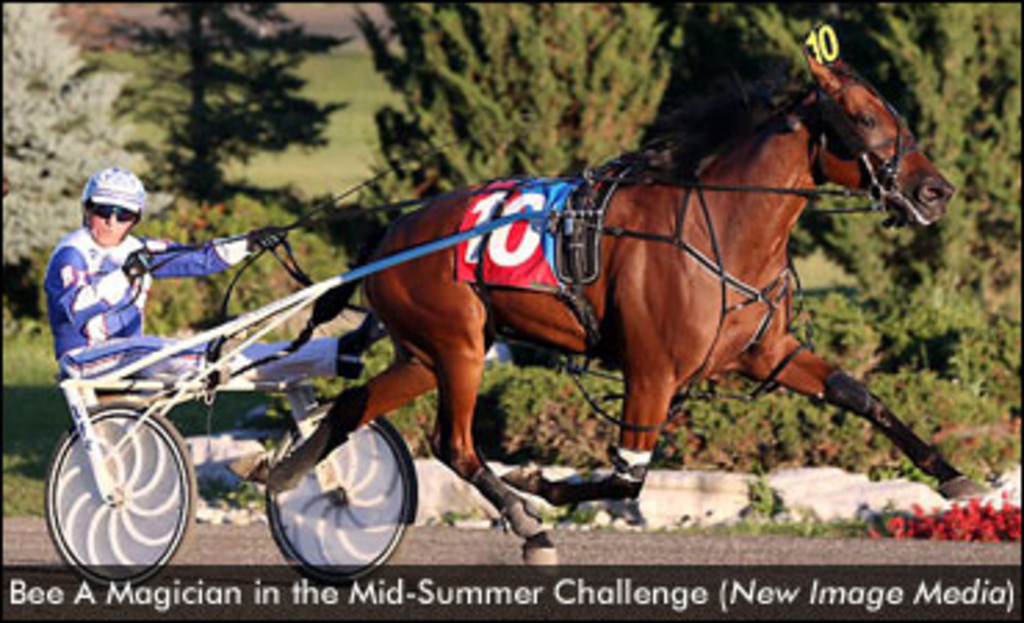 O'Brien Award winning trotting filly Bee A Magician managed to keep her undefeated sophomore streak alive with a narrow victory from post 10 in the first of four $150,000 Ontario Sires Stakes Mid-Summer Challenges for three-year-olds featured on Saturday evening at Mohawk Racetrack.
Driver Rick Zeron floated Bee A Magician off the gate from the outside post position and was stretched out well past the :27.4 first quarter by early leader Motown Muscle (Jody Jamieson). Bee A Magician eventually cleared to command before the :56.2 half-mile mark and led the fillies to three-quarters in 1:25.2. Motown Muscle launched a late challenge in the stretch and made it into the win photo, but came up just short. Bee A Magician prevailed in 1:53.1 by a head over Motown Muscle while first over Anaffairtoremember (Jack Moiseyev) finished third.
Fresh off a victory in the Hambletonian Oaks last Saturday, Bee A Magician was the heavy 1-9 favourite in the wagering and paid $2.20 to win. She is now a perfect 10-for-10 in her sophomore campaign with purse earnings climbing to $858,765.
"I was struggling a little bit on the outside to try and make front and Jody's filly was grabbing on pretty good," said Zeron in a post-race interview. "He let me get around him and she just kind of lollygagged a little bit until Jody started to come at her halfway down the lane. She dug in and fought the horse off like she always does.
"She's a whole lot better being raced from off the pace than being sent to the front," continued the Oakville, Ont. reinsman. "But saying that, I had the 10-hole and I didn't think I was going to get very many holes out there so I had to try to push my way up to the front end and see if I could give her a little bit of a breather. But she's way better sitting fifth, sixth or seventh and then coming with cover at the head of the lane. She can really get home real good."
Richard 'Nifty' Norman trains the daughter of Kadabra for owners Melvin Hartman of Ottawa, Ont., Herb Liverman of Miami Beach, Florida, and David McDuffee of Delray Beach, Florida.
Bee A Magician boasts 20 wins in 23 career starts with a bankroll of more than $1.6 million.
One race prior, Warrawee Olay, an early season Grassroots winner, posted a 1:54.4 victory in the $50,000 Mid-Summer Challenge Consolation for trotting fillies. Paul Court trains the $9,500 Canadian Yearling Sale purchase for owner Barbara Millier of Puslinch, Ont.
Also driven by Rick Zeron, the Muscle Mass filly retook the lead down the backstretch and held off the weaving Cardio Pump (Jody Jamieson) by a neck at the wire. Watch The Rhythm (Scott Zeron) finished third.
Trainer Richard 'Nifty' Norman doubled up in the OSS Mid-Summer Challenges, also winning the last event of the night with streaking three-year-old pacing colt Mach It So.
Scott Zeron drove the Mach Three gelding to his first sub-1:50 win for owner Bamond Racing of Brick, New Jersey.
Windsong Jack (Billy Davis Jr.) fired off opening fractions of :25.4 and :53.4. Gallant Seelster (Doug McNair) advanced first over from fourth as the field raced towards the third quarter in 1:21.2, but Windsong Jack maintained a three length lead into the stretch. However, 4-5 favourite Mach It So sprinted a final quarter in :26.2 from third over to get by for the 1:49.1 victory. Windsong Jack settled for second one length behind with Gallant Seelster third.
"I saw the quarter pole and the half and those were some very fast speeds tonight," said Zeron after the race. "I was really surprised with Windsong Jack -- he raced phenomenal on the front and I was waiting for him to come back to me some more. I had to ask mine all he could go and he definitely put it out there tonight."
Mach It So earned his fifth consecutive win and seventh in nine seasonal starts.
The $293,837 career earner is eligible to the Little Brown Jug and could be headed to next week's Battle of the Brandywine, according to Zeron.
Sire Kadabra swept the trotting Challenges with Flanagan Memory winning the three-year-old colt event. Driven by Chris Christoforou, the 8-5 favourite delivered a 1:54.1 victory despite a broken headpole in the stretch.
Longshot Beyond Sanity (Paul MacDonald) fired off the gate from post seven to establish the early lead during a :28-second first quarter, but his lead was short-lived as Kennel Buddy (Doug McNair), Gotta Secret (Sylvain Filion) and then three-wide Toocool Forschool (Mike Saftic) swept by through middle splits of :56.2 and 1:24.3. Goodtimes Trot champion Flanagan Memory was left uncovered and took over the lead in the stretch en route to his fourth win this year from seven starts. Buddy Hally (Rick Zeron) closed well for second, three-quarters of a length behind, while Gotta Secret finished third.
"I thought the way the race was shaping up in the first turn that I just wanted to be out in the flow and if he cleared before the last turn fine and if he didn't that was okay too," said Christoforou. "He's a very durable horse and he's easy to get along with."
Rene Dion trains and co-owns the $286,498 career earner with Liette Flanagan of Repentigny, Que.
The favourites continued to dominate the OSS action with Pan Luis Obispo capturing the three-year-old pacing filly event in a career-best 1:51.4 for driver Randy Waples and trainer Bob McIntosh.
Longshot Jettin Jamie (Doug McNair) left from post nine and carved out fractions of :26.2, :55.4 and 1:24 with Leaveumlady (Scott Zeron) advancing first over and Pan Luis Obispo waiting for the perfect time to strike from second over. The 4-5 favourite shot to the lead in the stretch and held off pocket-sitter Macharoundtheclock (Jody Jamieson) by a neck. Best Impressions (Billy Davis Jr.) was third.
"She's just a really nice little filly," said Waples from the winner's circle. "She's good from behind, but she doesn't have accelerating gate speed, especially with the rail here it's tough to get away. I was a little nervous because there were a lot of horses that looked like they were going to drop down and try to get a flow going early, but I got lucky enough to get out on Scott's back and he took me right to the head of the lane. She sprinted like she always does and she was able to hold off a really fast-closing filly."
The No Pan Intended filly is owned and bred by Peter Pan Stables Inc. of Pepper Pike, Ohio. She competed at the Grassroots level at two before blossoming into a competitive Gold Series filly this year. With four wins in 10 seasonal starts, she's pushed her lifetime earnings to $247,433.
In the $50,000 Mid-Summer Challenge Consolation for pacing fillies, Seaside Rory and Jamieson rallied home off cover to score the 1:51 career-best victory by one and three-quarter lengths. The outside post eight starter wore down first over Wildcat Hanna (Sylvain Filion) in the stretch for her first OSS victory while Pertty Music (Doug McNair) rounded out the top three finishers.
Jeff Gillis trains and co-owns the Mach Three miss for Mac Nichol of Burlington, Ont., M And L Of Delaware LLC of Wilmington, Delaware, and Ellen Ott of Buffalo, New York.
To view Saturday's harness racing results, click on the following link: Saturday Results - Mohawk Racetrack.