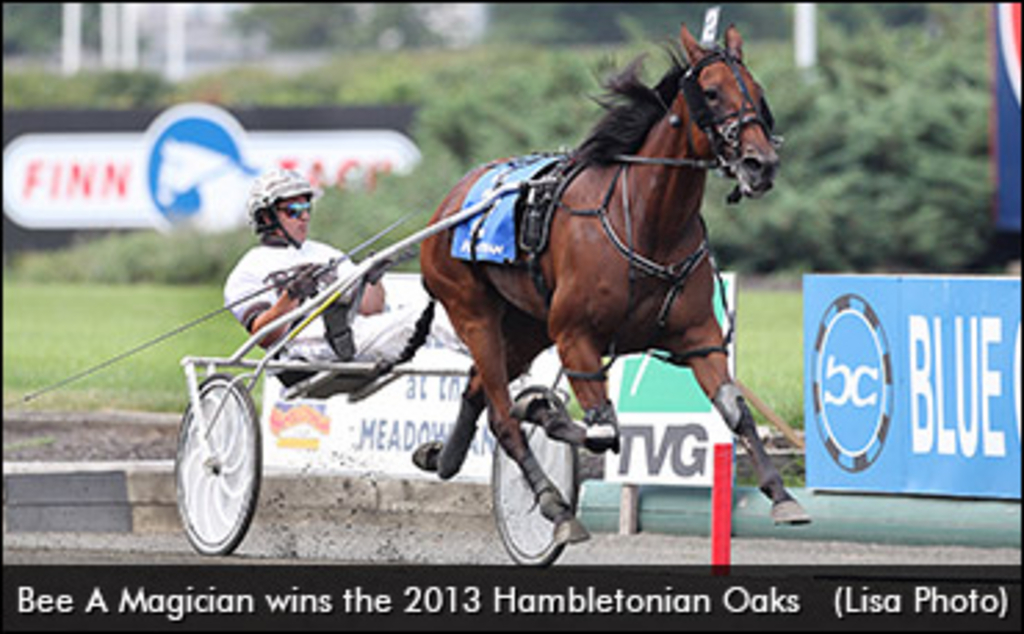 Bee A Magician has returned to Ontario and the top three-year-old trotting filly in North America is aiming to extend her win streak to ten in Saturday's $150,000 Mid-Summer Challenge at Mohawk Racetrack.
"She's here now, I brought her up yesterday (Tuesday)," explains trainer Richard "Nifty" Norman. "She came out of the (Hambletonian) Oaks really good, she's very fresh."
After sweeping through the Standardbred Breeders of Ontario Association Stake, the Casual Breeze and Elegantimage Stakes, and the opening leg of the Gold Series — where she set an Ontario Sires Stakes record — Bee A Magician shipped to The Meadowlands Racetrack in New Jersey where she set a 1:51 world record for three-year-old trotting fillies in the Del Miller Memorial and then swept her elimination and the $500,000 final of the prestigious Hambletonian Oaks.
In spite of the filly's outstanding record, Norman is taking Saturday's test very seriously. Bee A Magician landed the outside Post 10 and the New Jersey resident knows the nine fillies to her inside would love to depose the champion.
"It's a tough spot for her, the ten-hole, that'll be a bit of a test," says Norman, who conditions the Kadabra filly for Mel Hartman of Ottawa, Herb Liverman of Miami Beach, FL and David McDuffee of Delray Beach, FL. "Even though her form's so good, it will still be tough. It's never as simple as you think."
Working in Bee A Magician's favour will be her ability to race from off the pace and reel in horses during the late stages of a race. Among the fillies she may be stalking is stablemate Choir Robe, who makes her bid for a share of the $150,000 from Post 5 in Race 2.
Through eight starts Choir Robe has posted two seconds, four thirds and one fifth, only missing one cheque, and Norman expects the filly — another daughter of Kadabra owned by the same connections — to deliver another consistent result.
"She's real handy, she battles away and gets a cheque every time," says the trainer. "I just trained her this morning (Wednesday) actually, and she trained really, really good."
In addition to the two trotting fillies, Norman will also send out the top ranked three-year-old pacing colt in Saturday's Challenge. Mach It So is undefeated since arriving in Ontario in June, posting wins in the first two Gold Series legs and the elimination and final of the Canadian Breeders Championship.
"He's right at the top of his game right now," notes Norman. "He's a funny little horse to be around. There's nothing really impressive about him physically or mentally, you hardly know he's in the barn, but he's racing great and thinks he's King Kong right now."
The Mach Three gelding is owned by Bamond Racing LLC of Brick, NJ and will make his bid for a fifth straight victory from Post 4 in the ninth race.
Mohawk Racetrack fans will be treated to six outstanding Mid-Summer battles for the top three-year-old pacers and trotters on Saturday evening, beginning with the $50,000 trotting filly Consolation in Race 1. The $150,000 trotting filly Challenge goes postward in Race 2, the $50,000 pacing filly Consolation in Race 3 and the $150,000 Challenges for the trotting colts, pacing fillies and pacing colts in Races 5, 6 and 9, respectively.
Post time for Mohawk Racetrack's Saturday evening program is 7:25 pm. For complete entries please click the following link: Saturday Entries - Mohawk Racetrack.
(OSS)