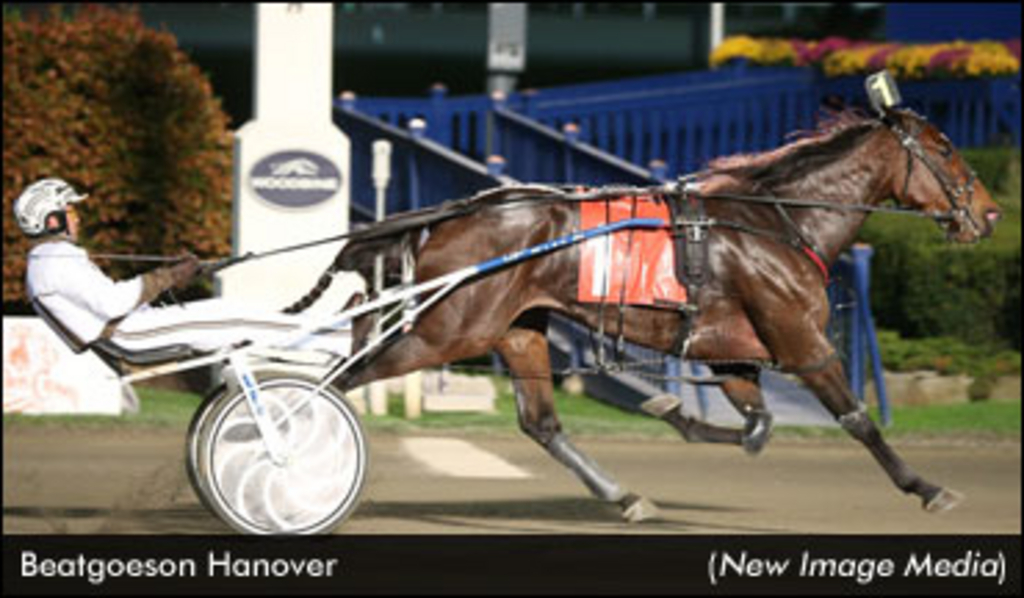 Beatgoeson Hanover will look to continue her winning ways in her division of the $30,000 Miss Versatility on Monday at Woodbine Racetrack.
Trained by Richard 'Nifty' Norman, the daughter of Andover Hall has posted three-straight wins south of the border.
"She's on top of her game right now," Norman said. "I couldn't be happier with the way she's been racing and finishing her miles. She's come back really well this season and it's showed."
The five-year-old lass enjoyed a successful season last year with $230,448 in the bank, but Norman says that the end result could have been different.
"She had a bad history of tying up last season," says the New Zealand native. "It seemed like every time she was in a big stakes event, she would tie up, including the Breeders Crown."
Norman believes Beatgoeson Hanover is in top form right now because tying up hasn't been an issue for her this season.
"So far, she hasn't tied up," he said. "Hopefully I didn't jinx myself by saying that, but she's matured quite a bit from last season to this season so hopefully she has grown out of it. That was her main issue last year."
Beatgoeson Hanover, who surpassed $1 million in career earnings in her latest start, has enjoyed a very successful campaign so far in 2013 with a 3-1-0 record from seven starts and $46,800 in earnings.
"This season won't be easy on anyone," said Norman. "Anytime you race at the top level, anyone can win at any given time. A lot of times it will depend on the right trip and who the sharpest horse is. Right now, she's on her game and we hope that continues."
The 22-time winner is owned by Neven Botica of Perth, Australia and will be driven by David Miller.
A pair of $30,000 Miss Versatility divisions will highlight the Monday program and will take place in races three and 10.
The fields will line up as follows:
Race 3
1. Daylon Miracle
2. Smarty Pants
3. Frenchfrysnvinegar
4. Maven
5. One More Ginny
6. China Pearls
7. Personal Style
Race 10
1. Cedar Dove
2. Intense America
3. Pembroke Heat Wave
4. Bax Of Life
5. Real Babe
6. Beatgoeson Hanover
7. Dorsay
To view Monday's harness racing entries, click on the following link: Monday Entries - Woodbine Racetrack.
(With files from WEG)