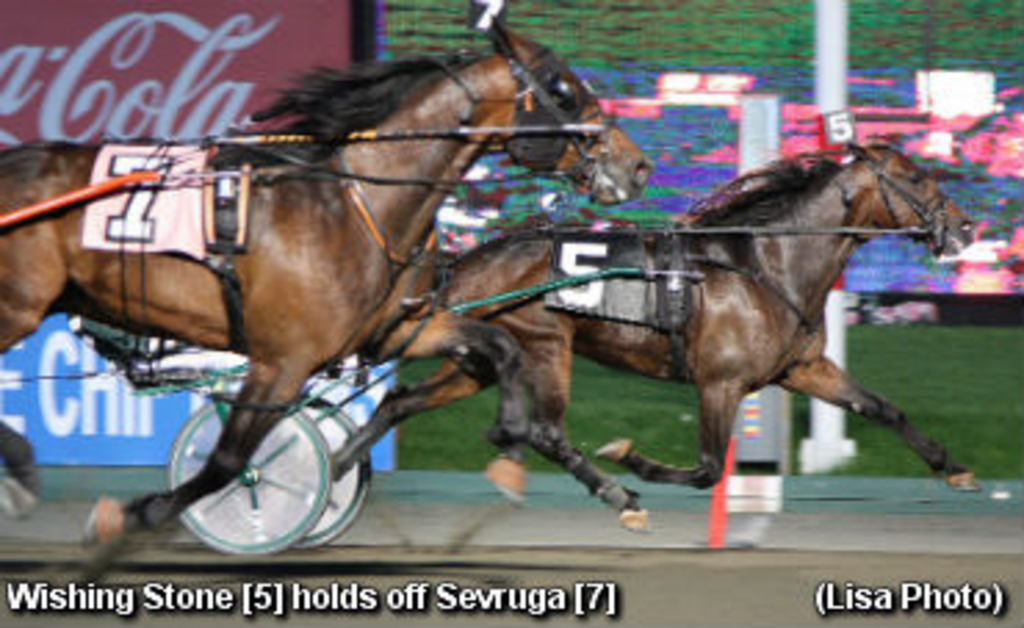 Ron Burke was happy with the way Wishing Stone raced last week in winning his elimination for Saturday's $180,000 Arthur J. Cutler Memorial for older trotters at the Meadowlands. He was even more impressed, though, by one of Wishing Stone's rivals.
Mister Herbie finished second in his elim, won by Modern Family by three-quarters of a length, in his first start of the season and got Burke's attention.
Wishing Stone, who won his elim by a nose over Sevruga in 1:52, is the 2-1 favourite on the morning line. Modern Family, who won in 1:51, is 5-2 and Mister Herbie, the event's defending champion, is 4-1. Mister Herbie and driver Jody Jamieson will start from post No. 1 while Modern Family and Tim Tetrick leave from post three and Wishing Stone and Yannick Gingras go from post four.
"Jody's horse really had a good effort for his first start," Burke said. "They should be feeling really good. They have the best of the group from last year and he came back sharp.
"That bothers me," he added with a laugh.
The five-year-old Mister Herbie won six of 12 races and had four second-place finishes last season, good for $955,860 and the O'Brien Award as Canada's Older Trotting Horse of the Year. Jeff Gillis, who trains and co-owns Mister Herbie, hoped to race the gelding in Europe this month, but Mister Herbie's schedule was altered by a quarter-crack issue.
Last season, Mister Herbie won the Maple Leaf Trot, Frank Ryan Memorial and Glorys Comet in addition to capturing the Cutler. He was second in the Breeders Crown, Nat Ray and Allerage. His 1:50.4 triumph in the Maple Leaf Trot is the fastest mile ever trotted in Canada.
Modern Family has won nine of 12 starts this year for trainer Daryl Bier. His triumphs include the Meadowlands Maturity for four-year-old trotters on May 4.
Wishing Stone, a six-year-old horse, has won 11 of 31 races in North America, plus five races in Europe, and earned $1.8 million lifetime. He spent nearly two seasons overseas, where his victories included the Grand Prix du Sud Quest, Kings Trophy and Copenhagen Cup.
Previously trained stateside by co-owner Dewayne Minor, Wishing Stone has been conditioned by Burke this year and won his last two starts after beginning the campaign by finishing third in his debut and second in mid-April.
"He's sharp," Burke said. "He's gotten better every start and Yannick gets along with him wonderful. He raced well last week; he didn't get used too hard and finished with good trot. I'm happy about that.
"It's hard to find out where his bottom is in speed. He went in (1):52 last week and that's not going to be fast enough this week. I think it's going to take 1:51 or 1:50 and a piece to win it. I respect those horses in there. I'm excited to see the race; I think numerous horses can win. It's hard to tell what (Wishing Stone) can do. Until you do it, you don't know."
Wishing Stone has multiple stakes wins to his credit, including the 2010 Kentucky Futurity, Matron and American-National. He is as well known for his diminutive size as his credentials.
"You wonder if (his size) is going to catch up to him at some point, but it hasn't yet," Burke said. "He's efficiently gaited, which is the big thing. I think that makes him better than he should be. He's always been a very good horse."
$180,000 Arthur J. Cutler Memorial
PP
1. Mister Herbie
2. Guccio
3. Modern Family
4. Wishing Stone
5. My MVP
6. Sevruga
7. Knows Nothing
8. Opening Night
9. Undercover Strike
10. Ice Machine
---
This story courtesy of Harness Racing Communications, a division of the U.S. Trotting Association. For more information, visit www.ustrotting.com.