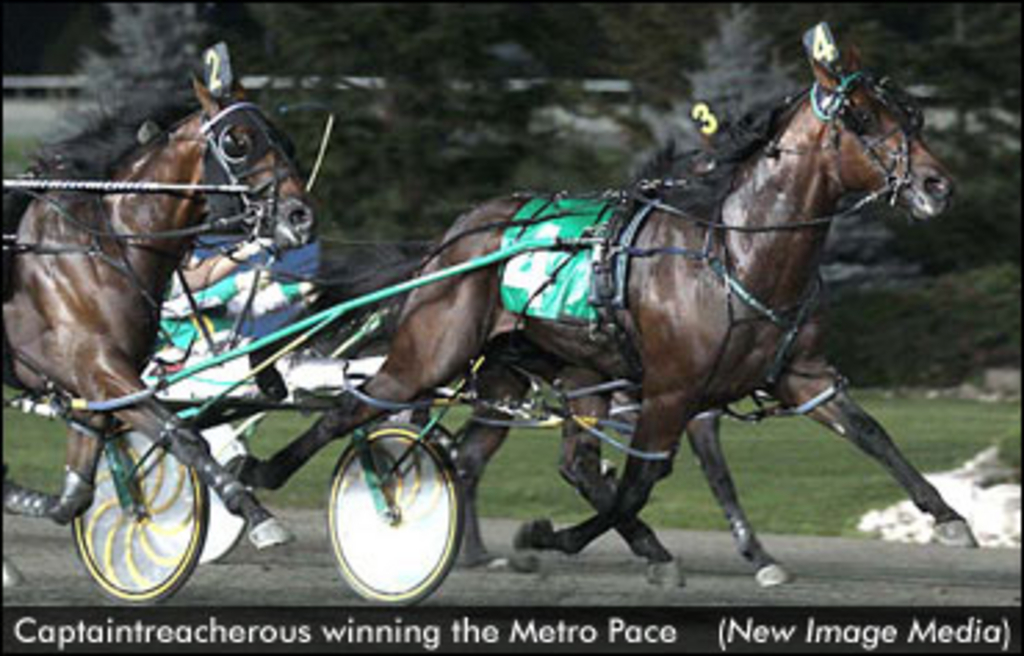 O'Brien and Dan Patch Award winner Captaintreacherous turned in his second winning qualifying mile of his sophomore campaign during Saturday morning's session at the Meadowlands Racetrack.
Driven by Tim Tetrick, the charismatic colt sat third in a three-horse field through early fractions of :28.4 and :59.3 before sweeping to command. He opened up three lengths by the three-quarters, clocked in 1:27.1, and cruised home in :27.2 to stop the timer in 1:54.3. Swift As A Shadow and Just Bettor rounded out the field.
"[I'm] very happy with Captaintreacherous today," said trainer Tony Alagna. "Today's goal was not to be on the front the whole mile. [There's] plenty of time for speeding."
Captaintreacherous won his first qualifier of the season last Saturday at The Meadowlands in 1:52 with a :26.2 final quarter.
The Somebeachsomewhere-Wordly Treasure colt, who won eight of his 10 races as a freshman while banking $911,277 in purses for Captaintreacherous Racing, is the 2013 Trot Magazine Spring Book favourite for this year's Pepsi North America Cup, assessed at odds of 3-1.
New York Sires Stakes champion Doctor Butch, driven by Tetrick for trainer Linda Toscano, converted off a pocket trip and kicked home in :27.2 to win his Saturday qualifier in 1:51.2 by four and a half lengths over North America Cup eligible Someplace Special, a Somebeachsomewhere-Heathers Western maiden driven by David Miller and trained by Ed Hart.
O'Brien Award winning pacing filly I Luv The Nitelife won her third consecutive qualifier on Saturday morning with a 1:52.3 wire-to-wire effort for Tetrick and trainer Chris Ryder. She sprinted her final quarter in :26.4 to win by three lengths over the Alagna-trained stakes winner Nikki Beach.
Dan Patch Award winning trotting filly To Dream On was victorious in her sophomore debut for trainer Jimmy Takter and Ontario owners Marvin Katz, Al Libfeld and Sam Goldband. The Credit Winner-Satin Pillows filly was positioned fourth through fractions of :29.3, :58.4 and 1:27.1 before kicking home in :28-seconds to score in 1:56 flat in rein to Yannick Gingras. Stakes winners Mistery Woman and Aspidistra Hanover finished second and third. To Dream On went eight-for-nine as a freshman and banked $719,377 in purses with major wins in the Breeders Crown, Merrie Annabelle, Bluegrass Series and International Stallion Stakes.
Breeders Crown champion Maven, driven by Gingras, finished just a half length behind Go Tapaigh and and fellow Jonas Czernyson trainee Dorsay in a 1:55 four-year-old debut.
Millionare pacing mare Drop The Ball won her second qualifier of the season with a 1:52.4 front-stepping score in rein to Corey Callahan. The five-year-old Ross Croghan trainee sprinted home in :26.2 to win by 24-1/2 lengths over the only other starter in the field, Fruuppti.
Preferred trotter Tall Cotton turned in a 1:53.4 winning effort during the morning session for Gingras and trainer Ron Burke. The seven-year-old gelding won by three lengths over millionaire Hot Shot Blue Chip. Coco Lindy finished back in third with season-debuting five-year-old mare Cedar Dove fourth.
In other qualifying action, A Rocknroll Dance surfaced at Hoosier Park for a 1:53.4 four-year-old debut. The near double-millionaire rolled through fractions of :28.1, :58.2, and 1:27.1 before unleashing a :26.3 final frame to leave his rivals in the dust. The Meadowlands Pace champion won by 15 lengths over Black Ops and B Mobile for driver Peter Wrenn and trainer Jim Mulinix.
To view Saturday's full qualifying results at Meadowlands Racetrack, click on the following link: Saturday Results (Qualifiers) - Meadowlands Racetrack.