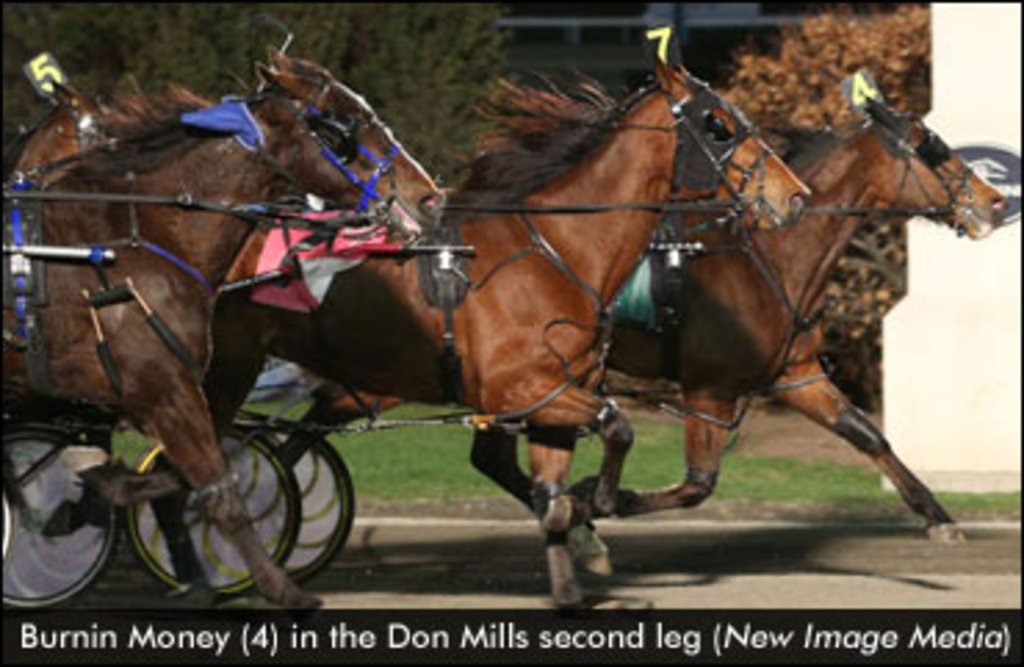 Burnin Money earned his second consective victory in the Don Mills Trotting Series on Saturday night, defeating a full field of 11 in the $20,000 second leg at Woodbine Racetrack.
Leaving from post four, Burnin Money and Jonathan Drury drove on through a :27.4 first quarter to take the lead down the backstretch over the other round one winner, Holy Halibut (Sylvain Filion). He reached the half in :56.4 and then three-quarters in 1:25.2 with Guiltywithanexcuse (Doug McNair) advancing first over and inching closer and closer down the stretch. But Burnin Money persisted to win by a neck in 1:55.1. Guiltywithanexcuse was second with post 10 starter Nowucit Nowudont (Scott Zeron) rallying off cover into the three-path for a close third-place finish. Holy Halibut edged out P L Fantastic (Dan Clements), the longest shot on the board at 144-1, just over one length behind.
Carmen Auciello trains the five-year-old Cash Hall gelding for Wheelhouse Racing Stable of Mississauga, Ont. He has won half of his 12 starts this year for seasonal earnings at $87,760.
The 4-5 favourite paid $3.60 to win.
Burnin Money will vie for a series sweep next Saturday, April 27 in the $40,000 final. The Don Mills is for four and five-year-old trotters that are non-winner of $150,000 lifetime as of Dec. 31, 2012.
Earlier on the card, Warrawee Needy was also repeat winner, scoring back-to-back $34,000 Preferred Pace victories for soon-to-be Canadian Horse Racing Hall of Famer Carl Jamieson of Rockwood, Ont.
With Randy Waples catch-driving, the four-year-old son of E Dees Cam left from post five in the six-horse affair and cleared to command during a :26.4 first quarter. Warrawee Needy proceeded to the half in :56.1 and three-quarters in 1:23.4 en route to a 1:51 triumph. Aracache Hanover (Doug McNair) following one and half lengths behind from the pocket while American Rage (Chris Christoforou) advanced first over to round out the top three finishers nearly five lengths back.
Warrawee Needy paid $3.20 to win as the heavy 3-5 favourite. Jamieson leases the Ontario Sires Stakes graduate, who has earned three wins and two seconds in five seasonal starts while banking $74,500 in purses. His 16th career win pushed his lifetime earnings over the $900,000 mark.
Waples also won three other races with a trio of Corey Johnson trainees -- Hldontghttoyurdrms ($3.30), Odysseus Bluechip ($4.80) and Milliondollartouch ($4.10).
To view Saturday's harness racing results, click on the following link: Saturday Results - Woodbine Racetrack.