This is the third of 12 features profiling our Heart of Harness Racing calendar photographers.
March features a beautiful silhouette shot of Phil Edwards and Arpeggio Hanover, taken at Classy Lane Stables in Puslinch, Ontario, by Marni Koelln of Cambridge, Ontario.
"I was standing at the door of our barn waiting for my horse to come in off the track," explained Koelln, "I bring my camera to the barn a lot as I am an artist as well and am always taking photos for future reference material. I was taking photos of the sunrise and as I snapped the image, Phil Edwards was coming off the track with Arpeggio Hanover. Talk about a lucky shot!"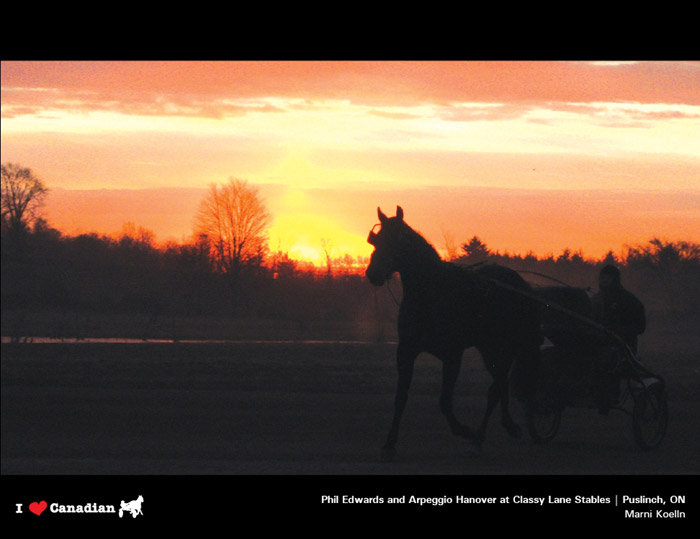 Koelln is a versatile and talented artist who excels in a variety of mediums, including pastel, oil and graphite.
Her work has been recognized with a Special Excellence award at the Harness Tracks of America Juried Show in Lexington, Ky., She received an Honourable mention at BC's Valley Fine Arts Show, and her award winning coloured pencil "On The Engine" was used on the Fraser Downs offical race program and in their marketing materials. Marni's work focuses on her love for horses, and her portfolio also includes a variety of portraits of dogs, cats and people.
Marni met her husband, trainer Jim Koelln, 27 years ago at Calgary's Stampede Park and she's been involved in harness racing ever since. She was no stranger to horse racing having worked in the Thoroughbred industry as a groom, exercise rider, pony girl, assistant parade marshal and pick up rider at Edmonton's Northlands Park before she delved into harness racing. Her work in racing started in 1975 and included tracks in all of the western provinces along with California and Arizona.
Marni has done commissioned pastels of Our Lucky Killean and Sportswriter for Casie Coleman, and is currently working on a collage painting of San Pail.
This past Christmas her custom hand painted Christmas ornaments and glassware featuring mini pet portraits were very popular with horse and pet owners.
Her love of photography goes hand in hand with her art as she takes photos to use as reference materials in her artwork. She also has a diploma in graphic design.
Marni enjoys trail riding and shows her retired standardbred, Just Outstanding in the Standardbred show series. She hikes the local trails with her Jack Russell, Smitty, and helps out at the barn whenever she can.