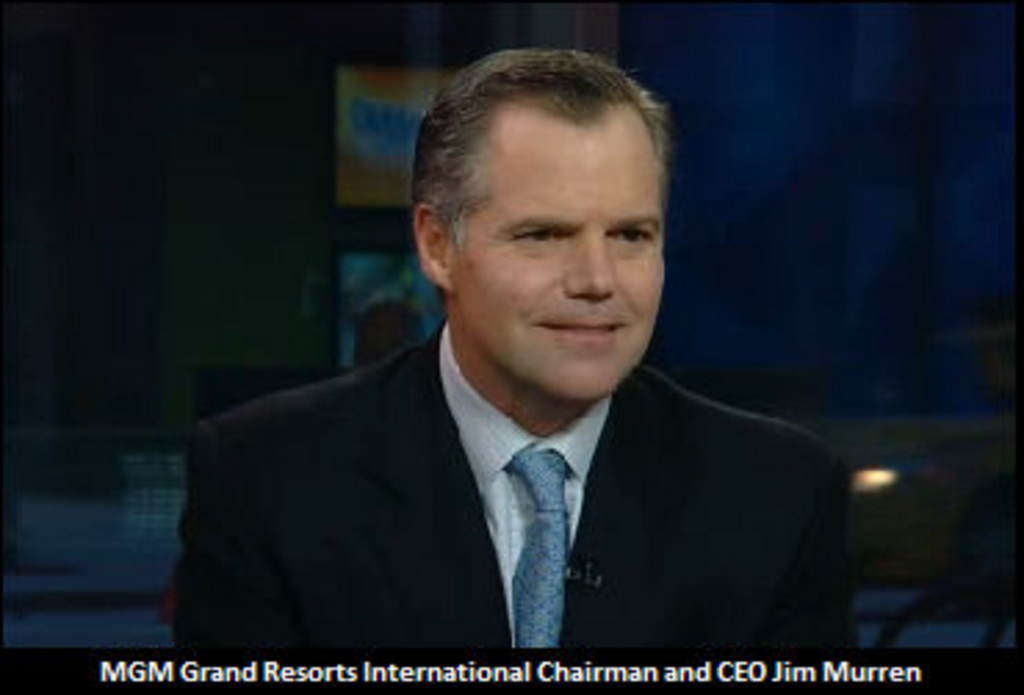 Stating that his company has sat below the radar and has been entrenched in the Toronto casino process for roughly two years now, MGM Grand Resorts International Chairman and CEO Jim Murren sat down for an interview with Global Television on Tuesday, January 22 in advance of his company's announced proposal to bring a full-blown casino expansion to the City of Toronto.
The interviewers that allowed the polished Murren to discuss MGM's desire to tap into the attractive Toronto gaming market did not lob the CEO any softball questions. They pointed out that the Ontario Lottery and Gaming Corp.'s gaming modernization plan has been a very controversial topic in the province ever since it was announced early last year.
In the interview, Murren sung the praises of how the introduction of a full-blown casino and entertainment complex would be a boon to the City of Toronto and its residents. When presented with the controversial aspects regarding casino introduction to Toronto, the MGM CEO stated that if Toronto City Council decides it does not want casino expansion, then competing, neighbouring municipalities would be given the opportunity to play host. The Municipality Vs. Municipality scenario that Murren painted is the same one that the OLG has taken heat over, because of the fact that neighbouring jurisdictions are forced to compete against each other over revenue derived from gaming.
In the interview, Murren discusses the idea of erecting a massive gaming, entertainment and retail complex in the Canadian National Exhibition grounds. Just one of the positives from such a move, he says, would be to the benefit of the adjoining Ontario Place.
"Let's say, for example, a resort goes to Exhibition Place. You have a tremendous asset that is, sadly, dormant right now in Ontario Place," said Murren, who also characterized the Ontario Government-owned waterfront location as an area that is "laying fallow" right now. "Wouldn't it be great to bring that back to life? How do you do that? What will be the vision there? If you build something in Exhibition Place, um, and drive a lot of economic activity there, that could help, say, fund the redevelopment of Ontario Place for a green space, parks and playgrounds and beaches and outdoor areas."
Murren was asked what chances he thought the City of Toronto has to play host to an MGM-style 'integrated-resort' complex, and, if MGM is ultimately chosen in the process, when could the undertaking become a reality for Toronto?
"I would give Toronto no better than a little bit better than a 50/50 chance of actually coming through with this (casino expansion). That doesn't mean there won't be a big, large, integrated resort in Ontario. If Toronto chooses not to at the City Council level, there are plenty of cities all around Toronto that would be very willing to, and excited, to build and host such a large resort."
When asked when he though the people of Toronto can expect to know if a casino is coming or if MGM will be the one building it, Murren said, "I think you will know within a year," eventually adding, "You know, we've been here for two years, and we've been under the radar a bit because we've been listening…"
Another Global article regarding MGM's Toronto pitch cited a recent piece that quoted scholar Anne Golden, while visiting Ryerson University, as saying that in many cases urban casino expansion does more harm than good. Golden wrote, "This is what happened in Atlantic City, which was once a great seaside destination. It also happened in St. Louis, Detroit and Halifax. Far from stimulating positive urban development and adding vibrancy, these facilities turned the surrounding areas into urban wastelands."
The topic of full-blown casino expansion was also front and centre last week in the City of Vaughan, which is one of Toronto's neighbouring municipalities. Referring to how some people are choosing to focus on particular positives from casino expansion, Concord Thornhill North Councillor Sandra Yeung Racco chose to say, "Why aren't they giving us examples of what happened in Atlantic City or even in (Las) Vegas or in Niagara Falls," proclaiming that, "Those are ones that are more believable and more realistic."
(With files from Global Television, the National Post and yorkregion.com)