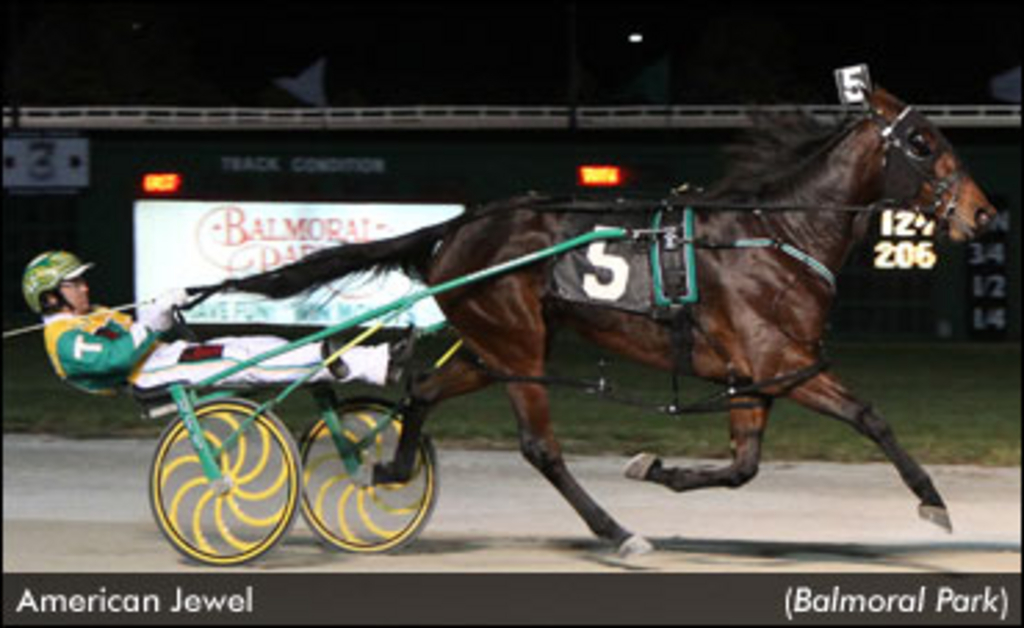 Balmoral Park hosted a star-studded card of harness racing Saturday night featuring eight American National Stakes with American Jewel and Chapter Seven winning their final career starts.
Always About Katey captured the first $113,000 American National Stake for freshman pacing fillies in a career-best 1:53.1.
Trained by Roger Welch and driven by Todd Warren, the daughter of Always A Virgin pocketed $61,020, upping her lifetime bankroll to $406,295.
After stealing the lead away from Incredible Filly (John Roberts) just past the :29.1 opening panel, Always About Katey took her five rivals to a :56.1 half and 1:25 three-quarters.
"She's always been a strong filly since her first start," Warren offered. "She was really sharp again tonight and Roger did a great job of prepping her for this race."
Always About Katey used a :28.1 final panel brush to score her 10th win in 12 career starts for owners William C. Delong of Wisconson, William P. Delong of Illinois, and Katey McClymont of Wisconsin.
"She was the dominate filly in Indiana this season," Warren noted. "In her last start there, I came fourth over at the top of the stretch and she was just tremendous. She's very powerful."
Auniqueaquisition (Mike Oosting) was second by three and a half lengths, while Incredible Filly held on for third.
Our Dragon King, given a confident steer by driver Brian Carpenter, paced to a winning 1:52.2 career-best clocking in the $157,000 American National for two-year-old colt and gelding pacers.
Trained by Dirk Simpson for Desyllas Racing LLC, William B. Beck and Carol Rieken of Illinois, the son of Dragon Again-Fox Valley Monika pushed his career earnings to $224,148.
"Brian did a terrific job with this colt tonight and raced him the way he likes to race," said Simpson.
Carpenter sent the 22-1 shot right to the lead at the start and never looked back, as the son of Dragon Again-Fox Valley Monika paced through panels of :27.2, :54, and 1:22 before posting a very modest :30.2 last quarter brush to nail down his fifth career win.
"I just let this colt peddle down the backside and the wind [on our backs] really didn't hurt us," Carpenter noted. "I had driven him in his first or second start out here and had won a Hanover with him, so I was familiar with his style of racing.
"This colt has good gate speed and I took advantage of it tonight from the eight-hole," Carpenter added. "I liked that he picked up the bit and wanted to race that other horse [Blatantly Best] down the stretch."
Blatantly Best (Marcus Miller) held on for second, a length and a half behind the winner, while track record holder Big Brad closed well for driver Bobby Smolin to be third.
"This colt showed a lot of class early on," said Simpson. "He got a little sick down at Lexington, but has come back out of that well."
Maven picked up seasonal win eight for driver Yannick Gingras by scoring a 1:54.3 confident, front-stepping victory in the $130,000 American National for three-year-old filly trotters.
The daughter of Glidemaster-M Stewart came into the American National fresh off a 1:54 victory in the $500,000 Breeders Crown Three-Year-Old Filly Trot at Woodbine Racetrack on Oct. 27 for these same connections.
Harnessed by Jonas Czernyson, the 1-9 favourite added the $67,600 winner's share to her already bulging bankroll of $846,674 for owner W. J. Donovan of Ft. Lauderdale, Florida.
"She's actually much better following another horse, but I wanted her on the front end because with the wind coming down the stretch in our face the way it was doing all night, I knew it would be difficult to close," Gingras said. "This filly has a very big motor in her and she really doesn't like to be on the front, and can get a little distracted if she's out there all by herself, but I wanted to be there tonight. I didn't think she could get beat in there, but I wasn't going to take any chances with her."
Maven held off Feel The Pressure (Tim Tetrick) by two and three-quarter lengths, while Uncommon Night (Dave Magee) took third place honours in the field of seven filly trotters.
American Jewel romped to an eight-length victory in the final race of her career—the $145,000 American National Stake for three-year-old pacing fillies.
The daughter of American Ideal-Trim Hanover avoided a first-turn mishap to lead at every post, eventually stopping the timer in a brisk 1:51.3 for North America's leading driver Tim Tetrick.
"She's a champion mare, and she's going out a champion," Tetrick said. "George [owner George Segal] is doing the right thing by retiring her at this point in her career. She's raced her eyeballs out this whole season and she deserves to end her career this way."
Segal, who owns and manages Brittany Farms of Versailles, Kentucky, was on hand to witness the filly's final start.
"There's been a lot of bumps along the way in this filly's career," Segal noted. "But this filly is at the top of her game right now and deserves to go out a winner. I give all the credit to Tim and Jimmy [trainer Jimmy Takter]."
Segal added that American Jewel, who last captured the $500,000 Breeders Crown at Woodbine on Oct. 27, will be bred to Somebeachsomewhere in the Spring of 2013.
Fractions for the mile were :27.3, :54.1 and 1:20.4.
American Jewel, who has won 17 of 25 starts and who is a world record holder at ages two and three, pushed her lifetime earnings to $1,840,623 with her American National triumph.
Blackjack Princess (Daniel Dube) finished second, while Destinys Chance (Yannick Gingras) was third.
The incident in the first turn occurred when MJs Bid (Mike Oosting) became rough gaited, causing interference to Sleazy Does It (Marcus Miller), Miss Lucy O (Dan Shetler) and Kendyl (Casey Leonard). All drivers and horses escaped without injury.
"Everybody got kind of crowded around the first turn and it could have gotten pretty ugly, but all of the drivers out there are so professional that we were able to get out of what could have been a very nasty situation," Tetrick stressed. "But that didn't overshadow American Jewel's performance in here, and I was just very happy to be a part of her final trip."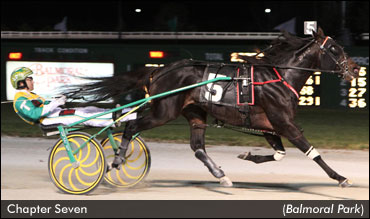 Chapter Seven added another crown to his closet full of trophies as he romped to an easy 1:54.4 victory in the $180,000 American National Aged Trot.
With Tim Tetrick at the lines for trainer Linda Toscano, the four-year-old son of Windsongs Legacy picked up career victory 13 in 20 tries, in his final career start.
"I'd love to see this horse race as a five-year-old because I think he could beat the 1:50 barrier," said Tetrick. "But that's not the plan, and he's going on to a new phase of his life now.
"He's tough as nails, and he's not that big, but he has a great big heart. I wanted to make sure that he went out a winner tonight, and that's why I sat with him for as long as I did."
Tetrick positioned Chapter Seven in third along the rail throughout opening fractions of :29.1, :58 and 1:26.1, set by the leading Run And Tell Pap (John Roberts) before storming to the lead and drawing off by two and a quarter lengths with a :28.2 final quarter brush.
Swan In A Million (Trace Tetrick) got up for second, while Run And Tell Pap held on for third.
"A lot of people don't realize that this horse had a couple of bouts of pneumonia and he's continued to come back from that," Tetrick said. "A lot of horses couldn't do that."
Owned by Richard Gutnick of Pennsylvania, Southwind Farm of New Jersey and J&T Silva Stables of New York, Chapter Seven added the $97,200 winner's share to his career bank account of $1,855,653.
Tim Tetrick and Linda Toscano took home another trophy when their star three-year-old trotting colt Market Share romped to a 1:53.3 open length victory in the following $235,000 American National Stake.
This year's Hambletonian and Canadian Trotting Classic champion got away fourth during the :28.1 opening quarter before advancing first up through middle splits of :55.4 and 1:24 and drawing off down the lane to win by more than seven lengths with a :29.3 final frame.
Appomattox (Yannick Gingras) and Money On My Mind (Andy Miller) finished second and third.
"This horse really does better when he's chasing horses and tonight he was first up to some very good trotters," Tetrick admitted. "Linda and her crew have done a great job keeping this horse fresh and happy all year, and I'm looking forward to driving him as a four-year-old."
Market Share notched his ninth win this year while making his 19th start.
The Revenue S-Classical Flirt colt, who has banked nearly $1.98 million in his career, is owned by Gutnick, along with New Jersey's T L P Stable and William Augustine.
Foreclosure N pulled out all the stops in the $182,000 American National Aged Pace, romping to a 1:48.4 victory.
Driven by Andy Miller, the son of Rocknroll Hanover left hard from post six and never looked back, snapping off fractions of :26.2, :53 and 1:19.
"At that point I thought, we had gone so fast already, that we might as well keep on going fast," Miller laughed. "I really stirred my horse up behind the gate and scooted him out of there quickly. He was really fired up and it was pretty evident that I wasn't going to be able to shut him down, so I just let him go."
Foreclosure N then rattled off a :29.4 final quarter clocking to prevail by six and a half lengths over runner-up Golden Receiver (Tim Tetrick) and third-place finisher Razzle Dazzle (John Campbell).
The win was the sixth of the year for Foreclosure N and his eighth lifetime. He added $87,360 to his earnings, pushing his seasonal bankroll to $268,486 and his career account to $772,346 for owners Burke Racing Stable and Weaver Bruscemi of Pennsylvania, and the JJK Stable of Florida.
Foreclosure N's winning time was a full second off Holborn Hanover's record mile of 1:47.4, set in 2006 in this same event.
Indiana invader Our Lucky Chip trounced nine rivals to win the $260,000 American National Three-Year-Old Colt Pace in 1:52.3.
Harnessed by co-owner Jason Miller, the son of Arts Chip-Lady Moira pushed his seasonal bankroll to $393,862 and his career earnings to $399,187 with the win, the 19th of his career and his 17th this year.
"We came from way back to win this one," said winning driver Trace Tetrick. "I knew I had good cover and we were third-over around the last turn, and he was looking to chase some horses down, and I was pretty confident at the head of the lane that he'd be able to do just that."
The victory was the 10th consecutive win for Our Lucky Chip, who brushed his final panel in :28.
"It's been a matter of keeping this horse sound and teaching him manners," said Miller, who co-owns the bay colt in partnership with R. Bradley Roller of Indiana. "We have a few hours to think about putting him in the Windy City Pace for next week, but so far he's done nothing short of just amazing us week after week."
Dynamic Youth (Andy McCarthy) got up for second, four lengths behind the winner, while Easy Again (Montrell Teague) finished third.
(With files from Balmoral Park)