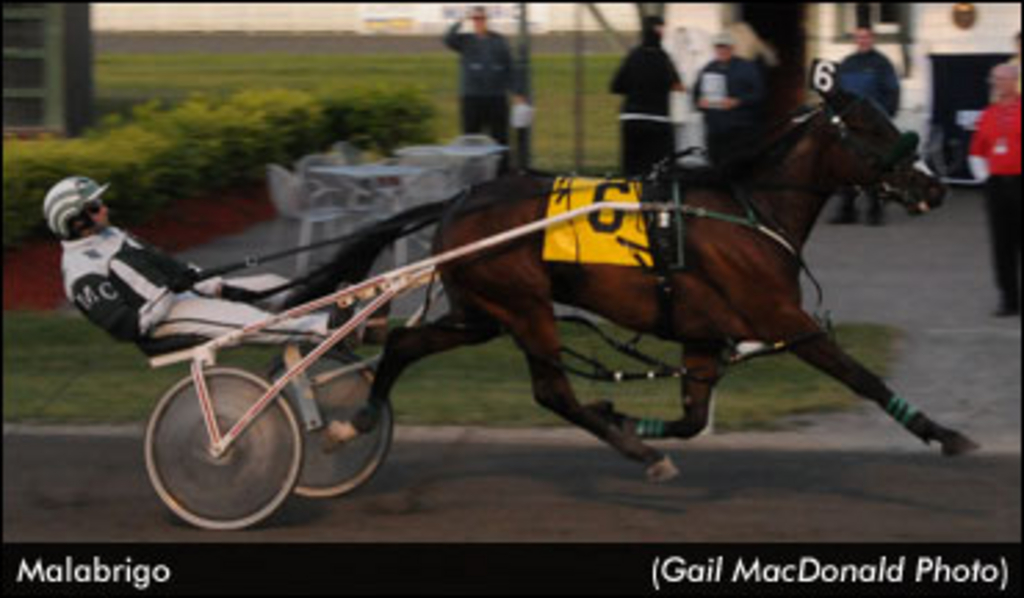 Sophomore pacing filly Malabrigo is perfect in 14 starts this year and no one has been able to finish within a length of her yet. Can any of the fillies knock off the divisional sweetheart on Sunday in one of her most lucrative races of the year? Trot Insider spoke with the competition.
Malabrigo will look to add an Atlantic Breeders Crown title to her resume on Sunday afternoon at Charlottetown Driving Park. With the luck of the post position draw on her side, the Western Paradise-Lots Abunny filly was assigned the inside post one and will be driven by her trainer Marc Campbell for owner Buntainwood Farm of Brackley Beach, P.E.I.
Malabrigo - Atlantic Sires Stakes - Aug. 11 at Charlottetown
Among the athletic filly's 14 stakes scores are five Atlantic Sires Stakes divisions, the Maritime Breeders and the Maritimer heats. The highlight of Malabrigo's season so far for Campbell was her Maritime Breeders victory in late June at Charlottetown.
"I thought the way she raced in the Maritime Breeders from the outside post was a pretty big win," Campbell told Trot Insider. "She kind of got stung to the quarter and still ended up winning in [1]:57 and change and fought hard. At the end of August she did double heats in Saint John and she came out of them pretty good and raced really well. Her next start in Fredericton [a track record 1:57] was a big race too I thought. But I think the Maritime Breeders impressed me the most so far."
While Malabrigo's streak expands, the pressure to continue a perfect season is not overwhelming her connections.
"She drew the rail so it makes my job a little easier and she's a really nice horse to drive," said Campbell. "She's easy to drive and can pretty well do anything you ask her to do. There's not a whole lot of pressure. My owners are good that way. If something happens it happens, but if we keep winning it's great."
Malabrigo won her last start on Sept. 30 in the Carl & Marg MacKenzie Memorial Stakes at Truro Raceway and Campbell says she's had a good week leading up to her next assignment.
"She's just on her regular routine and she seems pretty good," said the 27-year-old Winsloe, P.E.I. horseman.
Malabrigo will face the next seven best fillies in the ATSS program on Sunday and if anyone can beat her, Campbell says it may just be her own stablemate.
"I think A As Glory and Pictonian Amanda are probably her closest competition. They drew kind of close to her and I'd say they're probably going to give her the closest run. I also have another filly in there, Putyourwhipaway, and she can give her a run too I think maybe. It's a horse race, so you never know."
Defending Atlantic Breeders Crown champion Pictonian Amanda made it back to the races this year after suffering an injury and the average-sized Western Paradise-Southview Sasha filly went on to win half of her 10 starts, including a pair of ATSS events.
"It's going to be pretty tough [to beat Malabrigo]," said Pictonian Amanda's trainer Wade Sorrie. "We have to get the perfect trip. She's got to be on the front I think. She can't see a lot of air; she has to get to the rail pretty quick."
While Pictonian Amanda's stablemate Aprils Dawn Star has only won one race this year, she has managed top three finishes in 13 of her 16 starts. Sorrie says the small Articulator-Majestic Ball filly has great gate speed, but is a follower.
"I'm hoping she steps up, but I got a bad post position," said Sorrie.
The Montague, P.E.I. horseman believes Pictonian Amanda has the best chance to upset having had better luck in the post draw.
"I think Pictonian Amanda has the better shot because she drew inside," he said. "If someone takes a run at Malabrigo I think she's got a shot at her down the lane.
"The one I think is going to step up and give her a run for her money is A As Glory," added Sorrie, assessing the rest of the field. "She can throw some big trips in once in a while."
A As Glory has won half of her 14 seasonal starts, including three ATSS divisions. She also defeated Malabrigo as a two-year-old and although she has yet to win against her this year, she has turned in matching or faster miles when drawing into separate stakes divisions on five occasions this year.
"She's been real consistent all summer," said A As Glory's trainer Gilles Barrieau. "She's just a tiny little thing, but she just tries all the time. She's all heart."
The Saint John, N.B. horseman says one of her highlights this year was finishing second to Malabrigo in the Maritime Breeders.
"I was shocked and that's when the ball started rolling really. She drew well and she got to the front. We let Malabrigo go and we were sitting on her back the whole way. I moved my filly and in the upper turn I thought I was going to beat her," he laughed. "But as soon as I got to her, she opened up about two more lengths. That's when I said she's going to be tough to beat all summer because I had the perfect trip and I parked her past the quarter pole and I still couldn't beat her. She just stayed good all summer, it didn't matter how Marc drove her. She's just so versatile."
Barrieau says his Carlspur-Dies Morning Glory student has been a bit of a surprise this year, but faces a big task in having to compete with Malabrigo.
"Nothing against my filly, but she's just not in the same category at Malabrigo," said Barrieau. "Mine's a tiny little thing and she's getting tired right now. She is what she is. She's been drawing well all summer and she's raced well. I'm really surprised the way she's raced actually. But as far as her competing against Malabrigo -- I mean it's a horse race, anything can happen -- but my own opinion is they don't even match together really. Something would have to happen to Malabrigo for her to get beat because she's just the best of a poor bunch really."
Barrieau opted to drive his other trainee Ruby Vance in Sunday's Atlantic Breeders Crown to switch things up a bit.
"'Rudy' is kind of a one-dimensional filly; she likes to be near the front," said Barrieau. "She drew well so I'm going to stay as close to Malabrigo as I can and if she does she'll surprise a lot of people probably."
The big, rugged Articulator-Dealers Choice filly won four of her 15 seasonal starts, including one ATSS division. Barrieau says she has exceeded his expectations winning a couple of stakes events in front-end fashion this year.
"Every one that she won was a thrill to the owner because going into this year we didn't even expect to race against those types of fillies," said Barrieau. "We thought we had a 'B' filly or just a filly to race in overnight races so she did pretty well for herself really."
The field also includes Darren Crowe trainee Seeyouonthebeach and the Terry Gallant-conditioned Southfield Sophie, who finished second and third in the ATSS divisional point standings behind Malabrigo.
Seeyouonthebeach has won five of her 13 seasonal starts and boasts a four-for-five ATSS record. Her seasonal highlight was winning an ATSS division during Old Home Week.
"When she's on she's fairly game," said Crowe. "She's got her issues, but she works through them. She tries and her attitude seems good enough."
The medium-sized Western Paradise-Red Sea filly has only faced Malabrigo once this season in her most recent start at a time Crowe says she wasn't on top of her game.
"That Malabrigo is the best," stated Crowe. "She lays over in that division I believe."
Sunday's Atlantic Breeders Crown card gets underway at 1 p.m. with the sophomore fillies facing off in the 10th race. Here is a look at the field in post position order with drivers, trainers, and morning line odds listed:
1. Malabrigo – Marc Campbell – Marc Campbell – 5-2
2. Ruby Vance – Gilles Barrieau – Gilles Barrieau – 6-1
3. Pictionian Amanda – Mike Stevenson – Wade Sorrie – 7-2
4. A As Glory – Danny Romo – Gilles Barrieau – 3-1
5. Seeyouonthebeach – Darren Crowe – Darren Crowe – 10-1
6. Putyourwhipaway – Mark Edward Mackinnon – Marc Campbell - 8-1
7. April Dawns Star – Kenny Arsenault – Wade Sorrie - 4-1
8. Southfield Sophie – Terry Gallant – Terry Gallant – 12-1