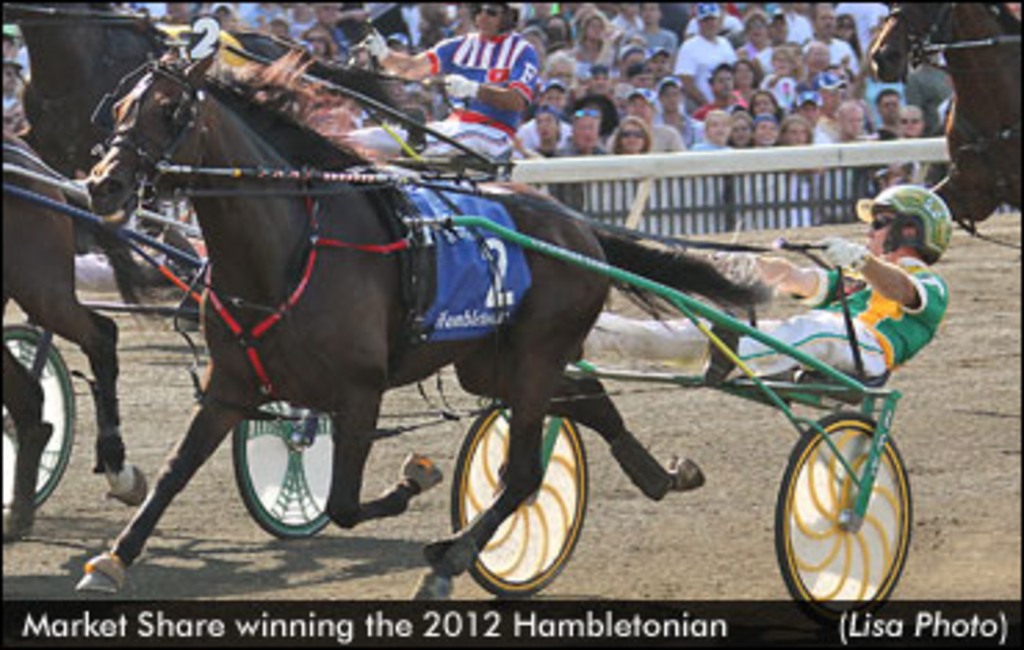 There was a time when owner Richard Gutnick would have considered seeing two of his horses win stakes races at his home track as the best day of his harness racing life.
Now, it will have to do as a memorable No. 2. That is because Gutnick saw his horse Market Share win the $1.5 million Hambletonian on August 4 at Meadowlands Racetrack just an hour after his Chapter Seven won the Nat Ray Invitational with a world-record performance.
Still, Gutnick is excited as Market Share and Chapter Seven prepare to return to action during the fifth annual Super Stakes Sunday at Harrah's Philadelphia Casino and Racetrack. Gutnick lives in Blue Bell, Pennsylvania, about 25 miles north of the track.
"I'm looking forward to it very much," Gutnick said. "I'll take the two wins this weekend if I can get them, but it still can't beat the Hambletonian. That's the ultimate dream. That day, August 4, will live in my mind forever. Other things will be a close second, but I can never top it. You can't beat a world record for Chapter Seven and a horse that is all heart in Market Share."
Super Stakes Sunday features $2.7 million in purses. Market Share will face seven rivals in the $500,000 Colonial for three-year-old trotters and Chapter Seven meets seven foes in the $150,000 Maxie Lee Invitational. Both horses are trained by Linda Toscano and will be driven by Tim Tetrick.
"They both came out of their races real well," Toscano said. "I decided to wait until the early part of this week to make a decision, but they both seem real good so we put them both in."
Toscano, a breast cancer survivor with nearly 1,400 wins to her credit, became the first female trainer to win the Hambletonian. She also joined Hall of Fame trainer Jimmy Takter as the only conditioners to win the Hambletonian and Nat Ray on the same day. Takter accomplished the feat in 1997 with Malabar Man in the Hambletonian and Moni Maker in the Nat Ray.
"It's unbelievable," Toscano said. "I appreciate all the well wishes. I almost feel like [Market Share] had to win because I had so many people behind me. It's quite a fanfare. I wish that for everybody in this business, just one day like that, because it's worth getting up for."
Market Share is owned by Gutnick, TLP Stable and William Augustine. The son of Revenue S-Classical Flirt has won five of 11 races this year and was five-for-five last season. He has earned $973,306 is career and will attempt to become the first horse since Mack Lobell in 1987 to win the Hambletonian and Colonial.
In the Hambletonian, Market Share made a first-over move from fourth place at the midpoint to chase down leader Uncle Peter before holding off fast-closing Guccio by a neck in a lifetime-best 1:52.1.
"He was really good that day; really, really good," Toscano said. "We had protected him for a little bit, I think, giving him trips, and that day he kind of got himself up for a big mile. I was glad the wire came when it did, but take nothing away from the horse because he raced great.
"I know people don't believe in this, but I think [a win like that] gives a horse confidence. I think just the way he raced that day, and he knows he won, and he's a little bit cocky about it right now, I think that will help him somewhere down the line."
The Colonial field also includes Beal Memorial winner Googoo Gaagaa, Goodtimes winner Beer Summit, New Jersey Sire Stakes champion Little Brown Fox, and Uncle Peter.
Chapter Seven, who finished fourth in last year's Hambletonian and missed the Colonial because of illness, is owned by Gutnick, Southwind Farm and J&T Silva Stables. The son of Windsong's Legacy-La Riviera Lindy has won three of four races this year and 15 of 22 lifetime, banking more than $1.36 million.
In the Nat Ray, Chapter Seven won by two and a half lengths over Mister Herbie in 1:50.1 and avenged a second-place finish two weeks earlier in the Maple Leaf Trot. The time equaled the fastest performance in history on a one-mile oval.
"I can't even say enough about Chapter Seven," Toscano said. "Chapter Seven has overcome everything that we threw at him last year and come back a stronger, better horse this year. He's an amazing animal.
"When they told me we were going to bring him back [to race this year] I was over the moon because I knew he had more in him than what we saw last year. But I never expected a four-year-old to come back and race against aged horses the way he has. He's a sounder, healthier version than what he was last year and he's able to step it up."
Super Stakes Sunday, which begins with a special 1:30 p.m. first race post time, also features the $500,000 Battle of the Brandywine for three-year-old male pacers and the $350,000 Valley Forge for three-year-old filly pacers.
The Battle of the Brandywine's eight-horse field includes Meadowlands Pace winner A Rocknroll Dance, Art Rooney Pace winner Pet Rock and 2-year-old divisional champion Sweet Lou.
Multiple stakes winners American Jewel, Major Look and Handsoffmycookie join two-year-old divisional champ Economy Terror in the Valley Forge.
Entries for the co-featured events are as follows, in post position order: (head number, horse, named driver, trainer. Duplicate driver nominations are indicated with *; multiple trainer entries are indicated with †)
Valley Forge (three-year-old filly pace, $350,000)
1. Big McDeal – Jody Jamieson – Ben Wallace
2. American Jewel – Tim Tetrick – Jimmy Takter†
3. Dream Of Winning – Aaron Johnston – John Campbell
4. Major Look – Andy Miller – Kevin McDermott
5. Romantic Moment – Yannick Gingras* - Jimmy Takter†
6. Destinys Chance – Yannick Gingras* - Ron Burke
7. Economy Terror – Brian Sears – Chris Oakes
8. Handsoffmycookie – David Miller – Scott DiDomenico
Colonial (three-year-old trot, $500,000)
2. Market Share – Tim Tetrick – Linda Toscano
3. Googoo Gaagaa – Corey Callahan – Richard Hans
1. Guccio – Jimmy Takter* – Jimmy Takter†
1a. Little Brown Fox – Yannick Gingras – Jimmy Takter†
4. Beer Summit – George Brennan – Noel Daley
5. Frost Bites K – Brett Miller – Rich Gillock
6. My MVP – Michel Lachance – Tony Alagna
1b . Uncle Peter – Jimmy Takter* – Jimmy Takter†
Battle of the Brandywine (three-year-old pace, $500,000)
1. Steelhead Hanover – Jim Morrill, Jr. – Joe Pavia, Jr.
2. Time To Roll – Ron Pierce – Jimmy Takter
3. Hurrikane Kingcole – Daniel Dubé – John McDermott
4. A Rocknroll Dance – Yannick Gingras – Jim Mulinix
5. McErlean – David Miller – Trond Smedshammer
6. Pet Rock – Brian Sears – Virgil Morgan, Jr.
7. Shady Breeze – Dave Palone* – Judith Welty
8. Sweet Lou – Dave Palone* – Ron Burke
Bettors will have increased opportunity to make money as well on the Super Stakes Sunday card, with superfectas offered on every race. Two Pick 4 wagers will be offered, with a $10,000 guaranteed pool in races 4 through 7, and the four feature races (9 through 12) offering a $25,000 guaranteed pool for the $1 base wager. Additionally, races 10 through 12 will offer $25,000 guaranteed exacta pools.
(HRC & Harrah's Philadelphia)