Stall applications for Mohawk Racetrack for the winter season are now available.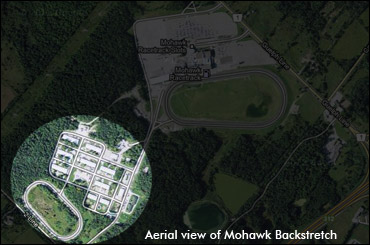 An exclusive standardbredcanada.ca story with quotes from the Central Ontario Standardbred Association broke the news 10 days ago that the Woodbine Entertainment Group will operate the Mohawk backstretch as a training facility from November 1 until April 30, 2013.
The decision was made in the wake of the widespread uncertainty caused by the Ontario Liberal government's puzzling plans to shut down the slots-at-racetracks program next spring.
Trainers have historically been allowed to stable at Mohawk virtually rent free ($1 per day environmental fee), but WEG management feels that it is no longer feasible for the organization to completely absorb the Campbellville centre's maintenance costs.
Stall rental fees will be $250 per month (plus HST) and applications are due by August 15, 2012.
Confirmations will be issued by early October.
A PDF of the Stall Application is available by clicking here.
(In an effort to consolidate comments on topics, if you wish to comment on this story, please do so here.)
(With files from COSA)