Blacksmith Steve Durand would love to add Tall Cotton's horseshoes to a growing collection after the gelding takes on nine rivals in the $750,000 Maple Leaf Trot this Saturday at Mohawk Racetrack.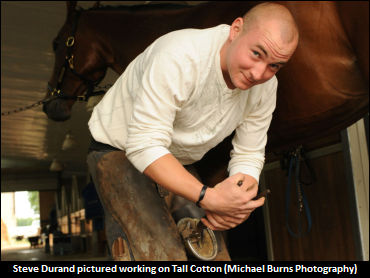 The only set of shoes that currently hang on the wall of Steve's trailer are the ones worn by his father's trotter, Whiskey Tax. They're the shoes that the bay wore when he finished second to Broad Bahn in the 2011 Hambletonian. They are a constant reminder of how hard work can pay off.
Steve, who shod his first horse when he was 18, is the son of June and veteran horseman Tom Durand. Both are known in the sport for their patience, passion and dedication, and Tall Cotton is certainly a testament to that.
Tall Cotton, a son of Revenue S--B Cor Peatra, who survived a broken neck in a freak barn accident when he was just three months old, required the Durands to give the gelding time to mature.
It's those traits that Tom and June have instilled in their son. And it shows.
"My biggest piece of advice to any young person is: Whatever occupation you choose, just do it really well," explained Tom. "Don't try to do a lot of things. Just do one thing really well and you will be successful at it.
"I think that's why Steve is so conscientious on his farrier work," Tom continued. "He is very fussy. If I say, 'That foot looks good to me, nail the shoe on,' he says, 'No it's not, this foot is a 16th (of an inch) longer than that foot, I got to take care of it.' He is so particular about everything. It's probably why he is good at it. He makes an effort to watch every horse that he shoes when that horse races. And that shows a dedication to getting things done right."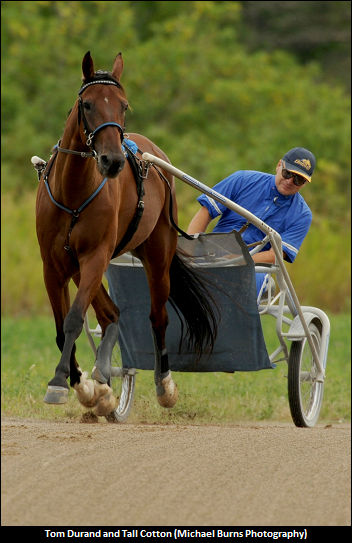 Steve's interest in farrier work developed when he was young, watching the blacksmiths work on his father's trotters. When he got older, he thought he could fiddle around with the shoeing on some of the bad-gaited horses in the barn. He was able to get a few of them trotting a little better. After that, he says, it turned into a passion.
What makes the 24-year-old blacksmith different? He cares less about the money, he says, and more about looking after a horse as an individual. But his goal for every horse is the same: to help keep them sound while prolonging their careers.
"I try to make sure that whatever I do to those horses, it brings out their potential," said Steve, a resident of Puslinch, Ont.
That's why Tom turns to his son to look after the shoeing needs of his stable, even when they ship to Florida for the winter.
"You know, the funny thing is that I cannot let anybody else shoe my horses anymore because Steve does such a darn good job," said Tom. "I can actually see the difference that the extra effort can make."
Steve started shoeing Tall Cotton at the end of his three-year-old season. Now, at six, the gelding has raced to a 13-14-7 record from 75 lifetime starts, banking $300,880 in the process for June, breeder Lynn Baker and Catherine Baker.
"'Cotton' is a pretty basic trotter," stated Steve. "When 'Cotton' was two and three years old he wasn't the best horse in the world. Actually, he wasn't much of a trotter at all. Most of the trainers around would have given him up because he couldn't find his gait when he was really young.
"The end of his three-year-old year into his four-year-old year he started to actually find himself," Steve added. "Now that he's found himself, he is pretty basic in the shoeing. He wears four basic full swedge shoes."
Full swedge shoes increases traction and will keep horses balanced and in rhythm.
Tom, who once had to experiment with Tall Cotton's shoes because he had issues breaking stride very early in his career, believes it's all about finding a horse's comfort zone.
And it's not always an easy task with a trotter.
"Shoeing is pretty important for trotters," explained Steve. "A trotter needs to find his gait on his own and he might need a little help in the shoes, maybe extra weight in the front or lighter weight in the back, extra toe. Stuff like that might make any trotter trot a little nicer."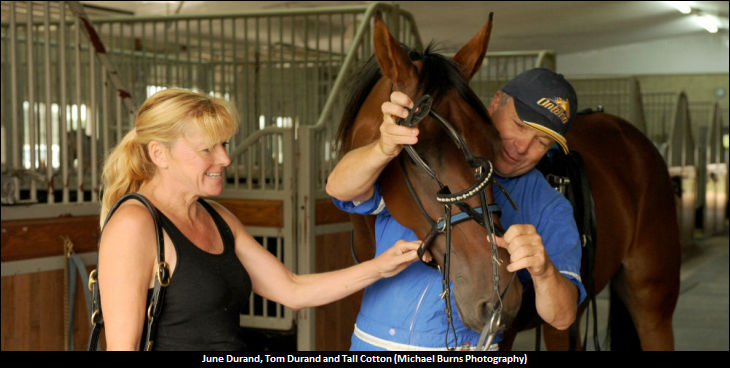 Tall Cotton will don a new set of shoes for his Post 10 start in Saturday's historic race.
"He's had a race and went a couple training miles at Mohawk," said the farrier. "Usually about every three weeks he needs to get shod, because he will wear through his shoes. But really I'm just going to be taking the shoes off and putting a new pair on. I won't actually touch his foot."
He also admits his job can be quite nerve-wracking.
"There is a lot of pressure sometimes when you have horses going into a big race because there are times if something does goes wrong it's definitely one of the concerns like whether or not the shoes were on right," said Steve. "I have been around Cotton so long and I know the horse well. Everything should be alright with the shoeing because we know exactly where he likes to be."
After Tall Cotton trots a mile in his new shoes in the 61st edition of the Maple Leaf Trot, and all goes as hoped, Steve knows exactly where those shoes will end up.
To view the harness racing entries for Saturday at Mohawk, click the following link: Saturday Entries - Mohawk Racetrack.
(WEG)