On a sultry mid summer's eve in the Hudson River Valley, inductions for the Harness Racing Hall of Fame were held in Goshen, New York.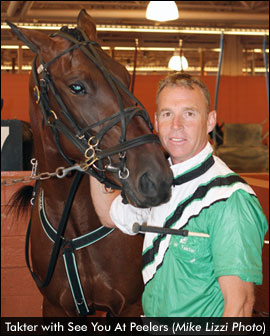 The sole inductee to the Living Hall of Fame, Jimmy Takter, is a Swedish native who started in the U.S. with no horses, a new wife and a small stable of low end claimers and has built an empire that includes two horses of the year, two Hambletonian winners, three trainer of the year titles and horses who have won $62 million in purses.
"My name is Jimmy, not James," he said to the laughter of the crowd. "In Sweden we didn't know it was a nickname in the United States. I don't want to brag, but we've been having a great run in this country.
"I'm extremely honoured to be here. It's a long road, but I've met so many great people in this sport. I was fortunate to come to this country 30 years ago, with my wife, Christina, she was just 19 and I was 22, and our little daughter Nancy. It's a big sacrifice when you leave your family. But by the same token, we're glad we did.
"Now, 30 years later, getting inducted in to the Hall of Fame, it's such an honour."
The newest members of the Communicators' Hall of Fame, Jean Emerson, founder and publisher of Northeast Harness News, and Moira Sullivan Fanning, director of Publicity and Event Operations at the Hambletonian Society, were inducted as well.
"To be honoured because I've had the extreme good fortune to work for the kind of extraordinary people I have while participating in the kind of championship racing I have seems backwards," said Fanning. "I should be doing the honouring because I'm not worthy.
"I'm here today because I liked the company of animals almost as much as that of people. I took a summer job teaching riding to earn money for college and because the farm had standardbreds I became totally entranced by the breed and especially the races."
Emerson was introduced by her friend of nearly three decades, Jane Murray.
"I have had the pleasure and privilege of knowing and working with Jean for over 25 years. During that time, I have never seen her at anything less than full throttle, full tilt and full bore when it comes to enthusiastically promoting the sport of harness racing."
The Goshen Independent and The Chronicle, two award-winning local newspapers, have been unfailingly loyal and supportive of the Museum's efforts and received the Pinnacle Award for those who have helped the Museum to educate and encourage participation in the sport.
Steve Oldford was honoured for the second consecutive year as leading driver on the Billing Series of races for amateur drivers. Oldford's success in the sulky has benefited the work of the Museum, as his contributions in lieu of commissions benefit its work.
Inducted in to the Living Horse Hall of Fame were Rocknroll Hanover, Rainbow Blue and broodmare Arterra.
In accepting for Rocknroll Hanover, Anthony Perretti, representing Perretti Farms, the horse's home, noted, "What most people may not know is that Rocknroll Hanover is almost an entity unto himself. He looks nothing like his sire, Western Ideal, or his dam Rich N Elegant or his grandsires Western Hanover and Direct Scooter. He is almost an old line throwback to Most Happy Fella and tends to stamp his foals, as do all the great ones from that stellar paternal line.
"I thank Bob Marks for his persistence and conviction in his belief early on that Rocknroll Hanover could be the stallion to move the breed forward and Bill Perretti's commitment to support him in every way possible."
Accepting for Rainbow Blue, the $10,500 yearling who went on to win nearly $1.5 million and was Horse of the Year in 2004, her trainer/co-owner George Teague said, "I am very honoured to be here tonight. I want to thank Winbak Farm who bred Rainbow Blue. I was in the right place at the right time to buy her. It was a small sale and she was the right price. Thank you for this honour."
Arterra was inducted by means of automatic objective criteria based on the accomplishments of her progeny If I Can Dream (1:49.4, $1,990,276) Western Terror (1:48.3, $1,164,174) and Cinderella Guy (1:49.1, $680,415).
---
This story courtesy of Harness Racing Communications, a division of the U.S. Trotting Association. For more information, visit www.ustrotting.com.