Trainer Earl Watts scored a grand slam as his rising two-year-old stars dominated Summerside Raceway's full 15-race card of stakes action on Canada Day.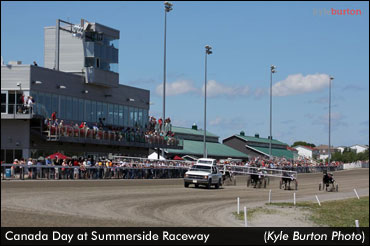 Sunday's card featured 12 divisions of the Callbeck Stakes for two-year-olds and a pair of Maple Leaf Trot stakes for three-year-old trotters, all ranging in purses from $4,200 to $6,600.
Watts kicked off the card with a victory in the first Callbeck Stakes split for two-year-old trotters. His trainee Buddy Hally grabbed the lead early and benefitted off a miscue made by favourite Im Graceful after that colt took over command. Buddy Hally was left on top and cruised to a three length victory in 2:09.4 with Brian MacPhee in the sulky. The Angus Hall-Credibility colt is owned and bred by Reginald MacPherson of Stratford, P.E.I.
Favourite Howmacs Pride romped to a 2:10.2 three length score to give Watts a double in the next two-year-old trot division. John Holmes drove the Amigo Hall-Wicked Whisper filly for breeder Howmac Farms Ltd. of North Wiltshire, P.E.I. and co-owner Wade Peconi of Breadalbane, P.E.I.
The other two-year-old trot division was won by the front-striding Taliesin in 2:10 for trainer-driver Marc Campbell. The Northern Bailey-Southview Leah colt is owned by Buntainwood Farm of Brackley Beach, P.E.I.
Two-year-old pacing colt Sinners In Heaven was Watts' third winner of the day as he converted from the pocket to take his Callbeck Stakes division in 2:00.4 with Holmes at the helm. The Articulator-Deliver Me colt is owned by Lana Murphy and River Valley Management of Quispamsis, N.B., along with Windemere Farms of North Wiltshire, P.E.I.
Two-time starter Untouchable One, a son of Carlspur out of Bolero Tam Tam, posted the fastest mile of the day in his two-year-old colt pace division with a 1:58 effort for driver Kenny Arsenault, trainer Sean Dooley, and the Dooley Boys Racing Stable of Halifax, N.S.
Brian MacPhee scored a driving double when the Don Sweet-trained River Paradise won his division in wire-to-wire fashion. The Western Paradise-Pancentralstation colt, co-owned by Sweet, Orville Willis of O'Leary, P.E.I. and Gordie Maccallum of Brackley Beach, P.E.I., stopped the clock in 2:03.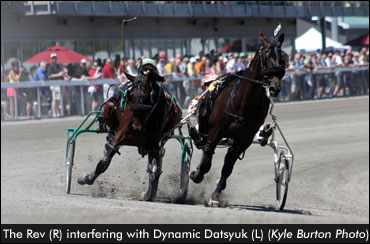 Go Ahead won an accident-marred division in 2:02.3 with Gilles Barrieau aboard. The Brandons Cowboy-Suddenly Susan colt is trained by Phil Pinkney and owned by Diane Fillmore of Berwick, N.S. The Rev, driven by Danny Romo, made a break at the half while racing in third and caused the Clare MacDonald-driven Dynamic Datsyuk to fall. Dynamic Datsyuk quickly returned to his feet without serious injury. Both MacDonald and Romo returned to racing action following the incident and, in fact, made it to the winner's circles.
MacDonald and Romo later won divisions of the Callbeck for two-year-old filly pacers. MacDonald sat third for most of the mile aboard the Doug Rankin-trained and owned Carol Alice before the homebred Brandons Cowboy-Keltic Sarah miss sprinted home for the three length tally in 2:01.2. Top Brand, a Brandons Cowboy-This Marks A Lady filly trained and driven by Romo, pocketed a 2:02.4 triumph for owners Thomas Hawco Jr. and Melissa Hawco of Sydney, N.S.
Lous Light held on to win her divisions in 2:01.4 for the team of driver Jason Hughes and trainer Blaine McKenna. Bill Andrew of Calgary, Alta. owns the Brandons Cowboy-Aquatic Lightning filly.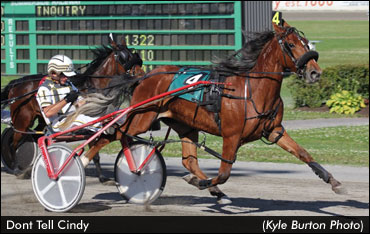 Regal One, a daughter of Stonebridge Regal out of Rainbows And Stars, posted a 22-1 upset in her two-year-old filly pace split in 2:01.3 with Shane Bernard at the lines for conditioner Tom Weatherbie, who co-owns with Blair Hansen, Charlottetown, P.E.I.
The final Callbeck Stakes division went to Watts trainee Dont Tell Cindy and Holmes. The Tell All-Theresa Hall miss wore down pacesetter Howmacs Angel for the 2:01.2 triumph. She is owned by Thomas McGuffog of Hanwell, N.B. and Geoffrey MacNeish of Douglas, N.B.
The Maple Leat Trot divisions were won by former Callbeck winner B J Carmalyta in 2:05.3 for MacDonald and trainer-owner-breeder Bert Honkoop, and Dusty Red Lane in 2:02 for driver Paul Lanigan, conditioner Wayne Lanigan, and owner-breeder James Gorman of South Melville, P.E.I.
To view Sunday's harness racing results, click on the following link: Sunday Results - Summerside Raceway.