Over the past year, pacing filly Malabrigo has developed a knack for winning and on Saturday she will look to continue her undefeated sophomore streak in what will be one of her biggest tests this season.
A pair of Maritime Breeders Finals will headline Saturday evening's harness racing card at Charlottetown Driving Park and Marc Campbell will pilot two stakes stars that helped him to a stellar 2011 campaign earning him national recognition with a nomination for the O'Brien Award of Horsemanship.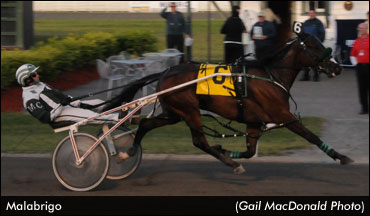 One of those stars is reigning Maritime Breeders champion Malabrigo, who romped to a career-best 1:58.4 triumph in one of three sophomore filly eliminations last weekend at the Charlottetown half-mile oval. The Campbell trainee swept to command from post six during the opening quarter and cruised home to win by four lengths.
"She came out of the race great," Campbell told Trot Insider. "I gave her a couple of days off after the race and jogged the last couple of days and she seems really sharp."
Aiming for her fifth consecutive victory of the season, the streaking filly will have to overcome the outside post eight while fellow elimination winners Southfield Sophie and A As Glory will start from posts four and five, respectively.
"I saw the draw and I was pretty disappointed with the eight," said Campbell. "But I think there is going to be some front end speed and I'm hoping I can pick up the pieces at the end of it. I said to the owner and to the boys in the barn today if any horse can overcome it she probably can, but it's just a little more pressure on me to give her a good drive."
Campbell says Malabrigo's desire to win could help her in Saturday's $33,085 final.
"She wants to be a racehorse," he said. "She's really smart. She wants to win every race she's in and the little problems that happen during a race she can overcome them because she just wants to be a good horse."
Malabrigo has, in fact, turned out to be "the best by far" for her longtime owners Derek and Dianne Buntain of Buntainwood Farm since they joined forces with Campbell a few years ago following the passing of horseman Paul MacDonald.
Malabrigo put together an impressive freshman resume in 2011 en route to earning divisional year end honours at the Prince Edward Island Standardbred Horse Owners Association (PEISHOA) awards banquet. She earned seven wins, three seconds and one third in 11 starts while banking $51,808. Her four wins so far this year have pushed her career earnings to $62,911, providing her connections with a great return on their $11,500 investment at the Nova Scotia Provincial Exhibition Sale two years ago.
"We went to the Truro sale and usually Derek doesn't come with me to the sales, but he happened to be home at that time," said Campbell. "They live in Ontario and they have a house here and a house in the Cayman Islands, but they were home and we went to the sale together. We weren't even looking at her because we thought she would be out of our price range."
But Campbell remembers getting called over by his partner to check out the Western Paradise-Lots Abunny miss, who is a full-sister to multiple Maritime stakes winner For The Luv Abunny and $250,000-earner Kid Carson. Campbell agreed she was a good looking filly prompting Buntain to enter a bid on her.
"I thought she would probably go for around $20,000, which is a pretty high priced yearling for down here," noted Campbell. "Anyway, he got her for $11,500 and I thought it was a pretty good steal. I'm pretty excited to have her in my barn, that's for sure."
Campbell says Malabrigo has been easy to work with right from the get-go and remained sound through the long stakes season despite suffering some curb issues at the end of her freshman campaign. She has been staked to most major Maritime events this year.
"There's a couple of stakes she's not into here, but she's staked up pretty well. We'll just kind of manage her as we go along," said the 27-year-old resident of Winsloe, P.E.I. "It's a pretty long year, we have to do a lot of trucking around the Maritimes, which is pretty hard on them because you have to take the ferry and it's a long day. But she overcame it last year and had a good year. She knows how to truck and takes everything pretty well in stride."
Looking beyond the 2012 stakes season, Campbell says Malabrigo may return to Ontario where she began prepping for her sophomore campaign with trainer Harry Poulton at Mohawk Racetrack after having a couple of bone chips removed in her ankle at Cornell College.
"I would say that's probably the plan once she's done racing here," said Campbell. "There's not a whole lot of money here for overnight horses. If she comes through this year pretty good I'd say I'd probably give her a little bit of a break after the season here and then she'd be going to Toronto."
But for now, Campbell is concentrating on keeping Malabrigo strong and healthy in hopes of watching her streak roll on this weekend. The leading Charlottetown reinsman will also drive last season's Atlantic Breeders Crown divisional champion Astronomical Union in the $23,450 sophomore colt final for trainer Kevin MacLean and owner Reginald MacPherson of Stratford, P.E.I. The Astronomical-Signature Seelster gelding finished just one length behind elimination winner Mr Thompson in fourth place and will be looking for his first win of the season Saturday.
"He's a nice little horse, but he's a little funny. You can be a little aggressive with him," noted Campbell. "I like where he drew; he got the four-hole. I think there's going to be a lot of early speed in that race. He can leave out good. My plans are to leave out and sit close and hopefully they get into a speed battle out front.
"You know, he could win it," he added. "I wouldn't be surprised if won it at all. He's beat all those colts before and he can beat them again. It just kind of depends if he shows up or not, but he usually does show up. He was very good in his elimination last week."
Post time for Saturday's 12-race card is 6 p.m. with the $33,085 Maritime Breeders final for three-year-old pacing fillies scheduled for race eight and the $23,450 final for the colts slated for the 10th race. Saturday's program will also feature the $8,200 final of the Cecil Ladner Memorial Pacing Series as race 11.
To view the entries for Saturday's card of harness racing, click on the following link: Saturday Entries – Red Shores at Charlottetown Driving Park.