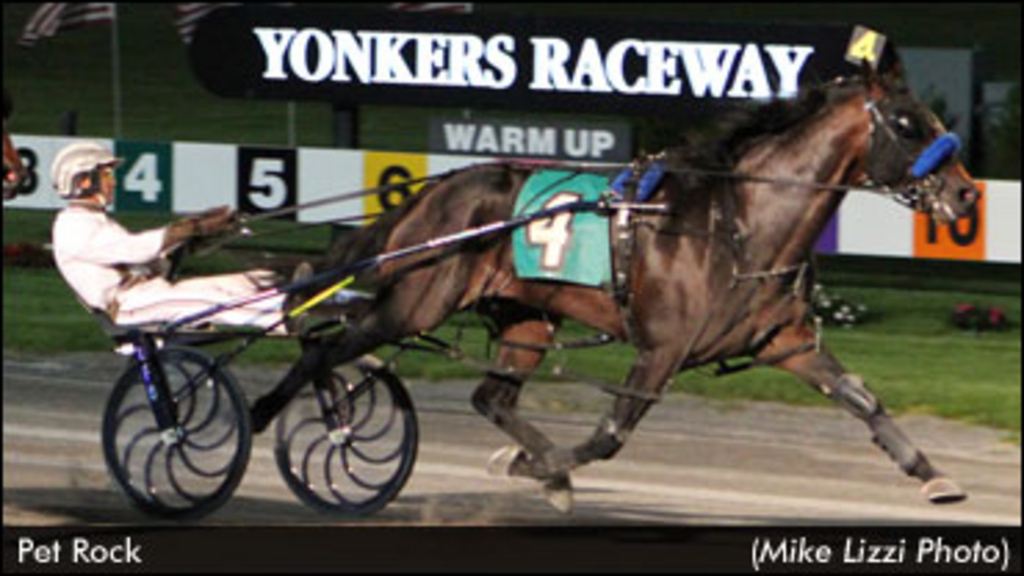 Pet Rock zipped up the pylons off a perfect pocket trip to capture the $306,204 Art Rooney for three-year-old pacers Saturday night at Yonkers Raceway
.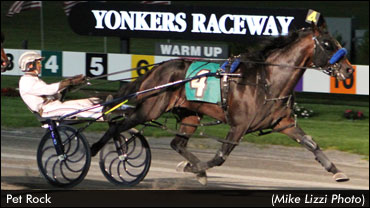 With the inside post advantage, Mark MacDonald sent 3-5 favourite Bolt The Duer to command over Pet Rock and driver Brian Sears and rolled past fractions of :27.1 and :55.4 before Hurrikane Kingcole and Tim Tetrick advanced first up from fourth with Major Bombay and Jason Bartlett following their cover. Bolt The Duer hit three-quarters in 1:23 and spun into the stretch with Hurrikane Kingcole looming. But the real threat was Pet Rock, who closed up the passing lane to score in a new stakes and track record of 1:51 flat. Hurrikane Kingcole finished third.
Fully Loaded held the previous stakes record of 1:51.4, which he set in 2001 while Riyadh held the former 1:51.2 track record for three-year-old colts, which has stood since 1993.
"He [Mark] wanted to cut the mile, but my horse is really handy and has good gate speed and I was able to work out a nice two-hole trip," said Sears after his second Rooney win. "He's just a sweetheart of a little horse and does what he can."
Pet Rock paid $10 to win as the 4-1 third choice. Bred by Stonebridge Farm's Angie Stiller of Arva, Ont., the Rocknroll Hanover-Casual Beauty colt is trained by Virgil Morgan Jr. for owner Frank Bellino of Bronxville, New York. He has recorded four wins and four seconds in eight lifetime starts while banking $240,130.
"He's been a joy from day one," said Morgan. "Ed Murphy is an excellent agent -- one of the best in the business -- and he helped purchase this horse and Frank Bellino stepped up to the plate and purchased him as a two-year-old. He loves doing work and is a very intelligent horse."
Both Sears and Morgan noted the colt's flawless gait as his most impressive quality, and one that helped him manoeuvre around a half-mile track for the first time in his career.
"Warming him up tonight I was a little concerned because he's never been on a half and he took to the turns like it was nothing so I was pretty confident we could get out of the gate and get a two-hole hole trip," said Morgan. "That was the game plan and it couldn't have worked out better.
"He's a really good-gaited horse and he paces the turns on the five-eighths and everywhere else flawlessly, but you never really know until you get here. These turns are a little sharp and he handled it great. Congratulations to the Bellinos."
Pet Rock is eligible to the $1.5 million Pepsi North America Cup and has been assessed as odds of 36-1 in Trot Magazine's Spring Book. Eliminations will take place next weekend at Mohawk Racetrack.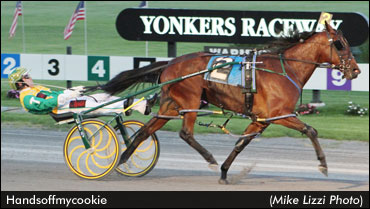 Favourite Handsoffmycookie ($2.30) delivered a 1:53.1 winning performance over Jk Fine Art and Jim Morrill Jr. in the $176,484 Lismore Pace companion event for fillies. Tim Tetrick drove the Art Major-Observe Me filly to three and a quarter length front end victory for trainer Scott DiDomenico and owner Jfe Enterprise LLC of Elmsford, New York.
"She's just a an extremely talented filly," said three-time Lismore Pace winner Tetrick of last year's New York Sire Stakes champion and Sweetheart and Breeders Crown runner-up. "She can go from just pacing to hitting her best stride like that, and that's what I like about her.
"She was racing from off-the-pace last season, but she's more mature now and I knew the way the draw shook out, I'd be leaving with her. Once we made the lead, there wasn't much to it."
"I was glad we drew inside of JK Fine Art," added DiDomenico. "That was the one I was worried about and she's good. I'm very happy to have won this race. The owners are local, they love racing here and so does she."
(With quotes from Yonkers)