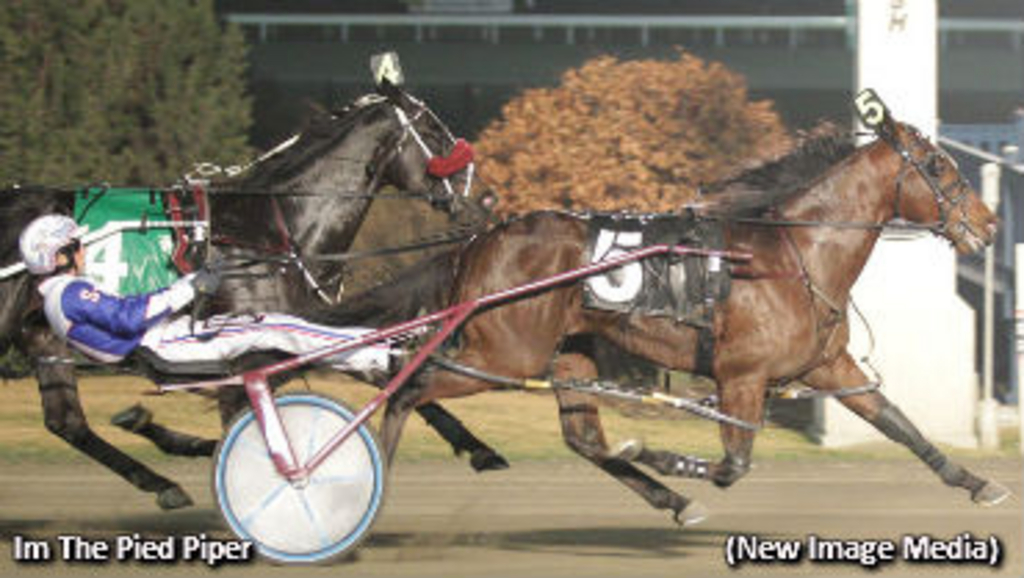 Thirty-one sophomores found themselves in the spotlight on Monday at Woodbine Racetrack, as the Rexdale, ON oval hosted a trio of $20,000 divisions in the opening leg of the Youthful Series
.
Piston Broke pulled off a 9-2 upset when he knocked off the 1-5 favourite Racing Rocky in the opening split. Sylvain Filion worked out a two-hole trip for Piston Broke, who parked Racing Rocky to the quarter in :26.3 before that foe cleared and supplied middle panels of :55.2 and 1:24. Piston Broke popped the pocket in the lane and generated a closing kick clocked in :26.2, which was good enough to edge out Racing Rocky by three-quarters of a length in 1:50.3. Beach Buff was a distant third.
"When I saw the program I knew that horse of Jody's (Racing Rocky) was the horse to beat," said Filion. "I was hoping I could follow him as long as I could and that was exactly what happened. I was lucky enough to have that trip and he (Piston Broke) went by him. I wasn't sure he was going to, but he did a good job. He was real strong at the wire. I never even popped out the (ear) plugs so it looks good for next week."
Trainer Rob Fellows co-owns the three-year-old son of Shark Gesture-Rebid with Willard Sabrosky and Arpad Szabo, and the partners have watched the gelding put together a 3-2-1 record in nine starts this season while banking close to $50,000. He has stashed away $71,510 to date.
Real Infusion erupted for a 35-1 stunner in the second division, winning in a career-best clocking of 1:51.4 for the tandem of driver Scott Zeron and trainer Randy Van Meer. The three-year-old son of Real Desire-Cosmic Express was buried on the rail for most of the mile while Take A Walk tore through fractions of :26.4, :55.3 and 1:23.3. The leader made a break in the lane, and that left the door wide open for a host of challengers. Zeron angled off the pylons in mid-stretch and used a :27.2 final frame to win by a head over Tye Seelster. Race favourite Creighton Hanover, who came first over, settled for third prize.
"Last week when I drove the horse, he broke his front hopple hanger and I had to pull him up just because of that," explained Zeron. "He felt great last week. This week, he felt great the whole way. Down the lane I was just praying we would find room, not in the way that we go it. When Jack's (Moiseyev) horse made a break and got out of the way, things just unravelled perfectly for him (Real Infusion).
Harry Locke of Oshawa, ON bred and owns the colt, who picked up his first win of the season and the third of his career. The $10,000 payday lifted the lightly-race performer's cash stash to $37,284.
Im The Pied Piper was the only favourite to win a division of the Youthful Series, and his victory was an eye-catching one for the tandem of driver Scott Zeron and trainer Tony O'Sullivan. The three-year-old son of Western Ideal-Lisjune, who was a 1:54.3 winner in last week's debut for O'Sullivan's outfit, rallied to win in a career-best clocking of 1:52.
The Dragon and Twin B Hollister took turns on the lead through intervals of :27.1, :56.2 and 1:24.4, but neither pacer had the staying power to get the job done. Im The Pied Piper swung off cover and surged to the win by three-quarters of a length over Aahm A Gesture. Private Equity earned the third prize.
"For as fast as he is and can flip gears like no other horse, he is the smallest horse I have ever sat behind," said Zeron. "He is like Doonbeg. It's crazy the things that he (Im The Pied Piper) can do. Tonight I tried a different tactic. I took him off the gate. I wanted to see how he would respond to that. We know how talented he is, we just have to see how versatile he is and tonight he showed that. Last week he showed he could leave out of there and tonight he showed he could come from off-the-pace. I am really looking forward to seeing what he can do."
Richard and Joanne Young of Coconut Creek, FL own Im The Pied Piper, who was unraced as a rookie. He owns a 2-2-0 record in five starts this season, and has banked $24,437 along the way.
(With quotes from WEG)
To view results for Monday's card of harness racing, click the following link: Monday Results – Woodbine Racetrack.