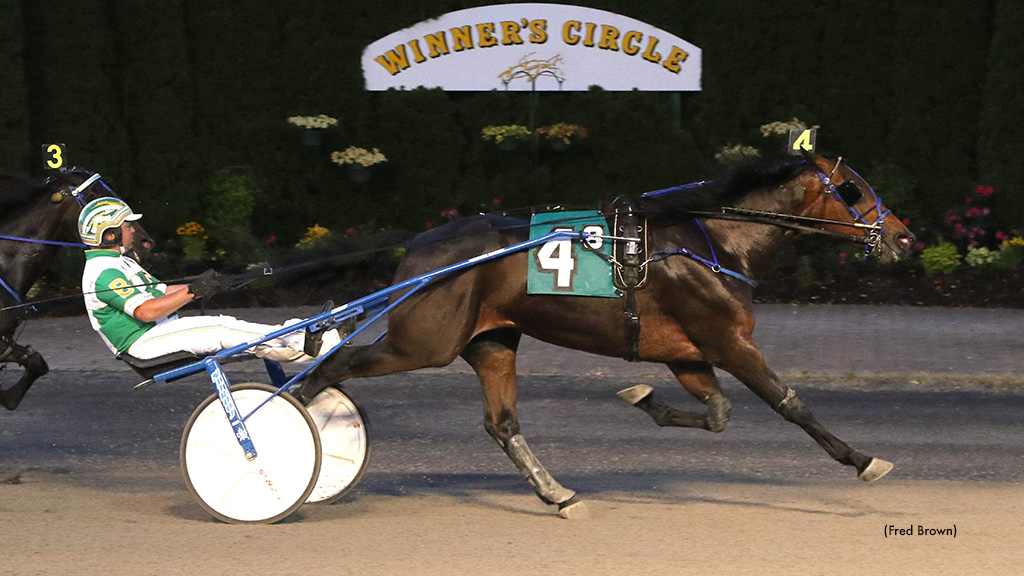 Making it to the track is a feat in itself, on any account and for any stable.
To make it to the winner's circle is an even greater achievement as there has to be a lot of "things gone right," things coming together, to get that horse there – right equipment, right training, right drive, right conditions and more. For Doc Nixon, it took the right vet, right breeder, right equipment and the right woman-based team of trainer and owner.
Doc Nixon is a three-year-old Cantab Hall gelding out of the Muscle Hill mare Southwind Hope trained by Brianne Sinclair, who co-owns the colt with Ashleigh Bennett of Sayre, Pennsylvania. He was bred by Little E LLC at Allerage Farms.
"We called him Hunter when he was born," said Bennett. "He was named Hopps Hall by Jeff and Paula Gural."
'Hunter' was one of eight yearlings at Allerage Farms in 2021 and he followed in the footsteps of his brothers and sisters as Bennett says, "Southwind Hope babies always have a ton of personality." He was entered into the Lexington Sale, but due to the colic surgery, he had to be pulled.
"Everything was normal until yearling prep when he severely colicked," said Bennett. "He had a 360 [degree] torsion of the colon and a nephrosplenic displacement."
In other words, a 360-degree torsion means the young colt had an obstruction of his entire left colon. Nephrosplenic displacement occurs when the ligament that connects the spleen to the left kidney, the nephrosplenic ligament, entraps the left colon. The cause is overall unknown.
"He underwent surgery, which he recovered well from, but it was then that we started noticing some of the neurologic deficits in his hind end. Back to Cornell we went," continued Bennett. "Doctors Alan Nixon, Heidi Reesink and Santiago Meija were involved with his case. He underwent special procedures to look for a condition called Wobblers syndrome, which is basically when the spinal column is too narrow and it presses on the cord, making the horse ataxic.
"The prognosis is fair for life. Poor for a return to any kind of athletic career. Sure enough, the colt was compressed in two areas. There is a very expensive surgical procedure that can help stabilize the neck and Mr. Gural, being the man that he is, agreed to the surgery as long as the horse could survive and live happily in a pasture. The recovery is a full year."
Bennett said that Hunter handled his recovery time and stall rest well.
"He was a fantastic boy on stall rest through the whole ordeal and really never got sour. He had to have a special hay rack installed so he could eat hay and grain at neck level," said Bennett.
"After about eight months, the colt returned to the pasture where he grew very large and showed no signs of deficits," continued Bennett. "We decided not to stake him to anything, but to try to start training him down and see what happened. Jeff called on [Tioga Downs] trainer Brianne Sinclair to start the colt and see if he had potential."
In the fall of 2023, Sinclair picked up Doc Nixon and brought him to her farm, Sinclair Stables, and broke him with the help of her husband, Michael Sinclair.
"He was pasture fat and quite stumbly to begin with," said Brianne Sinclair. "But as he started to get fit, he got stronger every week. When it was time to start training miles, he was shipped to Tioga Downs because the farm track is not trainable due to the hills and size. His very first training trip was cut very short. Michael Sinclair, holding the lines, entered the track at Tioga. Doc Nixon had never seen all the things at Tioga and decided to stop abruptly and roll back the other way, dumping Michael clean out of the jog cart. Luckily, only two other horses were on the track and the head of track maintenance, Justin Bellis, ended up catching him quite quickly.
"That was the first, and last day, for Michael to train him," continued Sinclair. "I took over the lines for the rest of his training miles. I never had any issues with him on the track again, after a bridle and equipment change. He trained down against a two-year-old pacing filly and he continued to finish his miles very strongly, never once breaking stride and often winning the mile. In April, as his miles were getting faster and faster, I called Ashleigh."
"Brianne trained down the colt and said, 'I think he can actually race.' I talked to Jeff and he cannot race horses that he owns at Tioga, so he said, 'If you girls believe in the horse so much, then you can have him.' We were ecstatic," said Bennett.
In May of 2023, the ownership transfer to Bennett and Sinclair was official. On July 3, Amber Longo joined the partnership behind Doc Nixon.
"In the midst of him training down, we learned that the doctor who had done his Wobbler surgery had passed away on March 1 from prostate cancer. We were so sad to know Dr. Nixon would never get to see his work perform and so, we decided to change the horse's name to Doc Nixon in his honour. At the end of each season, [we] will be donating 10 per cent of his earnings to prostate cancer research," said Bennett.
On June 10, 2023, Doc Nixon made his racing debut in a qualifier at Tioga Downs.
"Hunter had a promising qualifier in which he was second in 1:58.3," she said.
The following week, on June 17, the sophomore had his first start.
"In his first lifetime start, he was hot and the driver wasn't able to hold him, so he was parked out his entire mile and finished ninth."
On June 24, Doc Nixon made his second appearance at Tioga Downs with Aaron Byron in the bike. He got away fifth from post four, continuing fifth through the quarter in :29.2 and half in :59.3. Byron pulled his right line and made a first-over trip through the three-quarters in 1:29. Around the final turn, Doc Nixon took over and continued down the stretch to a 1-1/2 length victory in 1:59, with a last quarter in :28.4.
"He had a perfect trip and won! Tears of joy for sure," said Bennett.
"Luckily Jeff Gural was at the track that night with some family members and was able to be in the win photo," said Sinclair. "For this horse to go through two major surgeries and have an almost zero chance of racing to winning his second lifetime start is quite a feat.
"He continues to have big personality but loves to be loved on and enjoys playing in the water during his baths. Plans for his future will include racing at Tioga Downs and then, hopefully, onto Pocono Downs," continued Sinclair. "Ashleigh and I are just thrilled to see all the hard work and faith that we have put into Hunter pay off, not only for them, but all people that have never given up on a horse." 
(Allerage Farm)