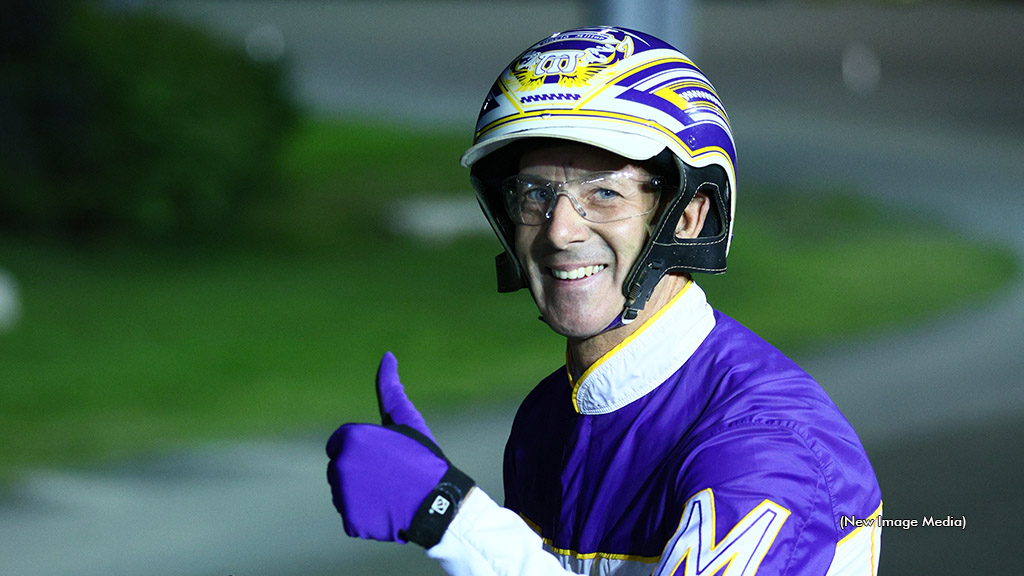 Thirty years ago in 1993, David Miller was the recipient of the U.S. Harness Writers Association's Rising Star Award.
Ten years later in 2003, he received his first U.S. Driver of the Year Award after guiding No Pan Intended to the Pacing Triple Crown and U.S. Horse of the Year honours.
A decade from there in 2013, he was elected to the U.S. Harness Racing Hall of Fame.
And now in 2023, Miller became the sixth driver in history to reach 14,000 lifetime victories. To celebrate that accomplishment, the 58-year-old Miller recently took the time to look back at those landmark seasons that helped shape his career.
The Breakthrough – 1993
Miller was a leading driver in Ohio prior to 1993, but he reached new heights that season. He won 480 races to finish fourth among all drivers in North America — his first time in the top five — and landed in the top 25 in purses for the first time, with $2.13 million. He has not been outside the top 25 ever since and has ranked in the top five in 23 of the past 24 years (amassing $277 million in purses to be No. 2 among drivers in history).
He also won his first race at The Meadowlands, capturing a division of the Niatross for two-year-old male pacers by 11 lengths with Falcons Future in 1:52.3.
"That was huge," said Miller. "I'd been to The Meadowlands before, but I'd never driven in a race there. It was great. That was a huge feeling of accomplishment."
Thirty years later, does Miller remember details from the win?
"Oh, for sure; heck, yeah," said Miller. "I remember scoring down and I'm out there with John Campbell, Mike Lachance, Cat Manzi, Ron Waples — all of them. Falcons Future was one of the favourites. I got away third. At the quarter, I moved him to the front and he just ran off. He was just so strong. I never really asked him to go. He was an amazing horse."
Falcons Future won eight of 11 races and finished second twice in 1993. His best performance came at Mohawk Raceway in Ontario, where he won a division of the Nassagaweya Stakes by 13 lengths in a Canadian record 1:51.3. The time was just two-fifths of a second off Artsplace's world record on a five-eighths-mile track.
"That's when people really took notice of him," said Miller. "He was a lot of fun. He was such a phenomenal horse."
Other highlights for Miller in 1993 included notching his 2,000th career triumph, which came at the Delaware County Fairgrounds in Ohio, and winning eight races on a single card at The Meadows, which equalled the world record.
Crowning Achievement – 2003
No Pan Intended became the 10th pacer in history to win the Triple Crown, with Miller driving the three-year-old to victories in the Cane Pace, Little Brown Jug and Messenger to accomplish the feat. No pacer has won the Triple Crown since.
For the season, No Pan Intended won 17 of 21 races, finished second three times and banked $1.46 million. He finished fourth in the Meadowlands Pace on July 12, then reeled off 10 consecutive victories during his Triple Crown chase.
The first jewel in the Crown was the Cane Pace, which No Pan Intended won at Freehold Raceway.
"I'll never forget [track announcer] Larry Lederman's call," said Miller. "Allamerican Native was the favourite in the race. At the head of the stretch, I'd gotten to him and was going by. Lederman said, 'He's on his way. He's the 2003 Cane Pace winner.'
"That was a very true statement because he was on his way. From there on, he was unbeatable. It was an amazing ride."
Seventeen days later, Miller and No Pan Intended won the Little Brown Jug in straight heats at the Delaware County Fairgrounds in Ohio. No Pan Intended won the final in gate-to-wire fashion, beating Make It Brief by a length. For Miller, an Ohio native, it was the win of a lifetime.
"It's very hard to keep my composure," he said after the race. "I had no intention of letting anybody go. This is a dream come true. I've been dreaming about this my whole life."
The Jug win was one of 10 victories by Miller that day, which remains the track record at Delaware.
"Honestly, if I wouldn't have won the Jug, it would have been just an ordinary day," Miller said at the time.
After a Tattersalls Pace triumph, No Pan Intended completed the Crown quest by winning both his elimination and final of the Messenger at The Meadows. The colt drew post eight for the final but started from post seven because of a scratch. Once again, he won gate-to-wire, besting The Globe by 1-1/2 lengths.
"I remember standing in the paddock and I was nervous. There was a lot on the line," said Miller. "But once we got on the track, I had a lot of confidence in him and it all went away. It was a pretty cool moment."
No Pan Intended capped his year — and career — with a victory by a head over Escape The Wind in the Breeders Crown at The Meadowlands.
"In the winner's circle, it was [owner] Bob Glazer, me and [trainer] Ivan Sugg. I told them, 'Let's hold the trophy up for the Horse of the Year.' And he ended up being Horse of the Year. It was unbelievable."
Hall Call – 2013
Three years before getting notified he was elected to the national Harness Racing Hall of Fame in 2013, Miller was enshrined in Ohio's Hall of Fame.
"When I got the call, I was real cool about it," Miller said of the Ohio honour. "Then I went to the banquet and got up on stage and all I did was cry. It was pretty moving."
So, the second time around, Miller readily soaked up the significance of the moment.
"The biggest honour you can receive in your profession, I think, is for people to think of you that way," Miller said prior to his induction. "To be put in the Hall of Fame with people that I looked up to, it's very special. I feel privileged."
Reflecting on the Hall call today, time has not diminished the emotions.
"It was a feeling of accomplishment," said Miller, whose induction ceremony at the Hall of Fame in Goshen, New York came in July 2014.
"John Campbell was there and he said the only reason he and [his wife] Paula came was to watch me go in," said Miller. "It's like a fairytale almost. He's my idol and he's telling me this. It was a very proud moment. Don't let anyone tell you it didn't mean anything to them because it's a moment when your peers are looking up to you. It's awesome. It's surreal."
Of course, Miller's election to the Hall of Fame was not the end of his story. In the years since, he's added two U.S. Driver of the Year honours, driven two more U.S. Horse of the Year winners (Always B Miki and Test Of Faith), collected 16 more Breeders Crown trophies — including a record five in 2015 — to up his total to 30, and won more than 3,000 races.
Which bring us to …
14,000 And Still Counting
Miller got his 14,000th win this past Friday when he drove Island Of The Sea to victory at Harrah's Philadelphia. It was a moment of joy…and relief. The triumph proved to be elusive, with Miller getting the win after two days of trying.
"People kept asking about it, there was a lot of anticipation and it got to where I just wanted it over with," said Miller. "I'm out there and I'm trying my hardest to win a race. I was trying really hard. But you do your best work when you're not thinking about it. It will happen when it happens.
"After I lost the first race on Friday, I told myself not to worry about it. If it takes two weeks, it's going to happen. When I was coming through the stretch with [Island Of The Sea], I was like thank God. We got it."
Even if it was a frustrating stretch, Miller maintained his sense of humour. He had six second-place finishes during the two days, including by a head and a nose to horses driven by Tim Tetrick.
"I told him, I don't want you in my picture anyway," Miller said with a laugh. "I just want to be in the picture all by myself."
What did it mean to reach the milestone?
"I'm proud of it," said Miller. "It didn't really sink in until I saw the number '14,000.' Then, you're like, wow. It's a good feeling. I've been very fortunate."
Now, Miller is focused on his future in the sport, which he hopes will continue for another number of decades.
"I saw a guy won a race recently at 80-something years old," Miller said, adding with a laugh, "Heck, I've got 30 years left in me. I'll do it until they say, listen, we don't think you should be out there. I enjoy racing. As long as I'm capable of doing it, I love to do it."
(With files from USTA)