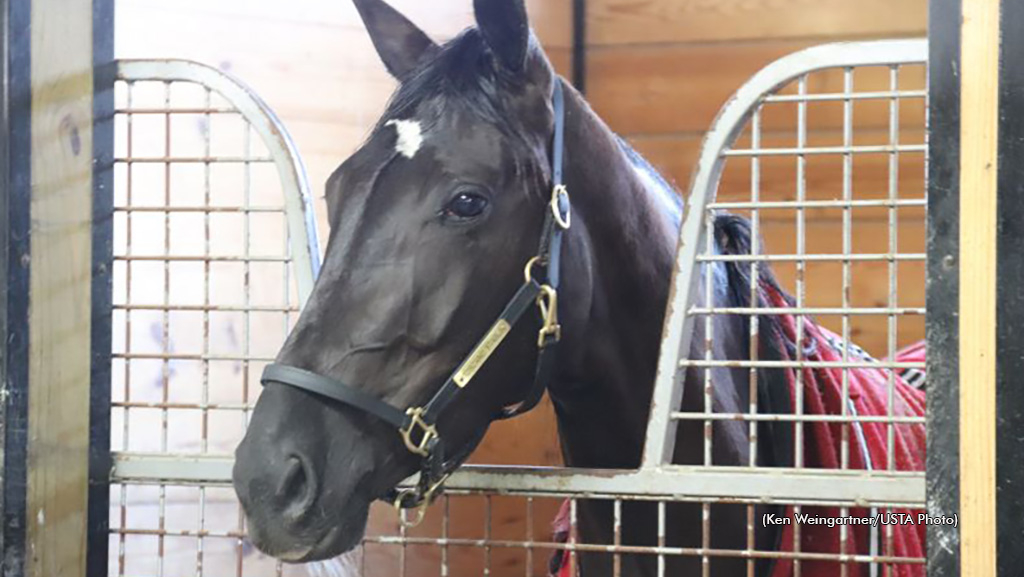 "Now, what starts with the letter C? Cookie starts with C. Let's think of other things that start with C. Ah, who cares about the other things." – Cookie Monster
Given her pedigree, female pacer C Is For Cookie is good enough for Seth Rosenfeld. Her performances in the next several weeks might provide an idea whether 'Cookie' could develop into a monster on the racetrack.
Bred and owned by Rosenfeld's Birnam Wood Farms, C Is For Cookie is the 13th and final foal from retired Hall of Fame broodmare Sweet Future. C Is For Cookie's siblings include 2014 U.S. Pacer of the Year Sweet Lou, two-time Breeders Crown champion Bettor Sweet and the dams of Dan Patch Award winners Youaremycandygirl (Sweet Lady Jane) and Captain Crunch (Sweet Paprika).
Unraced as a two-year-old because of an injury, C Is For Cookie has posted a win and a second in two starts this season at three.
"A lot of times with these older mares you get that last filly or two at the end of their breeding careers, and most of the time they don't work out on the racetrack," said Rosenfeld. "Breeders are excited to have them and excited for their breeding career going forward, but on the racetrack, you don't see a lot of fillies that are the 13th foal that are the big success stories.
"So, to me, I was thrilled to get a filly and look forward to breeding her. Anything she accomplishes on the racetrack is pretty much gravy as far as I'm concerned."
That said, C Is For Cookie got the attention of Rosenfeld and trainer Linda Toscano when she won her career debut by four lengths in 1:51.3 on March 10 at The Meadowlands with driver Scott Zeron. She paced her final quarter-mile in :26.2 as she defeated eight rivals as the 8-5 favourite.
"Linda always liked her," said Rosenfeld. "She came back this year and has been very nice. We expected a solid performance in her first start, but we did not necessarily think she was going to pace in [1]:51.3. That was nice."
Last week, at The Big M, C Is For Cookie made a strong move up the backstretch to get the lead in a :55.3 half, but was caught by four-year-old mare Two Proud in the stretch, losing by a half-length.
"She raced well," said Rosenfeld. "That was a solid effort to lose to a four-year-old who was a stakes filly last year."
On Friday, C Is For Cookie is the 9-5 morning-line favourite in the first of two $20,000 opening-round divisions of the Standardbred Retirement Foundation conditioned series for three-year-old female pacers at The Meadowlands. She will start from post four in a field of seven, with Zeron in the sulky.
If all goes well in the weeks ahead, the Betting Line-sired filly will head to stakes events, both for Pennsylvania-sired horses and on the Grand Circuit, later this year.
"She's staked relatively heavily," said Rosenfeld. "She's got a lot to race for. We're hoping she can have a nice solid season."
Does the filly share any similarities with others in her family?
"I think the biggest similarity is that she's got a lot of reach to her gait," said Rosenfeld. "I guess you could say all good horses have a nice reach, but the way she strides out I think reminds you a little of the better ones from the family.
"I'm not going to say she's going to be at that level, but she's a nice individual. She's correct, she's got decent size; she sort of seems to have the ingredients of a nice filly."
As for C Is For Cookie's name — a nod to the Cookie Monster-sung tune from Sesame Street — credit goes to Rosenfeld's wife, Alex, who is a music executive and three-time Grammy nominated supervisor/producer.
"She thinks in terms of songs, it comes naturally to her," said Rosenfeld. "People seem to respond to the name, so that's fun."
In the second SRF division for the filly pacers, Sweet Phenomena is the 9-5 morning-line favourite. She is making her seasonal debut after winning two of four starts last year for trainer Nancy Takter.
There is one SRF division for three-year-old female trotters on Friday. Sheer Faith, who is two-for-two this year and has won four of six races lifetime, is the 3-5 favourite for trainer Per Engblom.
SRF events for male pacers and trotters will be held on Saturday.
Racing at the Meadowlands begins at 6:20 p.m. (EDT). Free TrackMaster programs can be found on the Meadowlands website.
(USTA)