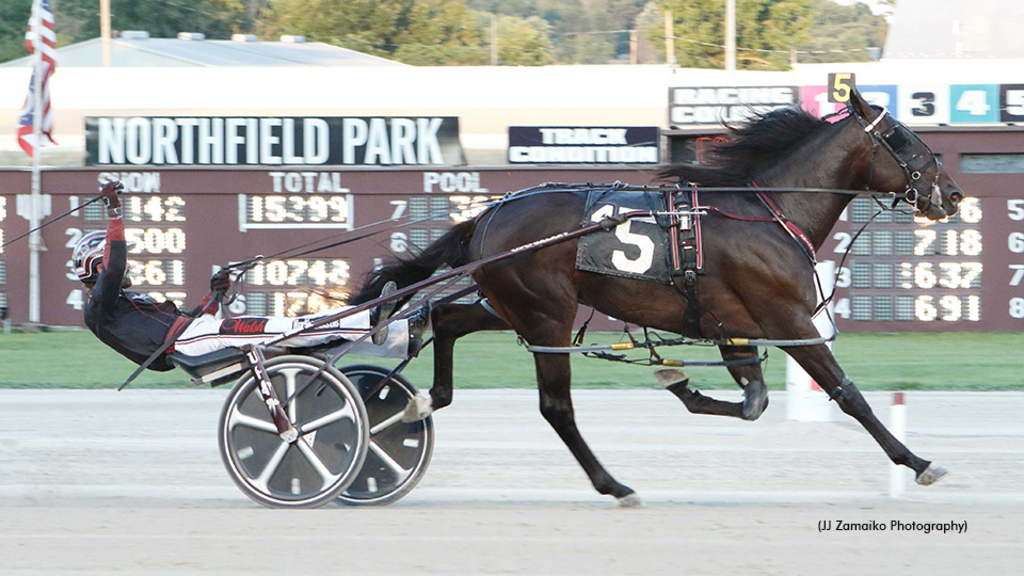 Multiple Ohio stakes winner Gulf Shores has been retired from racing and will stand stud in 2023.
Gulf Shores p,2,1:51.3f; 3,1:50.3f ($653,270) will stand his first season in 2023 at Bluff Country Equine in Minnesota. He represents one of the first sons of the young pacing super-sire Downbytheseaside to go to stud and is one of his most accomplished offspring.
Racing from the Brian Brown stable in his freshman and sophomore seasons, he showed outstanding early talent winning nearly $500,000 as a two-year-old. As a freshman, he won Ohio's Triple Crown going undefeated in the Buckeye State and showed his national-level talent capping off his season finishing second by a nose in both his elimination and the final of the Breeders Crown at The Meadowlands.
The stallion's syndicate manager, Cornerstone Stock Farm, noted that Gulf Shores — a $100,000 yearling — represents a stallion that can be crossed on many different maternal lines, being from a Dragon Again dam.
According to trainer Brown, "Gulf Shores was a perfect horse to be around and to race. He had a great gait and overcame some issues at times; he always tried very hard."
A bonus program will be available as an added feature for those breeding to Gulf Shores. For mares bred to the stallion in 2023 (2024 foals), a $5,000 bonus will be paid to the breeder of the highest money earning two-year-old in 2026, a $2,500 bonus will be paid to breeder of the second highest earner and a $1,000 bonus will be paid to the breeder of the third highest earner.
"I feel the Minnesota program is one of most underrated programs nationally," said owner Jeff Fought regarding the decision to stand Gulf Shores in Minnesota. "The opportunity for both sire stake funds and breeder's awards as well as Minnesota-sired bonuses is something that should not be overlooked by national breeders. There were farms from Ohio, Indiana and Ontario that called about standing the horse, but at the end of the day, Minnesota is a perfect fit."
Gulf Shores will stand at the premier breeding facility in Minnesota, Bluff Country Equine, for a fee of $2,000 with shipped semen available. Foals will be both Minnesota Breeders and Breeders Crown eligible. Contact Bluff Country Equine at 507-452-8665 for booking or Jeff Fought at 260-463-1649 for more information.
(With files from Cornerstone Stock Farm)